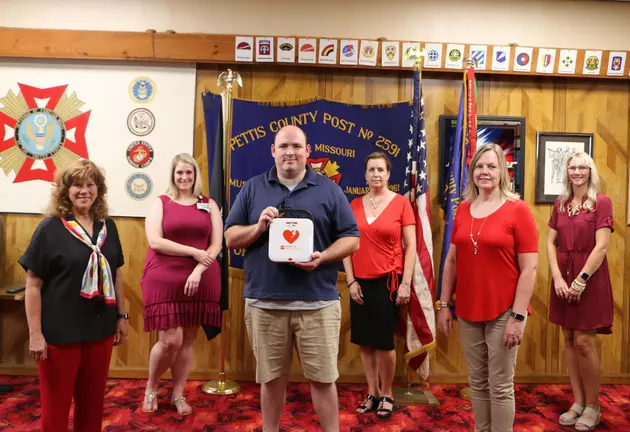 Bothwell Foundation Donates AED to VFW Post 2591
BRHC
The Bothwell Foundation recently presented an automated external defibrillator (AED) to Veterans of Foreign Wars (VFW) Post 2591 located in downtown Sedalia.
An AED is a small, lightweight device that allows individuals and first responders to treat sudden cardiac arrest by delivering a shock to the victim's chest, ideally restarting their heart.
The American Heart Association says that of the more than 350,000 cardiac arrests that occur outside of U.S. hospitals each year, more than 100,000 occur outside the home. Less than half of the victims get help in the four to 10 minutes before first responders arrive.
The AED for the VFW post was purchased from proceeds raised at the 2020 Wear Red for Women luncheon and auction. Enough funds were raised from the 2020 event to place 19 AEDs in and around Sedalia. The 2021 event raised funds to place an additional 12 AEDs. The foundation's goal is to have AEDs in every place people work, learn, play or pray in Sedalia and Pettis County.
The 2022 Wear Red for Women event is Feb. 25, 2022.
In the photo: Front row, from left, Lori Wightman, Bothwell CEO and Wear Red Committee co-chair; Tony Karr, VFW Post 2591 Commander; and Dianne Simon, Thompson Hills Investment Corporation property manager and Wear Red Committee co-chair. Back row, from left, Lauren Thiel-Payne, Bothwell Foundation executive director; and Robin Balke and Erica Petersen, Wear Red Committee members.