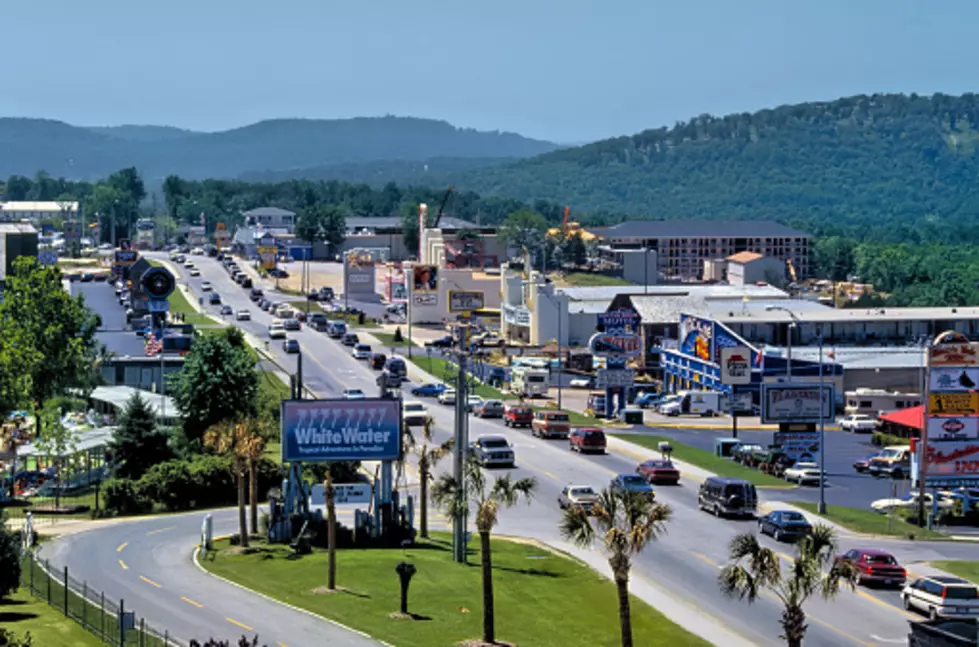 Branson Missouri Is A Must Visit. Check Out These 11 Definite Must Do's
Getty Images/iStockphoto
Many of us know that Branson Missouri is one of the most popular tourist destinations in the country.  We are fortunate that it is only a few hours away from us here in Sedalia.  If you have been, then you know how much fun it can be.  Plenty of options to check out for sure.  If you have never been, here are 12 "Must Do's" when you go that you may want to check out that will be worth while.
Silver Dollar City
This place is certainly a must.  Over 30 rides and attractions, including Wild West City, Haunted Mountain and Camp Snoopy.  Adults and kids will find plenty to enjoy. Check out their Facebook page HERE.
Visit The Butterfly Palace
The Butterfly Palace is a structure that is home to more than one million butterflies. It also features a gift shop and an appealing restaurant. Although it's not right on the strip, it's worth visiting just to see all the different types of butterflies that are there. You can read my article about this place HERE.
Ride Branson Belle Riverboat
The Branson Belle Riverboat is a floating hotel and entertainment venue that offers something for everyone. The riverboat also offers a variety of dining options, including an onboard restaurant called the River Queen Restaurant & Bar. If a guest is looking for more than just a riverboat cruise, the Water Country USA water park is a great pick.
Check Out Big Foot Adventure Miniature Golf
Bigfoot Adventure Mini-Golf has been named the #1 Mini-Golf Course in the State of Missouri by Stacker based on Tripadviser Ratings & Reviews! You will traverse through the native Ozarks woodlands, frozen Tibetan tundra, desert highlands, even travel through Bigfoot cave, complete with over 270 feet of hand painted black light murals. More details can be found HERE.
Crazy Horse Memorial
The gift shop, which was once the home of one of the oldest man-made attractions in the country, is a favorite place for visitors and locals alike. Certainly a unique place to see.
Big Splash Water Park
They are closed for the winter, but this waterpark will have to be a summer must.  Plenty of waterslides, a wave pool, floating trains and lots of fun.  Website link is HERE.
Watch Branson Landing Crown Jewel
Go to the Branson Landing for entertainment, shopping, and dining. With more than 100 storefronts, people will enjoy various activities to enjoy.  The Branson Landing Fountains which combine with music and pyrotechnics to create a breathtaking and dazzling show. These are known as Branson Landing's Crown Jewel and run every day on the hour between 12:00 PM and 10:00 PM.
Talking Rocks Cavern
You will have to go 10 miles west of the entertainment district of Branson. That is where you will find Talking Rocks Cavern.  Open to the public since 1921, their guided tours will bring you and your family through one of the greatest wonders in Missouri. Open daily and you won't need a reservation.  There are also aboveground activities to take part in at Talking Rocks Cavern, such as nature trails, mini-golf, and gemstone mining.
Have Photo Taken With A Bear
There are several bears roaming around Branson all year round. One of them is located at the Lewis & Clark Interpretive Center near downtown Branson. If a visitor wants a photo taken with a bear, then this would be the perfect moment. It's a great way to start or end the day.
Shop Along Main Street
You will have to do some shopping while in Branson right? A no-brainer for sure. Make sure to hit Main Street and the downtown area.  Clothing, jewelry, you name it, you can probably find it.
Live Entertainment and Shows
Branson has some of the best shows and entertainment around, in part because there's something for everyone. You can check out a few of their holiday shows HERE.  Quite a few country stars perform there on a regular basis.   You can also click HERE for a list of upcoming options for the rest of the year and into 2023.
So those are 11 options for you and I am certain that there are some that I am leaving out.  The Branson Mountain Adventure Park may be cool.  Learn about it HERE.   Or check out the World's largest toy museum HERE.  Plenty of options for sure.  Hope these options will work for you if you plan a trip there in the future.
The 100 Best Places to Live in the Midwest