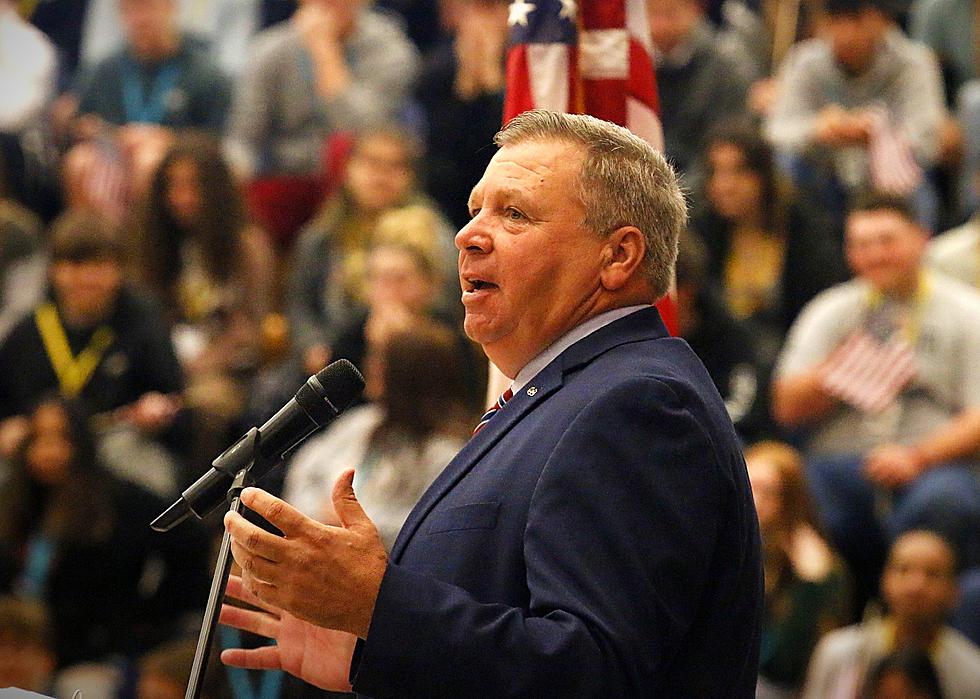 CSM Morris Stresses Value of Serving Your Country
Randy Kirby
Smith-Cotton High School JROTC held their annual Veterans Day ceremony Friday morning in the gymnasium.
The ceremony was preceded by breakfast served to area Veterans and their significant others in the school cafeteria.
Veterans were escorted into the gym, with JROTC Cadets saluting each and every one of them before being seated for the ceremony.
S-C Principal Wade Norton welcomed those in attendance at the Veterans ceremony, which was held on a Friday, due to the holiday falling on a Saturday this year. The entire student body attended the ceremony.
Cadet Commander Jenesis May led the ceremony.
Command Sergeant Major (CSM) (Ret) Rick C. Morris was the guest speaker for the event.
"Happy Veterans Day and happy birthday to the US Marine Corps brothers and sisters, Morris said in his speech. "I am a soldier for life," said the former US Army recruiter who now resides in Nixa, Mo., with his wife AJ.
"I got to travel all over the world. Korea, Germany, all over Europe, Hawaii, Alaska, Afghanistan, Kyrgyzstan, Uzbekistan, Pakistan, Kuwait and so much more. And through that 23 years, I knew that an education was important to me, and I finished my college degree. So needless to say, I'm a proud veteran."
Morris went on to note that serving your country can do so much for you personally and professionally.
"You see, in some of these countries that I've served, they're not like America. Most want to be like America with the freedoms and the way of life, because in America, it doesn't matter what your last name is, the color of your skin, your economic background. What really matters is if you work hard, and you do the right things, you can accomplish anything. And that's a fact," Morris told the S-C student body.
"When you've seen the opposite of freedom, you cherish and value it, and you know you'll fight for it. So I know firsthand how special America is," Morris said.
S-C's New Score performed during the ceremony, including singing the service hymn of each branch of the US military.
A solemn POW-MIA ceremony was presented by S-C JROTC Cadets with gym lights out and spotlight on.
A 21-gun salute was then performed by VFW Post 2591 just outside the gym, followed by the playing of Taps by Cadet Zachary Weber.
Vets Day at S-C
Gallery Credit: Randy Kirby
LOOK: Baby names losing popularity in the 21st century
Gallery Credit: Stacker