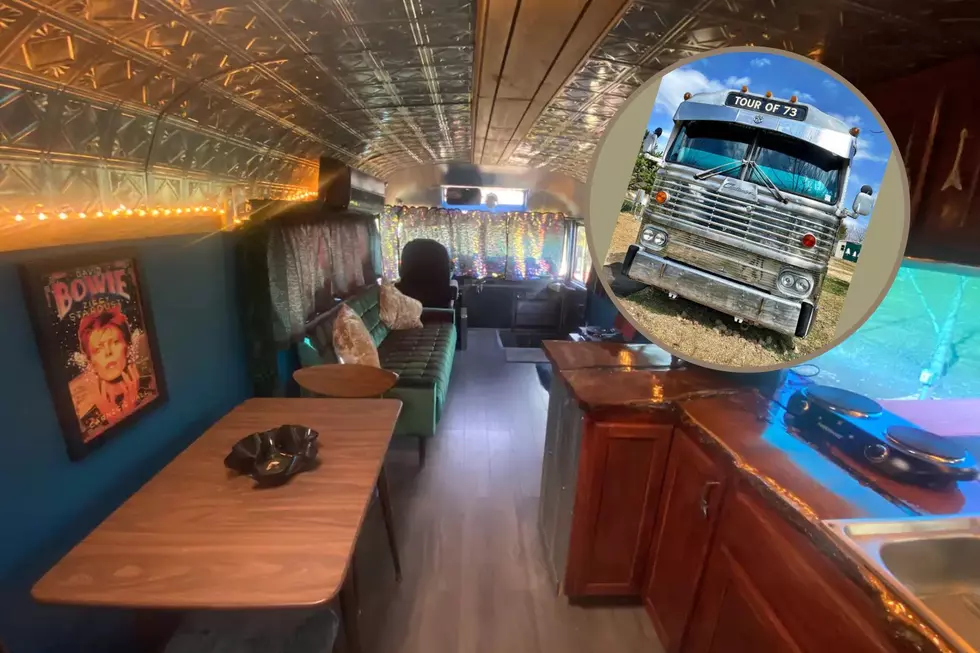 Enjoy Missouri's Nature When You Stay In This '70s Era Tour Bus [Pictures]
Airbnb host Misty
If you're looking to escape from it all and spend some time in nature. Or you fancy yourself a rock star, this unique Airbnb in Fredricktown, near Cape Girardeau, about halfway between Sedalia and Nashville, Tennessee might just be the place to get away from it all.
The bus is a nicely restored 1973 MCI Challenger that sleeps three, two in a queen size bed in a bedroom and one on the velvet living room couch. It comes with a nicely appointed kitchen with a toaster oven, two surface burners, and a full-size fridge. The bus is nicely appointed in a 1970's music motif which includes a David Bowie poster, a record player, and a bedroom with a mirrored ceiling and what looks like a crushed velvet headboard and pillows.
The bus is parked and available for booking via Airbnb in Fredrock, as one of seven unique stays offered there. Additionally, Fredrock has five RV / Van campsites available for rent. The property has hiking trails and access to a crystal clear stream great for swimming.
The accommodations in The Silver Bullet aren't as private as they are in KC's Lovestream, the Airstream trailer in Kansas City you can stay at. However, there is a built-in deck to the bus that includes a charcoal grill if you're interested in cooking out, as well as a hot tub and some privacy curtains if you're looking for a little more privacy.
Keep scrolling to check out some very cool pictures of the accommodations in The Silver Bullet. If you're open to a little bit of outdoor adventure, some hiking, and maybe swimming, this could make a great escape.
Enjoy Missouri's Nature When You Stay In This '70s Era Tour Bus
Looking to get away and do some hiking? Or swimming in a crystal clear stream? Or if you just want to pretend you're a rock star on tour in the 1970s. You'll enjoy a stay in this restored 1973 MCI bus called The Silver Bullet which includes a great deck with a hot tub and mirrors on the ceiling. You are responsible for the pink champagne.
Don't Want To Rough It Camping? Try Jellystone Park near Hannibal
If you're not much of a camping family but would like a camping experience. Or if you just don't want to rough it but still want to use your camper or camping gear check out
Jellystone Park at Mark Twain Lake near Hannibal
. Heck, you can also skip the camper or tent and just rent a cabin or hotel room if you'd rather. You might also run into Yogi and Boo Boo during your adventure.