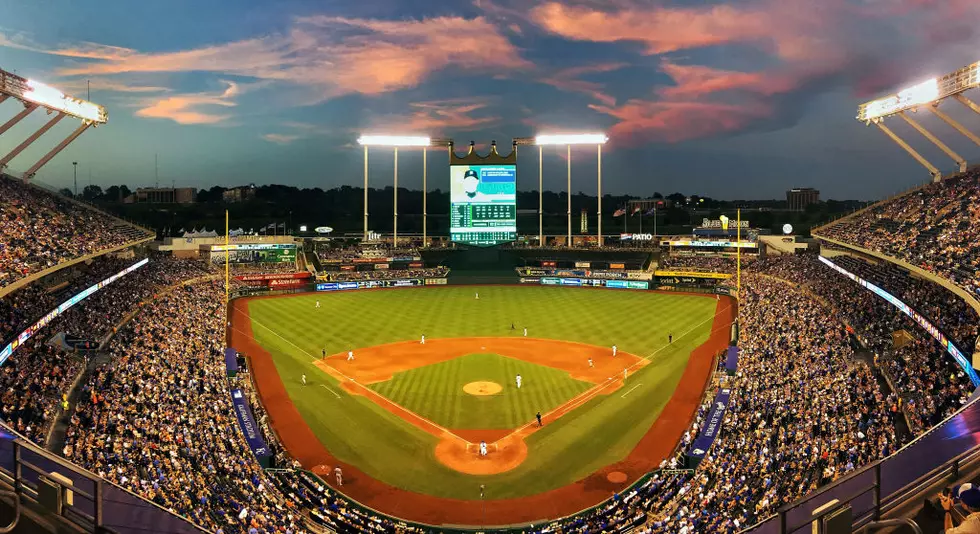 Fans In the Stands: Kansas City Royals Tix On Sale March 24
Getty Images
Earlier today we told you about the St. Louis Cardinals plan for fans in the stands. We now have details regarding the Kansas City Royals plan for baseball at Kauffman Stadium this season.
10,000 Royals fans will be able to watch the Royals take on the Texas Rangers on Thursday April 1 on opening day. With the Royals hoping to increase capacity monthly as the season progresses and it is safe to do so. This according to a team press release.
"Though we were able to return to the field last year, there was a huge component missing and it was felt by all of us with no fans in Kauffman Stadium," said Dayton Moore, Royals Senior Vice President/Baseball Operations and General Manager. "We play this game for our fans and the anticipation of seeing even a percentage of them in the ballpark when 2021 begins makes us wish we could open the season tomorrow."
The Royals plan developed in conjunction with Kansas City health officials and the Jackson County Sports Authority is very similar to the plan the Cardinals, and I would expect, most Major League Baseball teams will implement.
Seats will be sold in socially distant seating pods and will be sold month by month with season ticket holders getting priority access to tickets. After they have been taken care of, the general public will have an opportunity to purchase tickets.
The Royals say season ticket holders will have access to pick their seats for the team's 13 April home games, next Monday March 8. The public will be able to purchase single game tickets for April on Wednesday March 24.
Aside from the socially distanced seating the Royals health and safety plan for fans is similar to what the Cardinals and Chiefs did. All tickets and parking must be purchased in advance, no game day sales. Tickets will be digital through the MLB Ballpark App. All ballpark concession and souvenir sales will be cashless. Fans may use debit cards, credit cards, gift cards or mobile wallets. (The Royals will offer reverse ATM's inside the ballpark.)
Additionally the Royals say they're reducing fan contact with concession and team employees through "Grab N Go" concession options, mobile ordering/pickup, kiosk ordering, self checkout and occupancy limits in stores. There will be no in seat vending. And the Royals Hall of Fame and Outfield Experience activities will be closed, at least to start the season.
"Just playing in front of a few fans right now in spring training has made these games so much more exciting and interesting for all of us," said Whit Merrifield. "The thought of at least 10,000 fans in Kauffman Stadium on April 1 makes my juices flow already and knowing our fans, they'll make it sound like the ballpark is packed. We can't wait to come home and play in front of our fans."
Fans can learn more about what to expect when they go to a Royals game at Kauffman Stadium here.
Here are 50 of your favorite retail chains that no longer exist.