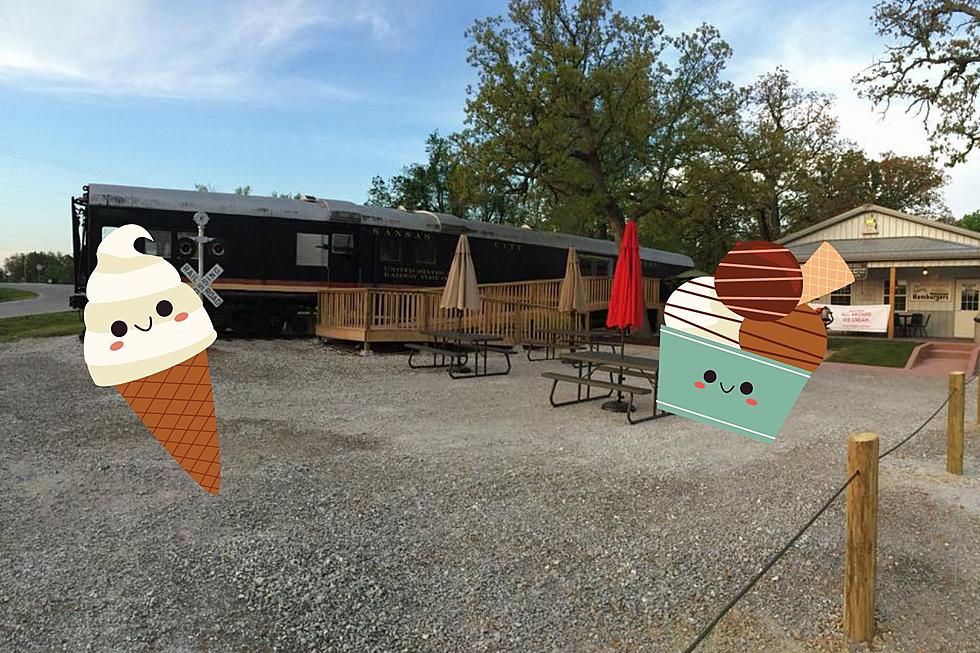 Love Trains and Ice Cream? Check Out This Missouri Ice Cream Shop
All Aboard Ice Cream via Facebook
I've loved trains since the first time my parents took me on a train to visit my Grandma in Connecticut. I think I've loved ice cream for almost as long. Well if you're an ice cream lover, and you like trains. Then you half to check out All Aboard Ice Cream in Joplin.
All Aboard Ice Cream is technically located in Reddings Mill, at the Reddings Mill Train Depot and not only that, you can enjoy your extra licky super sticky delicious ice cream cone in a train car.
The owners bought an old railway post office car and turned it into a dining room, or dining car, for people to enjoy their ice cream treats or even a signature hamburger. The old RPO car even has local connections as this recent article from Ozarks Alive reports. "Walking into the car shows local connections through the mailboxes still labeled with the names of nearby towns and stops where mail deliveries were once made."
Ozarks Alive talks about All Aboard Ice Cream's recipes. They're traditional recipes that in many cases were originally used by Anderson's Ice Cream, which served area residents through 1999. All Aboard Ice Cream has 80 different flavors with 16 of them available at any given time.
All Aboard Ice Cream also sells Whistler's Burgers. Whistler's, as characterized by Ozarks Alive, is a self-proclaimed burger joint that still exists in Carthage. You can place your order for a Whistler's Cheeseburger right at the other end of the ice cream counter if you so desire.
According to Only In Your State the ice cream shop has a great sandbox for your kids to play in, a mini train that your kids can ride on for $2.00. As well as a variety of handmade chocolates and Missouri fudge. Nothing's better than Missouri fudge if you ask me.
All Aboard Ice Cream is located at the Reddings Mill Train Depot, which carries a street address of 102 Castle Dr., Joplin, MO 64804. For more information check out All Aboard Ice Cream Shop's Facebook Page.
Food Adventures in Sedalia - Brick Front Grill
A few dishes from Brick Front Grill
Check Out This Ozark's Ranch That Could Be Out Of TV's 'Yellowstone'
The Double Down ranch in Cassville near the Missouri / Arkansas state line in the Ozarks looks like it's right out of the television show "Yellowstone". Check out what
Hayden Outdoors Real Estate
calls a "luxury equestrian property located in the beautiful rolling hills of Missouri."