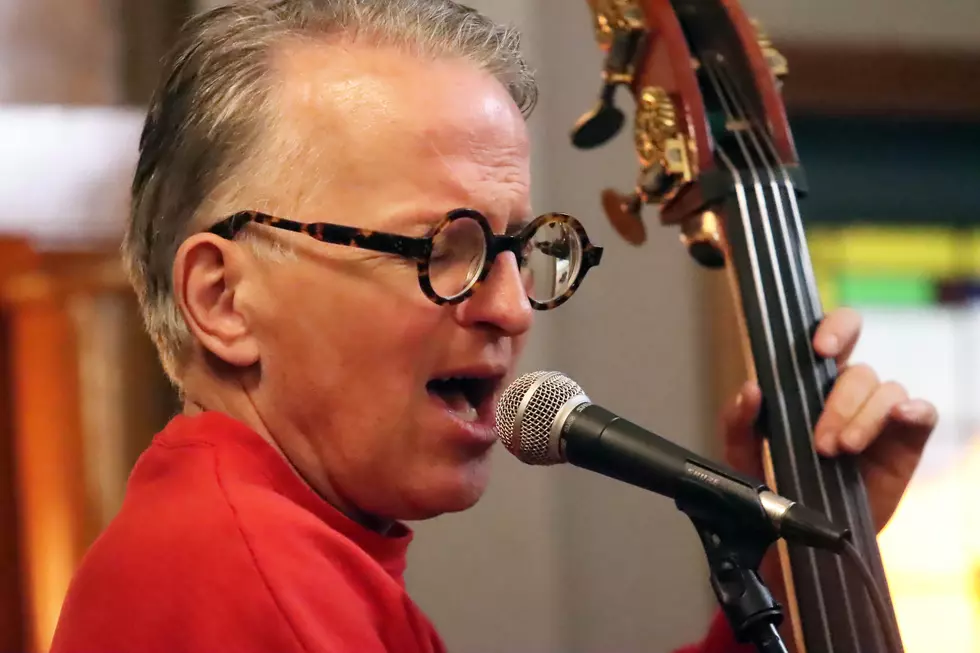 Luehrman, Shaffer & Check Entertain at Heroes in Warrensburg
Randy Kirby
I decided to check out Luehrman, Shaffer & Check at Heroes Restaurant & Pub on Pine Street in downtown Warrensburg last Saturday night after the band I was originally going to see in Sedalia had to cancel.
It was a happy accident to see John Check unloading his equipment from his car in front of the restaurant. I said hi and asked if he was performing tonight, and he said yes from 6 to 9. I'm pretty sure he recognized me from 4 or 5 years ago, the last time I saw the three-piece band perform live.
So I decided I would make it a Luehrman, Shaffer & Check kind of night, and enjoy their special brand of music at Heroes. The hostess was very cordial when I said I was friends with the band and may I take some photos. She said sure, and I was in search of a spot to land in the performance area of 107 West Pine (there are four separate seating areas to Heroes).
Luehrman, Shaffer & Check did not disappoint, and I was immediately enjoying their brand of entertainment, utilizing several American musical styles, including old-time country, New Orleans jazz, swing, Broadway, delta blues, Latin and Americana folk.
I took several photos which you can see here in the gallery and also ran across three old friends I hadn't seen in quite some time. So it was a good night, both musically and socially.
The band's repertoire features primarily original compositions that dovetail well with covers from bygone eras of American music, according to their bio.
They have released two CDs: one of all original songs "12-Piece Trio," as well as a live CD. All three members are multi-instrumentalists, hence the name of the first CD.
According to the aforementioned bio:
Tony Shaffer, long-time member of country legend Leroy Van Dyke's band, provides stellar musicianship, entertaining wit, and comic relief. Tony is featured on a boatload of different guitars, dobro, banjo and harp. Tony has toured and performed nationally and internationally with an amazing array of country music stars including Roy Clark, Narvel Felts, Rex Allen Jr., Jimmy Fortune, Moe Bandy, TG Shepard, and Bobby Bare, to name a few. Musically adept in many styles he is also a published author and taught writing for many years in the Academic Enrichment Department at UCM.
Mick Luehrman can be heard on vocals, guitar, slide guitar, mandolin, and occasionally cornet. He has been performing professionally since the late days of the Ford administration and was a founding member of regional acts such as Diamond Jim, Mister Smith, The Hummin' Birds and Monkey Grip. A dedicated songwriter and musical archivist he is also a visual artist and a retired faculty member from the Department of Art & Design at the University of Central Missouri (UCM).
John Check can be found manning many instruments on stage: the upright string bass, sousaphone, clarinet, trombone, and occasional vocals. Check teaches music theory at UCM and is a member of UCM faculty instrumental ensembles. He is at home with a diverse group of musical genres, from classical to jazz and even polka, a musical form that he learned at an early age playing in his father's band in Wisconsin. John's father was a renowned polka band leader who wrote hundreds of polka tunes, some of which are standards, and recorded dozens of albums over the course of his career.
I highly recommend you check out Luehrman, Shaffer & Check next chance you get. The band will perform April 21 at Knuckleheads in Kansas City starting at 8 p.m.
Oh, by the way, they are professional musicians, yes, but Mick, Tony & John are also fun to hang with as well.
Luehrman, Shaffer & Check Re-Emerge on Local Music Scene: Playing Heroes
Blues, jazz folk trio Luehrman, Shaffer & Check played their first post-Covid show at Heroes Bar and Grill on Saturday night, February 11, 2023. Randy Kirby was there and grabbed these photos.
LOOK: Baby boomer baby names that have gone out of style
Using info from the Social Security Administration's baby name database,
Stacker
compiled a list of baby boomer baby names that have declined in popularity.