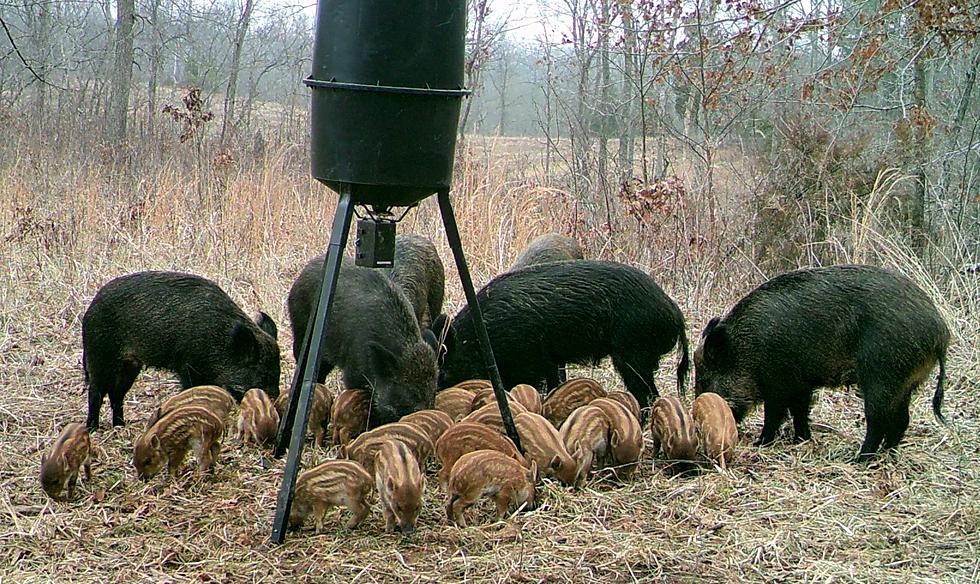 MDC and Partners Eliminate Over 6,500 Feral Hogs in 2017
Courtesy of MDC staff
The Missouri Department of Conservation's (MDC) feral hog strike team has tallied up elimination numbers from 2017, totaling over 6,500 feral hogs.
A press release from the MDC, says that in 2017, a total of 6,567 feral hogs were removed by MDC, partner agencies. and private landowners.
Crews in southeast Missouri removed 2,858 feral hogs, which is reportedly where the highest density of feral hogs occurs. The Ozark region removed 2,576 and the Southwest region removed 932. Other regions across Missouri had around 100 or fewer feral hogs removed, according to the press release.
"We're seeing positive impacts in areas with smaller feral hog populations, such as on the western side of the state," said Mark McLain, MDC's feral hog elimination team leader. "Our overall success for 2017 can be attributed to our strategic approach to eliminating populations of feral hogs."
McLain said it's essential that the public understand why feral hogs must be eliminated.
"These are a destructive, invasive species that doesn't belong here; they're not a native species," McLain said. "They out-compete native wildlife for habitat and food. For example, places with a lot of feral hogs will see their wild turkey and deer population diminish."
McLain said feral hogs present the potential for diseases to spread to humans, pets and livestock. He hopes the message that hunting is not an effective method for eliminating feral hog populations is starting to catch on.
"For over 20 years, unregulated take of feral hogs was allowed in Missouri, during which time our feral hog population expanded from a few counties to over 30 counties," he said.
Last year, the MDC, along with the Corps of Engineers, and the LAD Foundation established regulations against feral hog hunting on lands owned and managed by these three organizations.
"A persistent piece of this story is continued illegal releases of feral hogs, which establishes populations and further spreads the problem," McLain said. "This is illegal and when caught, those who release feral hogs face hefty fines."
Other attributing factors in the success of the feral hog elimination effort include MDC's "Report, don't shoot" message to encourage trapping, prohibiting the take of feral hogs on conservation areas, and a strong public awareness campaign.
"Landowners and the public are a crucial element of this effort, especially since most land in Missouri is privately owned," McLain said. "We must continue to educate on the dangers of feral hogs and engage landowners in elimination efforts."
McLain said landowners are responding to an increased public education campaign, centered on the knowledge that hunting feral hogs is not an effective way to eliminate them. He said more landowners are starting to understand, and are seeing, that hunting feral hogs pushes them onto neighboring property, which causes problems for their neighbors. When neighboring landowners try to control feral hogs through hunting, the hogs simply travel back and forth between the properties, escape and cause more damage. The press release indicates that trapping with no hunting interference is the best method to eliminate them.
"They're [landowners] reporting feral hog signs and coming to us for help, which is exactly what we hoped would happen," he said. "We help by providing technical advice, on-site visits, loaning equipment and training of the trapping and removal process."
Feral hogs are not considered wildlife. Economic loss estimates from 10 years ago in the U.S. were at greater than $1.5 billion in damage from feral hogs per year. The MDC says since there are more hogs today, that total is likely higher now.