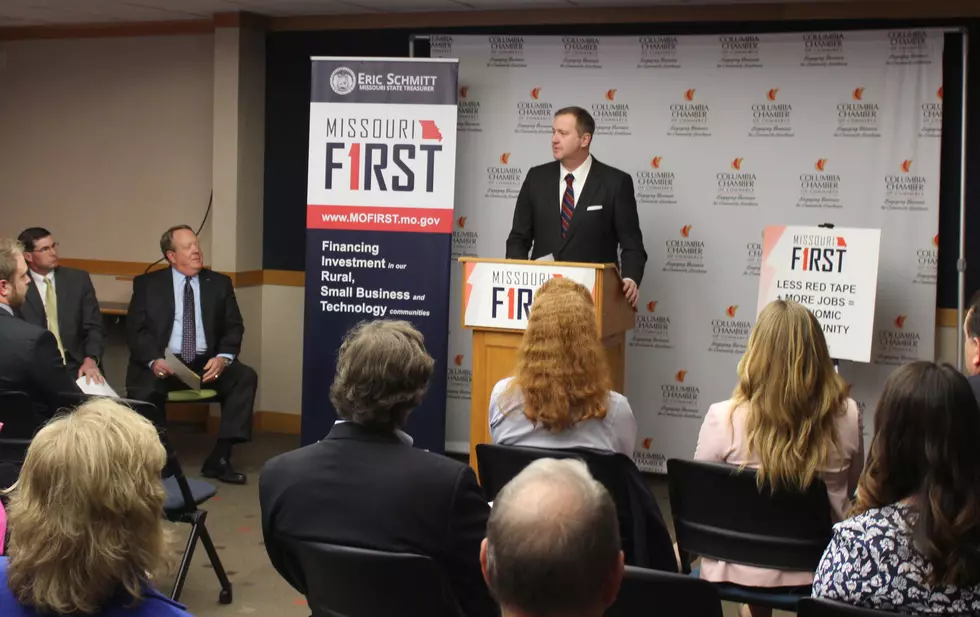 Missouri FIRST Initiative Sees 136% Increase for Ag Investments
Courtesy of MO Treasurer Eric Schmitt
On Friday, Missouri State Treasurer Eric Schmitt announced the Missouri FIRST initiative has increased agriculture investments through the state's linked deposit program by 136%.
Schmitt says since the launch of Missouri FIRST in March, the total volume of active agriculture linked deposits has risen from $29.3 million to $69.3 million. Schmitt visited the State Fair in Sedalia on Friday.
"The Missouri FIRST initiative has enabled us to better prioritize rural economic development and the agriculture industry," Schmitt said. "Economic growth, less red tape and increased accessibility have led to a stronger linked deposit program with greater investment in Main Street and rural Missouri."
Schmitt's says the Missouri FIRST (Financing Investment in our Rural, Small Business and Technology communities) initiative revamped the state's linked deposit program, which partners with local lenders to provide low-interest financing to small businesses and agricultural operations.
The program is described as a way to help farmers by making production, land acquisition, livestock costs and other ventures more affordable.
Schmitt said Missouri has about a $4-billion portfolio, indicating the ability to make investments in state agriculture which includes farmers and ranchers.
"Missouri FIRST is making a tremendous impact on the ability of Missouri farmers to secure affordable financing and expand their operations," said Blake Hurst, President of the Missouri Farm Bureau. "Missouri Farm Bureau is pleased to see increased investment in our state's agriculture community and we applaud Treasurer Schmitt and his team for their efforts."
Treasurer Schmitt says his office launched the initiative after nearly a year of meeting with small business owners, farmers and community banks about what could be done to improve the linked deposit program. The changes implemented through Missouri FIRST reportedly focus on cutting red tape, expanding access, and modernizing the application system. Schmitt indicated there is about $2-million invested in the Pettis County area through the initiative. The Treasurer noted that farmers across the state, especially soybean planters, can benefit from Missouri FIRST. He says the applications has been completed digitized and is only about one page in length, citing the need to cut 'red tape' in the process.
The Missouri State Treasurer's Office is working with local lending institutions to facilitate the Missouri FIRST loans.
There are approximately 115 qualified Missouri FIRST linked deposit lenders with 350 branches throughout the state. A list of lenders and program eligibility guidelines can be found at MOFIRST.mo.gov.