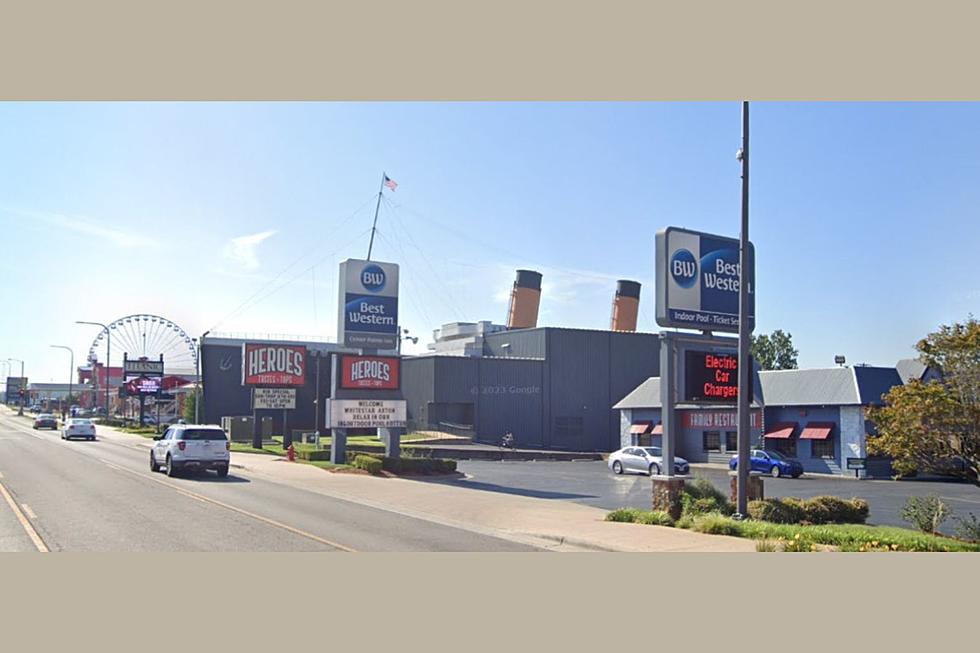 Missouri Museum Named One of the Worst Tourist Traps
Google
A Missouri museum finds itself on a couple of dubious lists as one of the Top 100 tourist traps worldwide, as well as one of the most overpriced attractions worldwide. This is according to a new survey conducted by USA Today.
Now, the survey USA Today conducted isn't really scientific, but it doesn't matter really. What USA Today did is analyze 23 million Google reviews of the 500 most popular tourist attractions in the world, then asked one simple question: How frequently do reviews mention the following words: Tourist trap, overrated, or expensive? Then they came up with a formula to rank the attractions and figure out which ones were worse than the others. You can see more of their methodology here.
One Missouri tourist attraction, The Titanic Museum in Branson, made its list. It ranks number 33 on USA Today's list of the Top 100 Tourist Traps Worldwide. It also makes USA Today's list of the Most Overpriced Attractions Worldwide coming in at 91 on the list. Hey, at least if you've been there and felt ripped off, you can take solace in the fact that there are 90 other attractions worldwide that will rip you off worse.
I'm apparently living up to a statement attributed to 19th Century Showman PT Barnum, "There's a sucker born every minute" because, after a couple of minutes on the Titanic Museum's Branson website, I'm ready to give them my money.
The whole idea of getting an immersive experience like I'm boarding the Titanic just seems kind of cool, and pairing it up with $4.5 million dollars of Titanic artifacts that I can look at just seems kind of fun. I've never been, so I asked a few of the people I worked with what they thought about the Museum.
McKenzie took her kids and wasn't surprised it made the list of tourist traps, although she said she thought it might have been cooler if she hadn't had the kids and could have spent more time soaking in and learning about the history there.
Lori, who spent time as a manager in the hospitality industry in Branson, thought it was a fun place to check out. It might not be a "must-do" in her opinion, but I certainly came away after our conversation thinking that it could be a fun experience.
The last person I asked about it was Mike, who took his family to Branson last Christmas. He didn't even bother taking his family to the museum cause it wasn't something any of them had an interest in. He did point out, and Lori echoed the sentiment, the reason a place like Branson is popular in the first place is the town is essentially one big tourist trap.
Mike's advice when heading to a town like Branson, figure out what you want to see and do and what you don't want to see and do before you go. That way you won't end up spending money on tourist traps that don't interest you.
As for me, just because something gets labeled a tourist trap doesn't mean it's not worth doing. The former Hancock Building and Willis Tower in Chicago are both tourist traps, yet if you go to Chicago you should go up in at least one of them. (Hancock offers better views in my opinion. Or if you're all of age, skip the observation deck and go to the cocktail lounge up there if it's open.) So is Navy Pier in Chicago, yet it's still a beautiful vantage point to take in Chicago and Lake Michigan.
So yes, if I visit Branson sometime, I may give the Titanic Museum my money. It sounds like it could be fun. That said, #1 on my list with a bullet if I go to Branson is to see Yakov Smirnoff, mostly, because why not?
Admission to the Titanic Museum in Branson is $35.00 for adults ages 13 and up, $15.00 for kids 5 -12 years old, and free for kids 4 years of age and under. They also offer a one-day family pass valid for 2 adults and up to 4 kids 18 years and younger for $115 dollars.
The Best Reviews From People Who Had The Worst Time Visiting The White House
You think people are impressed visiting the White House? Think again. Visitors who have toured the White House grounds have taken to
Yelp
to voice their displeasure about everything from the size of the building at 1600 Pennsylvania Avenue in Washington, D.C. to Secret Service being rude to them when they got lost.
Offbeat adventures: Travel to the coolest hidden wonders in every U.S. state
Fuel your offbeat travel dreams.
Stacker
found the coolest hidden wonders in all 50 U.S. states (plus D.C.) using data from
Atlas Obscura
.
[WARNING: Under no circumstances should you enter private or abandoned property. By doing so you risk bodily harm and/or prosecution for trespassing.]