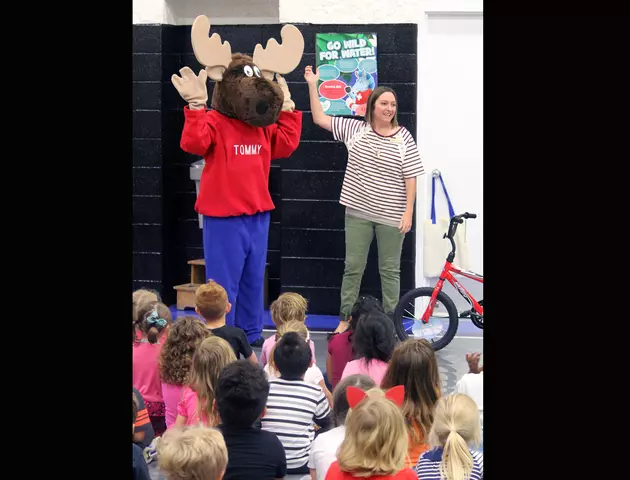 Moose Lodge Aids Washington Elementary
Sedalia School District 200
Washington Elementary School students got some surprise support on Wednesday from Moose Lodge #1494 and Moose Riders.
During a morning assembly, members of Moose Riders rolled in some wheels, but not the kind the motorcycle group rides. The lodge is donating five bicycles – one for each grade level at the school, kindergarten through fourth grade – to be used as attendance incentives. Each quarter that a student has perfect attendance, their name will be entered into a drawing for a bicycle held at the end of the school year..
Moose Lodge members also are donating materials for Kindness Kits, which will be used by students as celebrations for reaching schoolwide attendance goals. The kits include materials to create encouraging messages to be shared with local retirement homes and outreach agencies, among others. The lodge also is providing clothing, laundry detergents and other household items to support the students' families.
Moose Riders member Bill Marquess said with all of Sedalia's growth west and south, the lodge didn't want the Washington area left behind.
"We took it upon ourselves to adopt this school," he said. "A lot of people can't afford the necessities these days."
Joining the lodge members was Tommy Moose, a character who listens to children but does not speak.
"Tommy listens, so we can jump onto an issue before it becomes an issue," Marquess said. "Tommy can let a teacher know if a child is having trouble at home – that is why Tommy listens but he doesn't talk."
Washington Elementary Counselor Michelle Hofstetter was overwhelmed by Moose Lodge #1494 and the Moose Riders' generosity. She, Washington Principal Lisa Volk and school social worker Marcy Husong "were honored and thrilled when Mr. Marquess reached out to us," Hofstetter said.
"Washington staff continually works to impart the importance of kindness, and the Moose Riders are enabling our students to experience conscious goodwill firsthand. Their generosity and the work of Moose International will leave a long-lasting impression on our students and staff," she said.
PIC1: Washington Elementary Counselor Michelle Hofstetter introduces Tommy Moose to students during an assembly Monday in the school's gym. Tommy and members of Moose Lodge #1494 and Moose Riders visited to share that the lodge has adopted the school to provide support for students and their families.
PIC2: Washington Elementary students gather around Tommy Moose during an assembly Wednesday where they learned about donations from Moose Lodge #1494 and Moose Riders. Standing at back, from left, are Moose Riders members Brittney Goff, Jennifer Marquess, Bill Marquess, Dillon Goff, Bear Manley and Dan Dierks.
PIC3: Moose Riders members, from left, Dan Dierks, Bear Manley and Dillon Goff display a couple of the bicycles that Washington Elementary students will win under an attendance incentive drawing at the end of the school year.