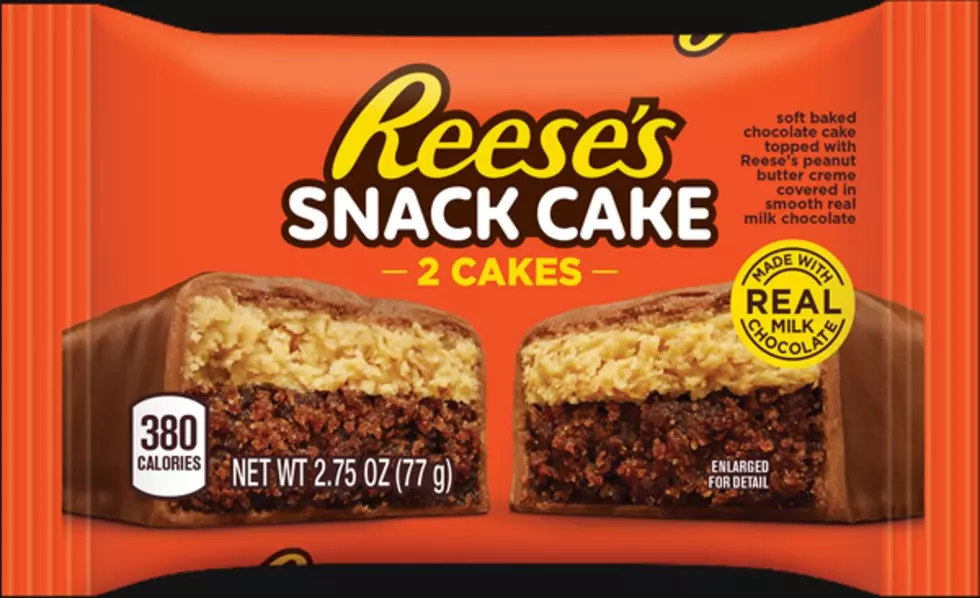 Reese's Is Making a Snack Cake for Breakfast
Hershey Company via GlobeNewswire
Do you crave Reese's Peanut Butter Cups for breakfast? If you're anything like me it's not an everyday thing. However, if you get some in your Christmas stocking. Or your Easter basket. Or there's a bag of those mini ones hanging around. You go for it. Well Reese's has come up with, arguably, a more acceptable way to enjoy chocolate and peanut butter at breakfast.
Reese's Snack Cakes, which are being pushed as "a first-of-its-kind, mid-morning cake treat by the Reese's brand you love," is a layer of cake with Reese's peanut butter cream on top of the cake with the entire cake covered in chocolate.
"We wanted to create the perfect treat for Reese's fans to satisfy that mid-morning sweet tooth," said Mike Orr, Snacks brand manager. "We know that sometimes you just don't want to wait until lunch – that's how Reese's Snack Cakes were born!"
One interesting fact included in the press release for the snack cakes is that 83% of us have enjoyed dessert before noon in the past month.
And I am part of that 83%. If not this month, I was last month. I'm not sure I buy the need for Reese's Snack Cakes though. Their peanut butter cups are perfect. The harder chocolate outside with the soft peanut butter spread. It's perfect. And if I want a little more crunch I go for the big cups with peanuts. I think I'd almost rather just buy a bag of the minis and go to town.
Don't get me wrong I'll give the snack cakes a try. I'm a sucker for novelty items like this. I just think if I'm looking for convenience store snack cakes I'll go for Hostess Cinnamon Coffee Cakes or their little Hostess Crunch Donettes. If I want peanut butter cups I'll get the mini peanut butter cups.
According to the press release Reese's Snack Cakes will be available in convenience stores starting this December.
KEEP READING: Here are 6 foods from your cookout that could harm your dog