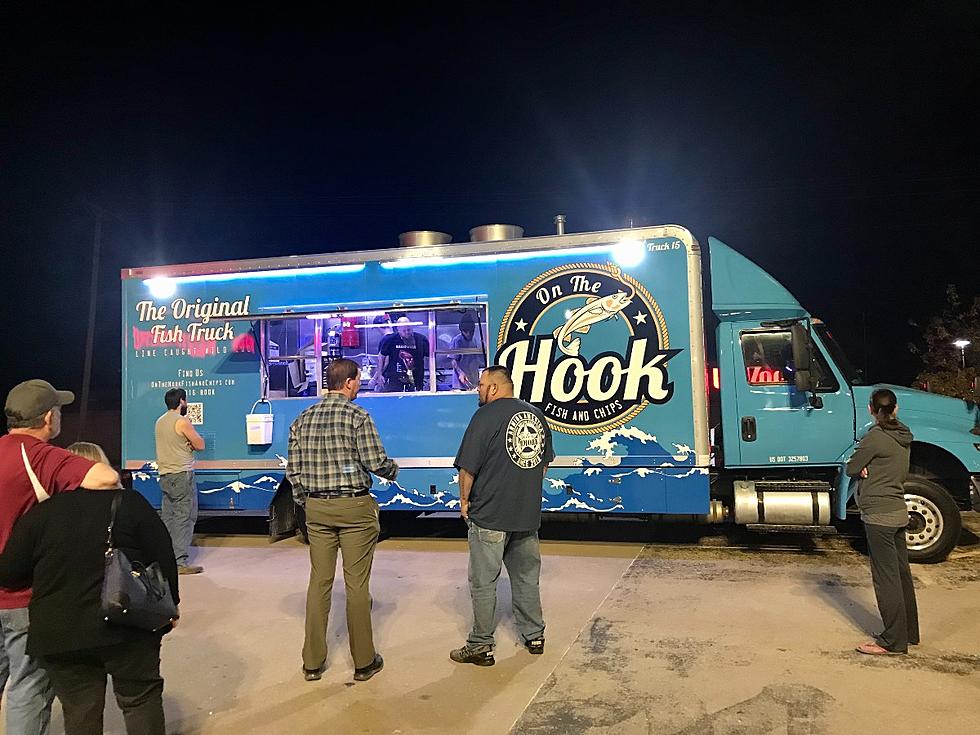 Rob's Food Truck Adventure: On the Hook Fish and Chips
Rob Creighton / Townsquare Media
I've seen the Facebook ads or posts for On the Hook Fish and Chips food truck regularly since they started pulling into Warrensburg and selling their fish and chips. Yet, my wife Kathy and I didn't try them until last night.
According to their website, On the Hook Fish and Chips promises line-caught wild Alaskan cod fish and chips. Their standard meal is three pieces of hand-dipped wild Alaskan cod, beer-battered fries, and their house-made tartar sauce and siracha mayo.
The On the Hook website explains how they catch and prepare their cod:
We begin with the highest quality cod sourced from the cold clean waters of Alaska. This, however, is not just any Alaskan cod.  Our cod is caught using hook and line, brought aboard individually, and immediately headed, gutted, and flash-frozen.  This ensures a perfectly preserved fresh-caught quality and tenderness.  We hand-coat our cod with our homemade beer batter, created by our founders over months of experimenting.
You'd think based on how they catch and prepare their cod, it'd be better than the cod you can get at a place like Culver's or Country Kitchen or the local pub-type restaurant, right? The answer is kind of.
On the Hook Fish and Chips menu is pretty simple. You can get an order of fish and chips, an order of just the chips, and you can add extra pieces of fish. That's it. The meal comes with three pieces of wild Alaskan cod, fries, and a cup of their signature tartar sauce and siracha mayo.
The guy handling or order was a little flustered, so when we got home and opened up the boxes, we got three cups of the siracha mayo and only one of the tartar sauce. Not a concern for me, I'm not an adventurous eater and tend to have my fish and chips without any sauce. And depending on my mood, sometimes ketchup for the fries. My wife Kathy, was a little concerned she wouldn't have enough tartar sauce.
The fish tasted a little fresher than the kind you can usually find in Warrensburg. And it also was light and not greasy.
When we get fish and chips, we usually get them from either Country Kitchen or Culver's, and of the two we prefer Culver's. Since On the Hook's is line-caught and hand-processed, the fish is less dense and appeared less processed. Kathy wasn't a fan of the less dense fish and thought she got more of it stuck in her teeth. I felt even though it tasted a little fresher it wasn't that different from what you could get at Culver's.
While we both liked the beer batter on the fish it wasn't as crispy as we thought it would be. Full disclosure, we let the fish and chips sit for five to ten minutes, while I changed clothes, and walked the dog. So it, and the fries may have lost a little bit of crispiness because of that. Kathy thought some of the batter coating on her fish may have been a little overdone. I thought it didn't have as much of a taste as I thought it would.
I really liked the beer-battered fries. I thought they tasted great, and even sitting for a while they kept a lot of their crunch. Kathy didn't think they were bad, but she wasn't as big a fan as I was.
The cost of the meals was more expensive than I thought it would be too. For two fish and chip meals, by the time you roll in taxes and tip, we were looking at $30.00. That's a lot to spend from a food truck in my opinion. Even for fish that's supposedly a little fresher than what you can get in town.
The bottom line, On the Hook Fish and Chips, is marginally better than some of the orders of fish and chips I've had from other places over the last few years. Yet, not good enough in my mind to justify the high price.
Food Adventures in Sedalia - Brick Front Grill
A few dishes from Brick Front Grill
Your Photos of Union Pacific Big Boy 4014
After Union Pacific's Big Boy 4014 came through the area on August 31, 2021, we asked you to share your photos of Big Boy 4014 with us on Facebook. We thought you all took some great photos of the locomotive, the train, and the people surrounding it. Thank you for sharing these photos with us.