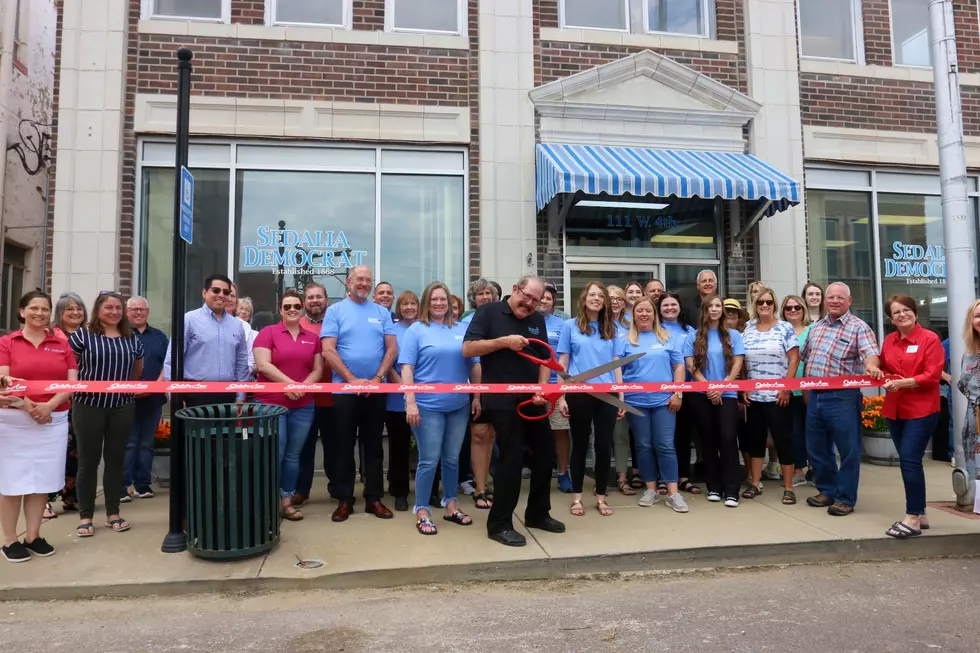 Sedalia Democrat Shows Off New Offices
Randy Kirby
The Sedalia Area Chamber of Commerce held a ribbon-cutting ceremony Friday morning at 111 West Fourth, the new location for the Sedalia Democrat.
The occasion also served as welcoming ceremony for the Democrat's new publisher, Jim Perry. Perry is also publisher of the Warrensburg Star-Journal.
Perry has an extensive background in newspapers, and most recently worked in Harrison, Arkansas at the Phillips Media corporate office, for the past seven years. Phillips Media owns the Sedalia Democrat. Perry has worked for the company for over 30 years.
"So newspapers are my life," Perry said. "And I've been reading the Sedalia Democrat every day for the past seven years.
Perry has only been in Sedalia for a short time, but visited the State Fair City a month ago "incognito" and looked the place over before moving here.
"I've come to love Sedalia and this is a great newspaper, so I look forward to carrying forward what the former publisher had started. We've got a lot of new ideas and some things we're going to do to be involved with the community and help the community grow. That's what we're here to do – is to make a difference, and put something out there that's relevant to our readers," Perry told KSIS.
One of the reasons for the move is that Phillips Media moved all of the Democrat's printing operations to a commercial printing facility in Springfield. The news stories, photos and ads on the pages are created here and assembled there, printed and shipped to Sedalia and through the mail system so subscribers can receive their copy the next day.
"That's a much nicer press setup, and we're doing all of our newspapers in one location. A lot of the small media groups are doing that these days.
"It's harder to keep a small press just for one small daily paper. So we're getting a better print job, and it allows us to have a more focused presence in the community. This building is just great, it's all designed to our specifications," Perry said of the former Sedalia Water Department facility. "We're just real happy to be here, right near the square in downtown Sedalia."
Thursday's event attracted a few hundred people eager to see the new home of the Sedalia Democrat, and sample the freshly cooked bratwursts and hot dogs, grab a bag of chips and a soda. Perry was very pleased with the turnout and the support shown by the community and Chamber. "We appreciate the work they do in this community," Perry noted. "We're going to be the media sponsor for a couple of big deals they have coming up early next year, so I am excited about that, too."
Perry said he met with Chamber Executive Director Debra Andresen recently and they have some great ideas that can partner on, that will result in a win-win for Sedalia.
"We've been here (in Sedalia) since 1868, starting across the street, and now we're back here at 111 West Fourth Street, Perry said with a big smile.
"We've got some niche publications that we're planning to launch this year, and some changes to the Sedalia Democrat that we think readers will really like," Perry said. The phone number, 826-1000, is still the same.
Sedalia Democrat Editor Nicole Cooke has worked for the newspaper for nine years and served as editor for the past five.
When asked if she enjoys her job, Cooke responded, "I do, very much." She also is editor of the Warrensburg Star-Journal.
Cooke noted that while she is very happy with her new digs, it was kind of sad to leave the old building, which contained not just a lot of equipment and furniture, but a lot of memories as well.
"It was a lot of work to get over here, and it was kind of bittersweet to leave a building we've been in for 55 years, there's a lot of memories, a lot of people who have worked in there. But we're excited to be in our new spot, something that fits our current needs a little bit better. It's a new, fresh start for the Democrat," Cooke commented.
The editorial staff at the Democrat consists of Sports Editor Bryan Everson, News Reporters Faith Bemiss, Chris Howell, Skye Melcher and Editor Nicole Cooke.
"Between those guys and myself, we work to cover all of west-central Missouri and specifically Sedalia," Nicole said.
In Warrensburg, the newsroom consists of Sports Editor Joe Andrews, and News Reporters Sara Lawson and Maliyah Venerable.
But with a larger staff comes responsibility as well.
"It is sometimes a scheduling nightmare to run two newspapers, but there are some benefits. We get to share contact back and forth. Our sports editors are a great team, and work with each other really well. It's a lot of work, but we're excited to be able to help run that newspaper as well," Cooke said, adding that a lot of news is generated in Warrensburg, Knob Noster, Whiteman AFB and Johnson County in general.
Sedaliademocrat.com and Warrensburgstarjournal.com are the websites where you can find the news that is published online by these professional media outlets.