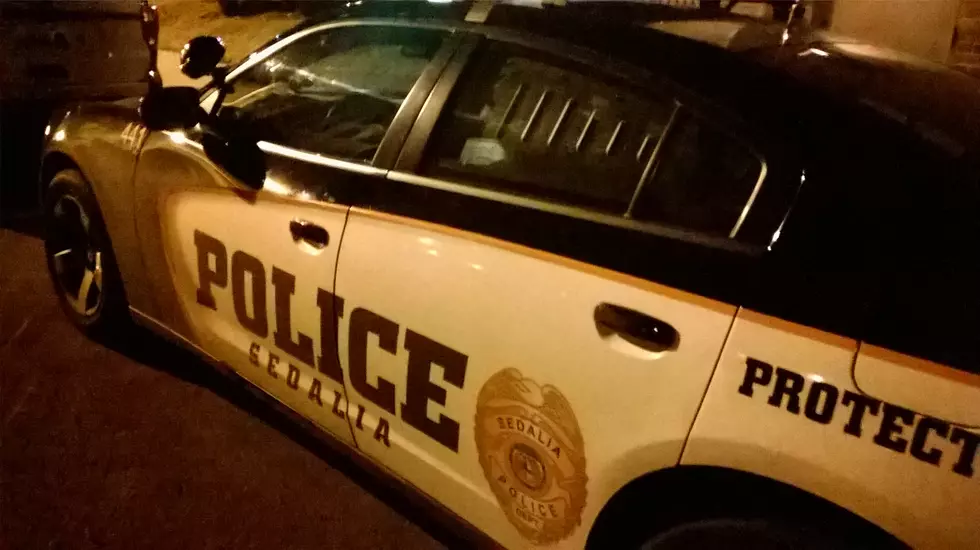 Sedalia Police and Pettis County Sheriff's Office Crime Reports for August 21, 2017
Kurt Parsons
A 40-year-old man was taken to the Pettis County Jail and placed on a 12-hour protective hold after Sedalia Police were called to a downtown business around 12:30 a.m. on August 21. Police made contact with Christopher E. Murray, who they say was acting strangely, and told them he was homeless, that he had not slept for two to three days, and had recently used methamphetamine.
---
A Lincoln woman was arrested around 7:30 a.m. on August 20 after police received a theft complaint from Sedalia's Walmart. A police report says the suspect, 35-year-old Helen Melissa Jones, was found with stolen merchandise in her purse by a store employee. Jones was taken to the Pettis County Jail on charges including stealing, burglary, and possession of a controlled substance.
---
Officers were dispatched to the 1500 block of W. Main Street on August 19 after receiving a 911 call reporting suspicious activity. Upon arrival, an officer reported detecting the odor of marijuana. Two adult men and one juvenile were contacted. Officers reportedly found marijuana, drug paraphernalia, and schedule 2 pills. 18-year-old Jorge Sebastian Aguero of Sedalia and 17-year-old Trenton R. Willis of Sedalia were issued summonses for possession of marijuana. The juvenile was taken into custody for possession of a controlled substance and released to his parents. The case is being sent to the prosecutor and Juvenile Office for review.
---
A 43-year-old Sedalia man was arrested on August 19 for possession of marijuana, possession of drug paraphernalia, and a failure to appear warrant from Franklin County after police were dispatched to a disturbance on South Quincy Avenue around 3:45 a.m. Robert William Sandberg was taken to the Pettis County Jail.
---
A Sedalia man with an active Pettis County Warrant for a sex offense was arrested on August 18. Police conducted a warrant check on Montgomery Circle and located 46-year-old Michael W. Thornton, who was arrested and taken to the Pettis County Jail. Thornton's bond is set at $75,000 cash or surety.
---
A 24-year-old man was arrested on August 18 after police stopped a vehicle matching the description of a vehicle involved in a theft case. Police found that Anthony S. Cirelli had a felony warrant out of Camden County and attempted to arrest him, when he resisted and pushed an officer to the ground. Cirelli was apprehended after a short foot pursuit and was taken into custody on the warrant, and additional charges of assault and resisting arrest.
---
A traffic stop was conducted on a Ford truck around 11:30 p.m. on August 18 at Broadway and State Fair Blvd. Police say the license plates on the truck had been reported stolen from the Hughesville area in June of last  year. The driver, 20-year-old Dillon James Pettis, was arrested for state charges of improper vehicle registration, driving while suspended, receiving stolen property, and being a minor in possession of alcohol.
---
Police were dispatched on August 18 to Centennial Park to check on a person that was sleeping in his underwear in the bathroom. According to a police report, the suspect was coming out of the women's bathroom as officers arrived. Police say 38-year-old Ryan Lee Hefley of Sedalia is on the sex offender registry and is not allowed to be in public parks. Hefley was arrested after a short foot pursuit and was taken to the Pettis County Jail. The Missouri State Highway Patrol's Sex Offender Registry shows that Hefley was convicted of sexual assault in Moniteau County in 2007.
---
Shawn L. Malone, 40, Sedalia, was arrested by Sedalia Police at 11 a.m. Sunday after officers responded to a 911 hangup call from the 600 block of E. 5th. Malone was wanted on three Randolph County felony warrants and was arrested and transported to the Pettis County Jail on a $15,000 cash bond.