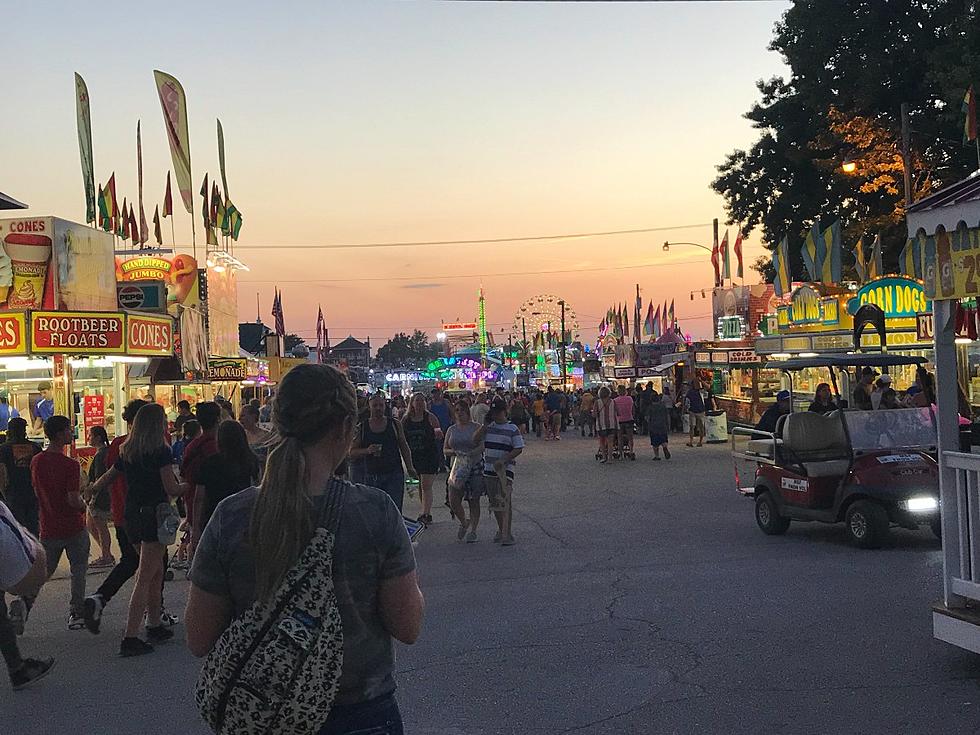 Stars Playing the Iowa State Fair; Will Our Lineup Be as Strong?
Rob Creighton / Townsquare Media
It's that time of year when state fairs across the Midwest start to announce their grandstand concert schedules.
And like it or not, the comparisons between the Iowa State Fair and the Missouri State Fair concert lineups will certainly be discussed by armchair concert bookers throughout Sedalia. Especially among those unhappy with the lineup of artists, the Missouri State Fair trots out over the next few months.
So who does The Iowa State Fair have scheduled to perform? Let's take a look.
Thursday, August 11- Skillet (Christian Rock)
Friday, August 12 - Brooks & Dunn with special guest Alex Miller (Country)
Saturday, August 13 - Nelly with special guest Ginuine (Rap/'90s nostalgia)
Sunday, August 14 - Demi Lovato (Pop)
Monday, August 15 - Alanis Morissette (Pop.'90s nostalgia)
Tuesday, August 16 - ZZ Top with special guest Ann Wilson from Heart (Classic Rock/Classic Hits)
Wednesday, August 17 - John Crist and Friends with special guest Dusty Slay (Comedian, Youtube star with over one billion video views.)
Thursday, August 18 - Kane Brown with special guest Jessie James Decker (Country)
Friday, August 19 - Disturbed with Special Guest Chevelle (Rock)
Saturday, August 20 - Keith Urban with special guest Ingrid Andress (Country)
Sunday, August 21 - Carrie Underwood with special guest Adama Sanders (Country)
I think the lineup for the Iowa State Fair is pretty good. Sure, it leans Country, but don't most state fairs in the midwest? And it doesn't leave out other genres or artists that have younger appeal, which I think is cool.
If I had a criticism for the Missouri State Fair it's that it's too Country and they have a tendency to program the concerts for an older audience at the expense of taping into '90s nostalgia or today's good for all time zones. I'd also say unless it's Classic Rock or Country, they don't tap into '80s nostalgia either. They also don't program shows in the grandstand for a couple of days earlier in the week. This means they have fewer nights to fill with shows.
That said, it's complicated. The bigger the artists, the higher the ticket prices. And generally, the higher the ticket prices, the harder it is to sell tickets. Add to that a mediocre crowd for an act like Boyz II Men, and all the people that showed up for Hank Williams, Jr., and well, that's going to influence what artists get booked for our fair.
So from the Iowa lineup do I think might pop up in Missouri?
ZZ Top with Ann Wilson from Heart seems like a good candidate for the rock show if you ask me. Classic rock and Classic Hits as well as '80s music fans will enjoy this show. And Ann Wilson, probably singing some of Heart's classics isn't a bad opener. If I can't have both the Wilson sisters performing as Heart, I'll go for Ann as the voice is more important than the guitar player (and I say that as someone who admires guitar players.)
Carrie Underwood. A very bankable name in Country and beyond who I think would do well for the Missouri State Fair.
Alanis Morissette. If the fair is looking at giving another go at a '90s artist like Boyz II Men last year, this could be a good show. Morrisette's music is still played on lots of radio stations. And her album "Jagged Little Pill" is iconic for those who were into music at the time it was released.
I think the three above artists are the most likely to pop up on the Missouri State Fair's concert schedule. All are touring this summer. And all don't have many other August commitments making me think perhaps the back half of the summer will see them playing state fairs. That also makes me think they're probably not out of our fair's budget or would create an environment where the fair would need to set ticket prices so high people would skip it.
My buddy JoJo thinks Nelly would be a no-brainer for the fair. And being that Nelly's a Missourian, one of St. Louis' favorite sons, his shows do very well there, and he's a bankable name from the '90s there's an argument to be made that he should be someone whose career the Fair celebrates and books regularly. That said, I'd be impressed if the fair books him.
Brooks & Dunn, Kane Brown, and Keith Urban. If the fair can afford any of these guys you might see one of these artists get booked. And I think all of their shows would do very well for the fair.
Keith Urban's probably the least likely because he's playing St. Louis on August 19 and Kansas City on September 29 and has a well-plotted out schedule. Depending on his contracts and non-competes with the venues in those two cities and his schedule, a routing date could make him affordable for the fair. Brooks & Dunn and Kane Brown like the other acts I mentioned, seem to have some open August dates so they may be mounting an end-of-summer slew of fair dates.
Demi Lovato, John Crist, and Disturbed. Probably the least likely fair acts in my opinion. If the fair books a non-Classic Rock act it usually skews more alternative and is an artist that's popular, but still flies under the radar a little. Disturbed playing would be cool, but surprising. Demi Lovato, the Fair doesn't seem to be interested in booking anything that's current from the pop or hip-hop/rap world. So that'd be a stretch for them. And Mike Pettis has told me comedy hasn't gone over that well at the fair, at least as far as grandstand show, so I doubt John Crist is even a consideration.
Of course, all of this is just conjecture on my part. I don't have any information about who's playing our fair, what any of these shows cost to book, or all the different factors that go into choosing what lineup the Missouri State Fair fields. Like many, I'd love the Fair to run out a more Iowa State Fair lineup. That said, I'd expect the usual. A lot of County with a good for all time zones Classic Rock/Hits show. Maybe a '90s nostalgia show or a Christian Rock show, and a night or two of Alt. Country.
61 Pictures of Smiling Faces and Sights of the Mo. State Fair
The best way to experience the Missouri State Fair is to go to the Missouri State Fair. Eat the food, enjoy some cold beverages, ride the rides, see the shows, go to the concerts. The second way is through the smiling faces and photos of the people there. During the 2021 Missouri State Fair, I asked you on Facebook, to post your state fair photos. What struck me most about your photos were all the smiling faces. Here's the collection of the photos you posted on our Facebook page.
You Can Rent This Airbnb in Sedalia for the State Fair
Lots of people come to Sedalia for the Missouri State Fair. Some like to camp on the fairgrounds. Others check in to one of our local hotels. But what about Airbnb accommodations? There are many in the area if you don't mind driving in from Knob Noster, Warrensburg, or other towns. However, choices close to the fair in Sedalia are limited. This nice little home sleeps up to six and as of January 2022 is available for the entire Missouri State Fair for just over $2,800.00. You can learn more about this air b n b rental
here
.