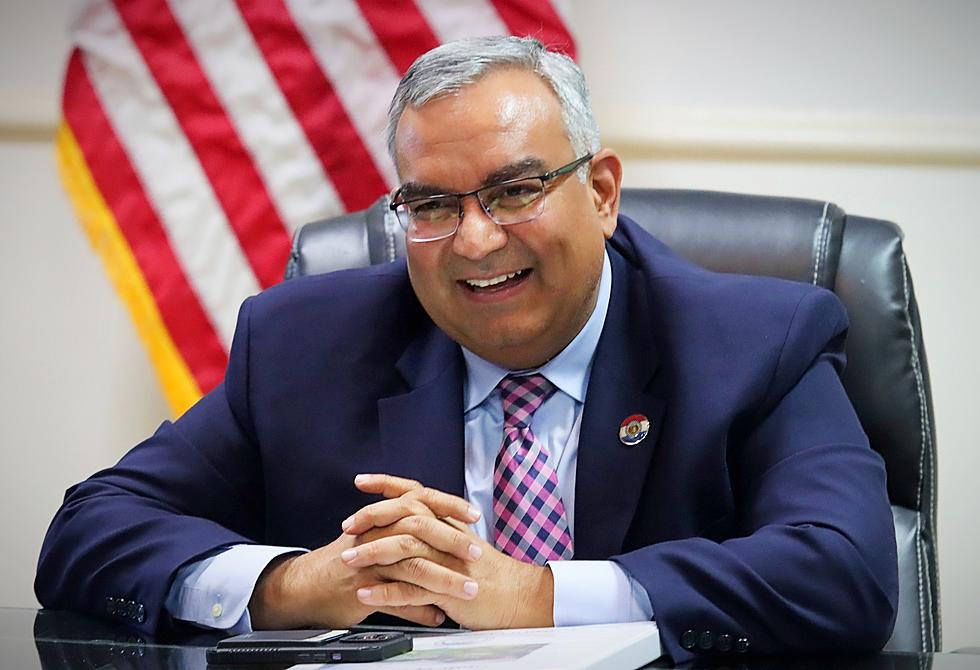 State Treasurer Vivek Malek Promotes 'MoBucks' in Sedalia
Randy Kirby
Missouri State Treasurer Vivek Malek paid a visit to Sedalia Monday afternoon to promote the MOBUCK$ program, which reopens Jan. 2.
The program focuses on small businesses and farmers who need help in securing a loan at a cheaper rate.
"We're going to increase the limit on our cap from $800 million to $1.2 billion," Malek told KSIS on Monday at the Pettis County Courthouse.
Those requesting a loan must go through their bank, which in turn applies through MoBucks. "It's a win-win for everybody, Malek explained, "because the loanee gets a lower interest rate, because we are asking the bank for a lower rate on our CDs, but the bank is not out money, because they have an infusion of money from the Treasurer's Office for the money that they loaned."
Malek went to on to say that the MOBUCK$ Linked Deposits program was not that popular when interest rates were lower, but with the feds increasing interest rates and inflation, it has become very popular and sought after.
"The limit, or the cap on MOBUCK$ is $800 million. We ran out of money in May, so we had to shut it down. We now have money that is maturing, so we'll be opening up again on Jan. 2 and hopefully, we will have an infusion of an additional $400 million from the State. But we still have to go to the House for appropriating that. Then we will be able to give more loans, and hopefully keep keep it open for a longer duration this time," Malek told KSIS.
So any business that is headquartered in Missouri and employs less than 100 people, may apply for MOBUCK$. Farmers and ranchers may be able to take advantage of MoBucks as well, the state treasurer noted.
In addition to MoBucks, Malek also encouraged Missourians to check ShowMeMoney.com and see if they have any unclaimed property due them.
"The State (in my office) currently has $1.2 billion in unclaimed property. In Pettis County alone, we have about $4.8 million in unclaimed property in 61,000 accounts," Malek noted.
"Just log on, it takes less than 15 seconds. All you need to do is put your last name, first name, and it will pull down the list and just select which ones are yours, add them to the basket, verify yourself, your Social Security number and if everything is verified, you'll hopefully receive a check in two weeks," Malek said.
"And if you have any problems, call the Treasurer's office and we'll be able to help you," he promised.
The Treasurer's office currently employs 50 people in four divisions, according to Malek's website.
"The Treasurer's Office is responsible for returning Unclaimed Property to Missourians. Each year financial institutions, businesses, government agencies, and other organizations turn over millions of dollars in cash and the contents of safe deposit boxes to the Treasurer's Office. The Office currently holds more than $1 billion in unclaimed assets. 1 in 10 Missourians has Unclaimed Property and the average return is $300. The Treasurer's Office never charges to return Unclaimed Property," Malek's website says.
Malek met with several people gathered in the Pettis County Commissioner's Chambers for about an hour late Monday afternoon, and even posed for pictures afterward. Malek currently is touring the state, visiting various counties and promoting the MOBUCK$ program.
"It was a pleasure to welcome Missouri State Treasurer Vivek Malek to our Pettis County Courthouse," said Eastern Commissioner Israel Baeza.
"This meeting was of significant importance as it marks the first time a State Treasurer has visited with Pettis County Elected officials in our County Courthouse in recent history. We are deeply grateful whenever esteemed state-wide elected officials take the time to visit our community. Their presence is a testament to their dedication to serve the people of our State," Baeza concluded.
Malek visits Sedalia
Gallery Credit: Randy Kirby