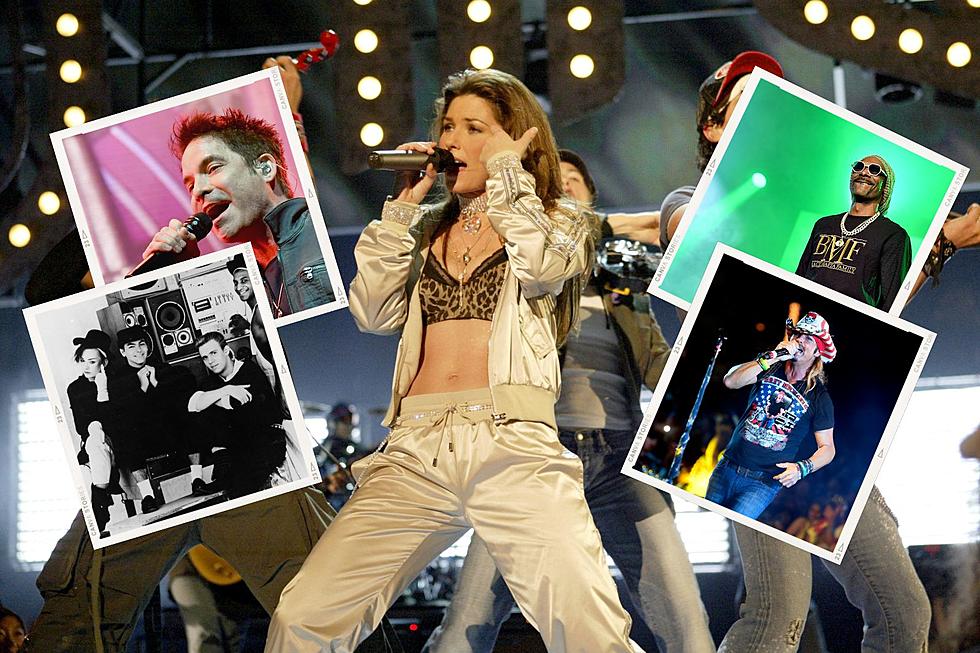 Summer Shows Coming To Missouri That 80s & 90s Children Will Love
Getty Images
The 2023 summer concert season is shaping up to be one of the best post Covid-19 concert seasons so far. There's a good chance you've heard about the huge shows. Taylor Swit and Billy Joel / Stevie Nicks at Arrowhead. Guns 'N' Roses playing the K. Yet this summer is shaping up to be a great concert season for those who grew up and love music from the 80s and 90s that aren't big enough to fill a stadium and create a massive buzz.
The most attention-grabbing 80s tour and the concert that intrigued me enough to write this article is Boy George and Culture Club's The Letting It Go Show Tour. Joining Culture Club on this tour is 80s light popster Howard Jones along with new wave act Berlin. It's a great fun package tour.
The other major attention-grabbing 80s package tour is Poison's Brett Michaels Parti-Gras Tour 2023 which is hitting the road with Night Ranger, Jefferson Starship, Mark McGrath, and former Journey replacement singer Steve Augeri.
Did I mention 80s critical darlings Tears For Fears is back on the road too? They hit it big with "Everybody Wants To Rule the World" and "Shout" from their album "Songs from the Big Chair". Then followed it up with "Sowing the Seeds of Love" and "Break It Down Again." Last February, after an 18-year gap between new albums, they released the very well-received "The Tipping Point".
It's not that Tears For Fears hasn't toured. Their successful 2019 tour is what motivated the duo to get back into the studio to finish what became "The Tipping Point". The long arduous story of that album's creative journey is interesting on its own and started as early as 2013. That said, I suspect many who may not have experienced the duo in the 80s, might be interested this time around.
Of course, there are the artists that aren't fully 80s acts but straddled the 70s and 80s that seem to tour every year that are out too. ZZ Top, Chicago and Foreigner have dates booked in Missouri. While REO Speedwagon and Styx are on tour too, although no Missouri dates have been booked yet.
As far as the 90s/2000s acts go, two of the more late 90s / early 2000s standard bearers for alterna-pop are touring. I'm talking about The Goo Goo Dolls and Matchbox 20. The Goo Goo Dolls are out on the road this summer with O.A.R., while Matchbox 20 is out with Matt Nathanson. Also out on the road this summer is Blues Traveler with Big Head Todd and the Monsters. As well as Barenaked Ladies with Semisonic and Del Amitri. Not to mention indie darlings Weezer, if you can call them that, is out on the road too.
The 90s/2000s alterna-pop act that's on my "must-see" list for this summer is Train. Nothing against The Goo Goo Dolls and Matchbox 20, but I just like Train's body of work more. As far as songs go, there's "Meet Virginia", "Drops of Jupiter", "Calling All Angels", "Hey, Soul Sister", and "Drive By", and those are just the hits. They're out on the road with Vertical Horizon whose big hit was "Everything You Want".
Of course, Nelly is gracing the Missouri State Fair, as is Three Doors Down with Candlebox.
Snoop Dogg is on the H.S. Reunion Tour with Wiz Khalifa, Too $hort & More. While another big 90s package tour is out rolling called Hot Summer Nights starring TLC, Shaggy, EnVouge, and Sean Kingston.
If rock is more your thing. Fall Out Boy, Godsmack, The Offspring with Sum 41, Incubus, and Mudvayne all have Missouri shows scheduled for this summer.
To check out where you can see them this summer in Missouri keep scrolling and check out the gallery below.
Summer Shows Coming To Missouri That 80s & 90s Children Will Love
Here are the concerts coming to Missouri this summer that children of the 1980s and 1990s are going to want to see.
2023 Rock Tour Preview
Reunions, farewells and long-awaited shows are on the horizon.