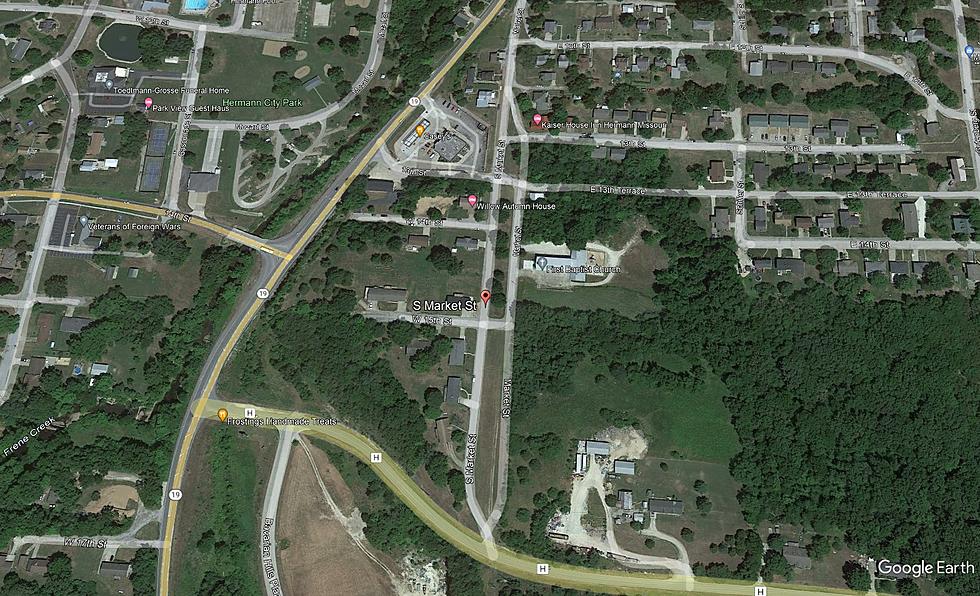 Two Hermann Officers Shot, One Dead; Suspect In Custody
Google Earth
UPDATE: The suspect is in custody, the MSHP reported shortly after 2 p.m. Monday.
---
According to the MSHP, on March 12, Hermann Police Chief Marlon Walker requested that the Missouri State Highway Patrol investigate an officer-involved shooting.
At 9:06 p.m. on March 12, two officers from the Hermann Police Department responded to Casey's General Store in Hermann. The officers contacted Kenneth Lee Simpson, age 35, inside the store. The officers attempted to take Simpson into custody for multiple warrants from Franklin and Warren counties.
According to Casenet, Simpon was wanted on an FTA warrant out of Waren County for three counts of felony possession of a controlled substance, with a $1,000 cash-only bond, an FTA warrant out of Warren County for felony possession of a controlled substance with a $5,000 cash or surety bond, and an FTA warrant out of Franklin County for driving while revoked with a $100 cash bond.
An altercation ensued and the two Hermann officers were shot. Detective Sergeant Mason Griffith was transported to Hermann Hospital, where he succumbed to his injuries. Officer Adam Sullentrup, age 31, was transported to a St. Louis area hospital where he remains in critical but stable condition.
Officers developed information indicating Simpson was in a residence near the scene in Hermann. A perimeter was established around the home and the Missouri State Highway Patrol's SWAT team and negotiators responded and worked to establish communication with Simpson.
At 1:49 p.m. Monday, Simpson exited the residence voluntarily and was taken into custody. Simpson will be transported to the Crawford County Jail where he will be held pending formal charges by the Gasconade County Prosecuting Attorney.
The Missouri State Highway Patrol was assisted by the Hermann Police Department, Gasconade County Sheriff's Office, Osage County Sheriff's Office, Montgomery County Sheriff's Office, St. Charles County Police SWAT team, St Charles County Police Bomb Squad, U. S. Secret Service, Federal Bureau of Investigation, U.S. Marshals Service, Hermann Fire Department and Hermann EMS.
The Missouri State Highway Patrol's Division of Drug and Crime Control is continuing to investigate this shooting. The allegations against Simpson are mere accusations and are not evidence of guilt. Evidence in support of these charges must be presented before a court of competent jurisdiction whose duty is to determine guilt or innocence.
---
The Missouri State Highway Patrol issued a Blue Alert Sunday night after Troopers say two Hermann police officers were shot.
The suspect, 35-year-old Kenneth Lee Simpson, was driving a black 2014 Jeep Wrangler, with license plates RF5-AOP.
Missourians received the Blue Alert on their phones around 9:40 p.m., last night.
According to the Missouri State Highway Patrol, Simpson is suspected of shooting two Hermann Police Department officers and fleeing the scene at Casey's, 811 Market Street. Officers attempted to arrest Simpson on outstanding warrants.
One officer was reportedly shot in the head, while the other was shot in the chest. Both were airlifted to an area hospital.
Simpson is 5'10" with red hair and hazel eyes.
Simpson shot two police officers at a Casey's General Store located at 811 Market Street in Herman. One officer, Det. Sgt. Mason Griffith, has since died from his injuries at the hospital. He previously served as the Rosebud police chief. Rosebud is located several miles south of Hermann.
According to a post from the City of Hermann,  "Hermann Police Officer Adam Sullentrup, age 31, sustained injuries and we are hopeful for his recovery."
A Blue Alert is issued when Troopers are looking for a suspect who killed or seriously injured a peace officer.
According to online court records, Simpson has numerous prior charges and arrests, including assault and weapons charges. Simpson has a long criminal history, dating back to 2004 with several cases pending. Simpson was allegedly on the run from authorities since April, 2022.
Hermann is located just south of the Missouri River, in Gasconade County, west of St. Louis.
Gasconade County R-1 Schools announced that classes would not be in session on Monday, according to a Tweet from the school.
"Out of an abundance of caution and the desire to ensure the safety of our students and staff that we are closing campus for today, Monday, March 13th."
LOOK: 25 things that have different names depending on where you live in the US
Sta



cker
compiled a list of 25 different things that have region-specific names using news, dictionary, and academic sources.