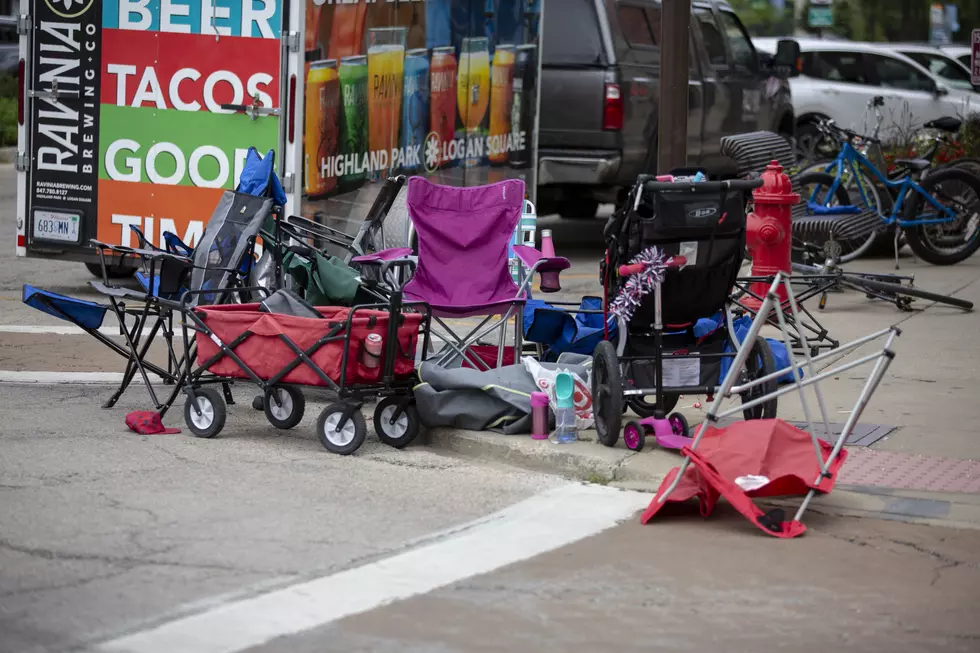 'Person of Interest' in Illinois Parade Shooting Apprehended
Getty Images
UPDATE: 22-year-old Robert "Bobby" Crimo, III, was taken into custody after he was spotted by North Chicago Police Monday evening.
A short chase ensued, and then Crimo stopped at an intersection in Forest Hills, Illinois, and was apprehended without incident, Highland Park Police said in a press conference at 6:45 p.m.
---
Police say at least six people are dead and 26 were wounded in a shooting at a July Fourth parade in a Chicago suburb, and officers are searching for a suspect who likely fired on the festivities from a rooftop.
Highland Park Police Commander Chris O'Neill urged people to shelter in place as authorities search for the suspect, described as a white male wearing a white or blue T-shirt.
Lake County Major Crime Task Force spokesman Christopher Covelli said at a news conference that the gunman opened fire on parade-goers at 10:14 a.m, Central Time, from a rooftop Monday morning using a high-caliber rifle that was later recovered at the scene.
Covelli says police believe there was only one shooter and he should still be considered armed and dangerous.
The suspect was described as a white man between the ages of 18 and 20 years old, with a small build, long black hair and wearing a blue or white T-shirt.
A person of interest was named at 4:52 p.m. The authorities are looking for Robert "Bobby" E. Crimo, III, 22, driving a 2010 silver Honda Fit with Illinois plates.
Crimo was said to be from the Highland Park area.
The injured taken to area hospitals ranged in age from 8 to 85.
Lake County Coroner Jennifer Banek said the five people who died at the scene were adults. One person later died at an area hospital, Banek said, for a total of six dead.
Highland Park is located 25 miles north of Chicago.
According to Highland Park Police:
Through law enforcement partnerships and community information and leads, a person of interest has been identified as Robert (Bobby) E. Crimo III. He is twenty-two years old. He is believed to be driving a 2010 Silver Honda Fit, IL Lic. Plate DM 80653.

 

Numerous federal, State and local law enforcement agencies working on apprehending this person of interest. Investigators continue to receive tips from the public and law enforcement partners, and will follow up on all of them. Individuals who have information to share with police, are urged to contact 1-800-CALL-FBI.

 

The City of Highland Park extends its deepest condolences to the loved ones of those who were impacted by the horrific incident in our community.

 

Further information regarding this investigation will be posted to cityhpil.com as available, and law enforcement will continue to provide regular briefings to the public.