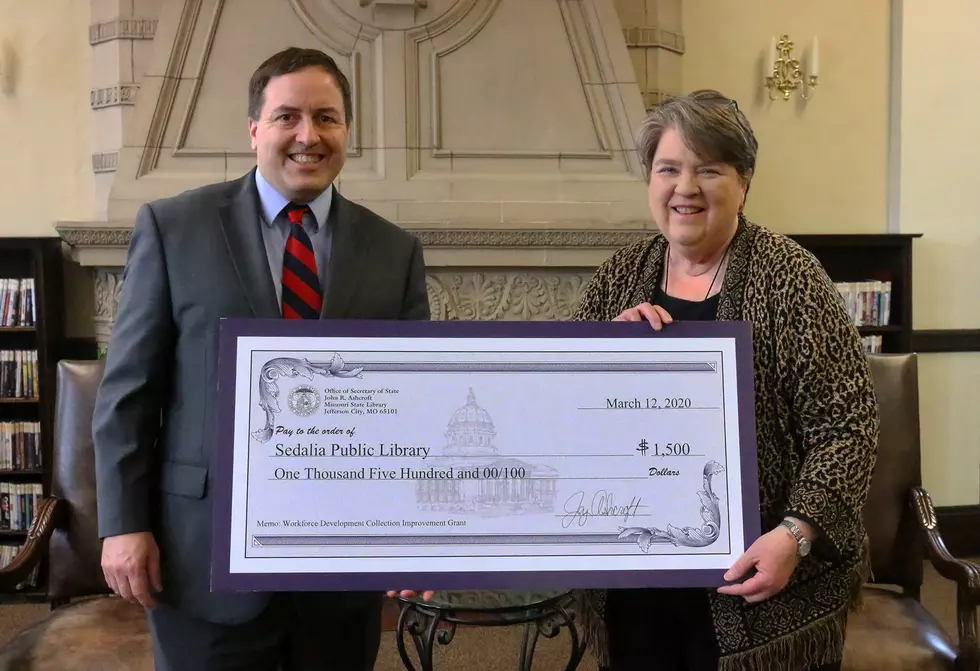 Boonslick, Sedalia Public Libraries Receive Grant Money
Randy Kirby
Secretary of State Jay Ashcroft visited Boonslick Regional Library and Sedalia Public Library on Thursday to take a tour, meet the staff and make grant presentations.
The Secretary of State's State Library recently awarded Workforce Development Collection Improvement Grants to the libraries, with Boonslick Regional Library, 219 W. 3rd, receiving $2,400 and Sedalia Public Library, 311 W. 3rd, receiving $1,500.
Linda Allcorn accepted the check for Boonslick, while Pam Hunter accepted for Sedalia Public Library.
"Missouri's libraries serve as resource hubs for their communities, with many acting as the de facto business center in their area," Ashcroft said. "These grants ensure they can continue to offer their patrons materials which are vital to the development of business and workforce skills."
Workforce Development Collection Improvement Grants are used to strengthen print, audio and digital collections in the areas of workforce development and small business support. The grants were offered to libraries with revenue below $1 million that serve populations over 20,000.
Ashcroft explained why he made the trip from Jeff City to Sedalia to visit Boonslick:
"I'm here because I love libraries, and I love what the Boonslick Regional Library has been doing. They received a grant and we're celebrating what they're doing to help the people of this community," Ashcroft told KSIS.
"Libraries have become the new town center. It's where communities come together ... and it's a passion of mine. I think it's one of the best ways for government to help people be the best they can be, without getting in their way," Ashcroft concluded.
The Secretary of State last visited Boonslick about two years ago.
Earlier this week, Ashcroft accepted the Missouri Library Association's Meritorious Achievement Award, which recognizes an individual who has made a significant contribution to libraries in Missouri.
"Secretary Ashcroft has been a great friend to Missouri's public libraries, and his work to help provide needed resources for libraries and their patrons has been widely recognized," said Randy Scherr, governmental consultant for the Missouri Library Association. "We appreciate that he encourages the use of libraries and understands how important they can be to the fabric of a community."
Since taking office in 2017, Ashcroft has worked hand-in-hand with Missouri's libraries and the state legislature to bring state funding for public libraries back to the levels once seen in Fiscal Year 2010.
"This is such a great honor," Ashcroft said. "I believe so strongly in the value of public libraries. If you have access to a library, you can teach yourself anything. Libraries serve such a unique and vital role in their communities, acting as a hub of resources – especially in workforce development – for their patrons. I am privileged to act as an advocate for them."