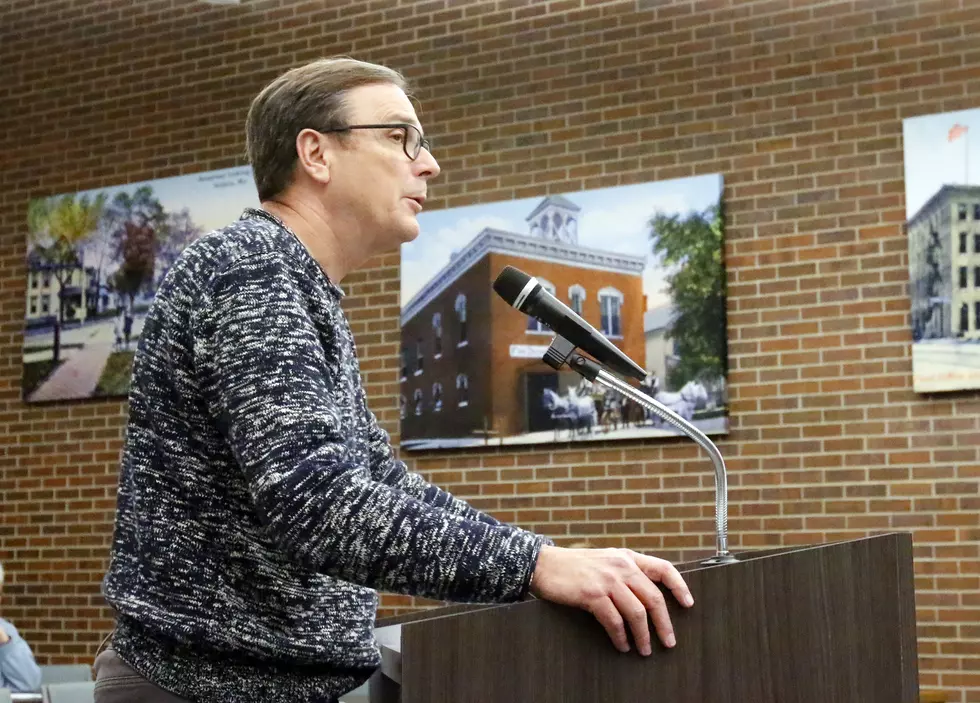 Council Approves Marker for George R. Smith College Site
Randy Kirby
No less than four presentations and two public hearings were on the agenda at Monday night's City Council meeting.
One of the public hearings focused on placing a black & gold marker at the site of the former George R. Smith College, a historically black college, located just north of Pettis/Saline streets where a Nucor railroad spur is located now.
The historic landmark opened for business in 1884 until it burned in 1925, and later merged with Philander Smith College in Arkansas many years later.
Community Development Director John Simmons read a statement from local historian Rhonda Chalfant pertaining to facts about the college.
Council approved the marker later in the meeting.
The "no-name" street between Liberty Pool and Liberty Stadium may be known as "Liberty Stadium Drive" after the street was resurfaced from 3rd to Liberty Park Boulevard recently. The roadway, which gets a lot of traffic, was badly in need of repair and apparently never had an official name.
Council adopted a resolution to that effect Monday night, declaring their intent. Four weeks after publication of the notice, Council will hear from any affected parties and then can consider an ordinance to make it official.
Council granted a rezoning request for property located at 2006 W. 14th from C-O (non-retail) to R-1 (single-family dwelling). The request was already approved by the Planning and Zoning Commission.
Council approved a historic preservation grant agreement with DNR for a survey concerning the Victorian Towers District in Sedalia. The $50,000 grant requires matching funds from the City, and an $8,369 in-kind match is also coming. The Reconnaissance Survey hopes to expand the area around Victorian Towers, it was noted.
Council agreed to lease 18 acres of land for farming near the Nucor Rail Spur. The land is not needed and will be leased to Staus Farms, bringing in $2,196 annually.
A few change orders were approved by Council Monday night.
$400 was deducted from a water main replacement project at Driftwood Drive and Honeysuckle Drive to close out the contract.
$26,432.50 was deducted from a water main replacement project at 9th and Ingram to close out that contract.
$76,936 was deducted from a mill and overlay project on Thompson Boulevard because of less asphalt was used than was projected. Therefore, the total amount spent on the Thompson Boulevard project was $394,821.05.
Council voted to suspend the City's open container law for a special event scheduled for March 18.
The Sedalia Lions Club will hold their St. Patrick's Day pub crawl event in downtown Sedalia as a fund-raiser for the club.
The club will pay for off-duty police to serve as security for the event, and the area will be clearly marked and barricaded from 12 to 7 p.m. Participants of legal age will pay for a special plastic cup and wristband to use that day.
Blue Street Tech was awarded an $8,784.15 contract for a one-year renewal of antivirus software (Sophos) for the City's computer networks. The renewal date is Dec. 24. It was noted that Blue Tech was not the lowest bidder, but the best, due to their superior technical assistance and consulting services, in the opinion of staff. The antivirus software protects the City from cyber attacks.
The size of the Bothwell Regional Health Center Board of Trustees will increase from seven to nine.
On Monday night, Dr. Gregory Doak, former Mayor John Kehde, former Council member Jo Lynn Turley and new SFCC Vice President Dr. Michael Murders were named to the Bothwell board.
Council also formally accepted the resignation of the president of the Zoning Board of Adjustment Kevin Wade, who resigned two weeks earlier.