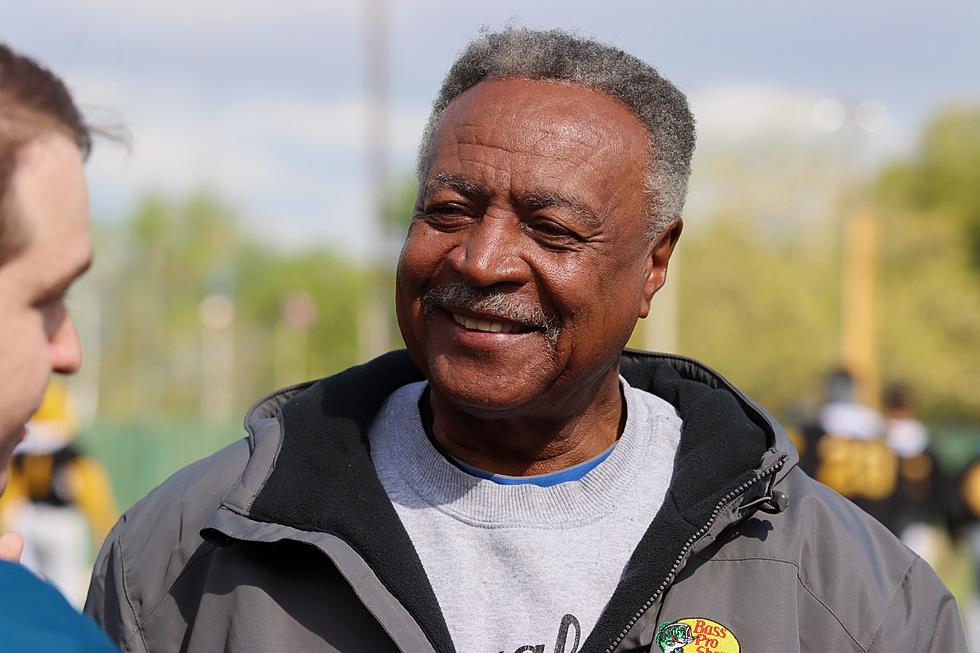 Former KC Royals Player, Manager Frank White Visits Sedalia
Randy Kirby
April 22 became Frank White Day in Sedalia after the former Kansas City Royals player, manager, coach, MVP, Gold Glove Award Winner, KC Monarchs coach and World Series Champion Frank White paid a visit to home plate at Dey Field at Liberty Park Stadium.
He currently serves as County Executive for Jackson County, Mo.
He later was the guest speaker at the annual Pettis County Chapter of the NAACP at Best Western State Fair Motor Inn, 32nd and Limit, later in the afternoon.
Sedalia Mayor Andrew Dawson presented White with a key to the City, and at the NAACP banquet, proclaimed April 22 as Frank White Day in Sedalia.
Pettis County Commissioners presented White with a framed certificate of recognition while he was at the ballpark, and later posed for photos with the famous former Royals second baseman.
Also present at Liberty Park Stadium were the Smith-Cotton baseball Tigers, and the SFCC Roadrunners baseball team.
Sedalia Fire brought three engines to the event, but firefighters were quickly called away to a small grass fire on Pettis Street.
During his comments, White said that it was great to be back in Sedalia, noting that he frequently visited the State Fair City to say hello to his friend Greg Banaka, who operated a Bass Pro Shop at the time.
"I'm getting too old to go hunting and fishing," White quipped, "not like like I used to."
White said that it was a great honor to work with the S-C baseball Tigers during a practice session on a Saturday morning. They are coached by Kyle Zimmerman.
Around 25 to 30 of Coach Zimmerman's players were at practice that day. There's a total of 35 on the roster, but a few of them had to work on a Saturday morning, and one was competing at DECA nationals that weekend.
The S-C Tigers were gearing up for games on Monday, Wednesday, Friday and Saturday. The SFCC Roadrunners played a home game that afternoon and wrapped up their last home game this past Tuesday, beating the North Central Pirates, 8-6. But they traveled to North Central's campus on Wednesday and got beat, 5-4. The Roadrunners end their season with a doubleheader on the road on May Day at Mineral Area College.
The S-C Tigers recognize their seniors Saturday morning at home during a game with Excelsior Springs. The Tigers' last home game is May 10 with Lebanon. Coach Zimmerman previously played for the late Coach Bill Dey and the late Coach Ross Dey, and later on played Senior Legion ball as well as the Sedalia Bombers at Dey Field.
White said he coaches when time allows for the Monarchs, an independent league in Kansas. He also works with the infielders and takes part in batting practice when he can. White has been involved with the Monarchs for about 10 or 12 years.
White said he enjoys the time he spends away from politics.
"When I go to the baseball games over there (in Kansas) I can just react, I don't have to think about everything, because you're not involved in contracts or player negotiations or things like that. I'm just going over to strictly help the guys, and that's what I like, and it's great environment, and I can interact with the fans, so it's been a lot of fun for me," White said.
"When you spend your whole life (in sports) with people saying good things about you, then you put your political hat on, and all of a sudden, it's bam, it's like woah, what did I do wrong?" he laughed.
White admitted he enjoys public service.
"But I really love the job, I really enjoy being in a position where you can create programs that are going to help people's quality of life, and that's what it's all about to me – changing lives," White said.
White also admitted that "name recognition helps, and having a clean record helps. But when people vote for me, I always look at it as it's a trust factor with me, they can trust you to do the right thing, they trust you to put people first, and create programs for kids and seniors. We always focus on what can we do differently today that going to make someone's life better?" White said.
"I'm having a ball with it, I love it," White said of his day job as a Jackson County County Executive. "I just got reelected in November for another four-year term."
White is responsible for about 718,000 people. "It's 18 cities in Jackson County, but each city has its own mayor and their own police force, and Public Works, Parks Department, so they pretty much run their own business. We collaborate with them a lot of times, we work hard to make sure the school districts don't suffer, with TIF projects, and things like that. So everything is geared towards assisting these cities and municipalities, we do a lot of funding" he explained.
The COVID-19 pandemic was a tough time, because the cities that didn't have health departments, they had to follow Jackson County (guidelines), so we did all we could do to keep people healthy and safe, and sometimes that was difficult," White told KSIS.
Future plans call for White to finish his term and decide what's the next step.
"Right now, I plan to run again, but then again, I've been doing this for a while. All the decisions you make, first you think about the 1100 people who work for the county, and how it's going to affect them. We try to be progressive. One of the key things we did was (expand) paid family leave from five weeks to 12 weeks. And we were able to do some things that make people want to work for the county. We were able to get our salaries above $15 an hour, and our pension plan is at 93% funded, which is way ahead of the game. And we even added fertility benefits to our health care plan. For women who want to be moms but are having difficulty, we added that to our program," White stated.
"Anything you can do to make people want to stay and say that this county cares about their employees, and they're doing everything possible to make their lives better. And when you do things like that, you create loyalty, and you have people excited to come to work, and that's what we try to do," White concluded.
Frank White