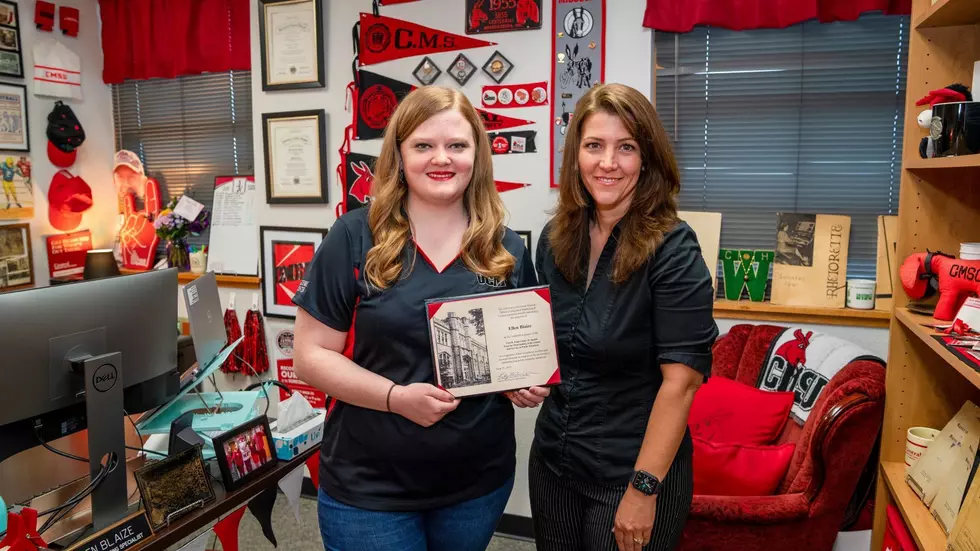 Foster-Inglish Prize Awarded to 'Burg Resident & UCM Employee Ellen Blaize
UCM
As a member of a family that produced four generations of University of Central Missouri graduates, Ellen Blaize has a lot of appreciation for her alma mater, and sharing her passion for UCM through her work in the Office of Integrated Marketing and Communications is getting noticed.
She was recently recognized as the recipient of the 2022 Carl B. Foster/John M. Inglish Prize for Outstanding Achievement and Service in Public Relations.
Kelly Waldram Cramer, associate vice president of Integrated Marketing and Communications, announced the award during a staff meeting conducted via Zoom on June 21. Blaize, who participated from her office, was surrounded by walls and shelves adorned with lots of photos, pennants, buttons, posters, and much more representing UCM's longstanding history when she heard the good news.
"She truly loves UCM," Waldram Cramer said in recognizing Blaize. "If you couldn't tell that by all of the cool memorabilia in her office, you would be able to tell by the work she does for the university. She truly believes in this place and is the type of person who elevates UCM. She exemplifies service to UCM, IMC and to students."
Through her efforts, Blaize also exemplifies the type of individual for whom this honor is intended. The Carl B. Foster/John M. Inglish Prize for Outstanding Achievement and Service in Public Relations was made possible by longtime Warrensburg resident and university alumnus John Inglish.
Upon retiring in 2000 as University Director Emeritus of Public Relations, he established an endowment through the UCM Alumni Foundation to honor his longtime friend and mentor, Carl Foster. A pioneer in university communications, Foster retired as Director Emeritus of Public Relations in 1986 after 19 years of service to the institution, then known as Central Missouri State University. Inglish, who earned bachelor's and master's degrees from CMSU, devoted more than 27 years to UCM's Office of Public Relations (now IMC) before he retired.
"We deeply appreciate Mr. Inglish's generosity and foresight in making this award possible – one that we are presenting for the 20th time," Waldram-Cramer said. "While we recognize one of our staff members, we also honor the legacy that John Inglish and Carl Foster etched into our history as an office dedicated to meeting UCM's important, strategic communication needs. We're proud to select honorees who emulate the same care for the institution, outstanding work ethic, and professionalism that both of these outstanding PR leaders brought to their roles at the university."
Blaize has served IMC as an Integrated Marketing Specialist since Dec. 1, 2017. She prepared for a communications career by earning a Bachelor of Science in Broadcast Media with a minor in Journalism in 2011, followed by a Master of Arts in Mass Communication in 2013, both at UCM.
While her duties are numerous, her focus in IMC is on maintaining effective, consistent and relevant branding and messaging around the university's goals and initiatives. She provides marketing counsel to many campus partners ranging from two academic colleges to Undergraduate Admissions and Graduate and International Student Services, and from Military and Veteran Services to UCM-Lee's Summit. She analyzes recruitment needs, helps design strategic marketing plans, and assists with marketing brochures, blogs, video, web, social and digital promotions. Blaize also works closely with the office's multimedia producers to write recruitment-related scripts and do voiceovers for radio and television commercials as needed.
Waldram-Cramer described Blaize using words such as calm spirit, collaborative, excellence, growth, initiative, resilience, and love for UCM. The IMC leader said she often leans on her colleague when she has a new project "because of the quality of product she produces and I know I can count on her.
"She is resilient. We went without a fellow counterpart for her job for six months – half a year. I didn't ever hear her complain. She kept a positive spirit the whole time. She was amazing," Waldram Cramer said in describing Blaize's professional attitude and commitment to her work.
Waldram Cramer also noted that Blaize is multi-talented, and often operates outside of her job description with a smile. Examples of the initiative she has shown include serving as co-host for the live streaming broadcast of the annual Homecoming Parade for the past two years, coordinating Get the Red Out, contributing articles to the alumni magazine, and many other projects. Such efforts contributed to her selection as one of the Star-Journal's "Top 20 Under 40" honorees during the past academic year.
"I have seen a lot of growth in her this year. She has spoken up with her thoughts more, something that is not in her natural temperament. That makes me appreciate it even more," Waldram-Cramer said. "I know it is hard to step outside of our comfort zones, but that is where the real growth happens."
Blaize said she was "incredibly honored" to receive the award. It is particularly important to her being the fourth generation graduate, who shares the same pride and deep loyalty for the institution as many of her family members.
"It sounds clichè, but this campus feels more like home than a place of employment," she commented. "It's a rare thing to truly love your job, and I'm so thankful to work in an office where I am valued and cared for as a person."
"I feel privileged to work alongside and collaborate with some really talented people who encourage me and help me grow. It's easy to market something that you believe in, and I wholeheartedly believe in the UCM experience," Blaize said. "Being able to make a difference in the lives of students is very rewarding, and I look forward to many more years at UCM."
In the photo:
Surrounded by a collection of University of Central Missouri memorabilia decorating the walls of her office, Ellen Blaize, left, integrated marketing specialist in the Office of Integrated Marketing and Communications (IMC) receives the 2022 Carl B. Foster/John M. Inglish Prize for Outstanding Achievement and Service in Public Relations from Kelly Waldram Cramer, associate vice president of IMC.