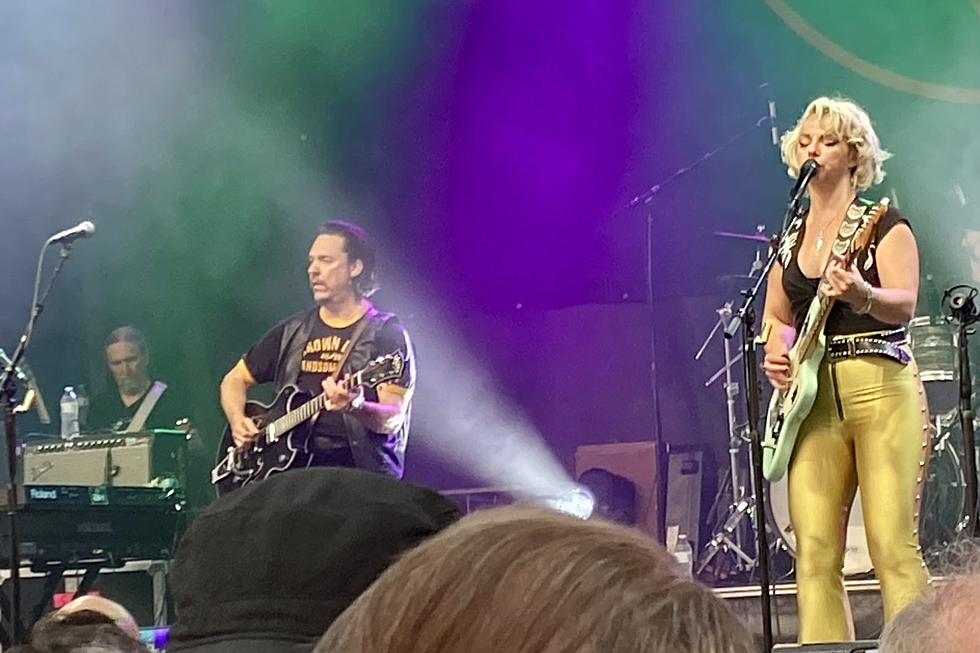 KC's Samantha Fish Wows Crowd, Makes New Fans at Illinois Show
Rob Creighton / Townsquare Media
Kansas City native Samantha Fish has been wowing fans in Missouri for years. She even graced the stage of our now-lost Dickie Doo BBQ here in Sedalia back in the day. These days she's been touring the world in support of her last couple of albums, "Faster", and her collaboration album "Death Wish Blues" with East Texas native Jesse Dayton. I saw her free Chicago area show on June 29 and I'm glad I did.
It was my third time seeing Fish, and my second time seeing Dayton. I saw their show at Park West in Chicago back in December where Dayton opened the show for her. At that show, "Death Wish Blues" hadn't been released. Yet it was easy to pick up from the two or three songs they did together that the pairing was something special and that their voices and guitar playing meshed well together. So I was looking forward to seeing them play together.
They didn't disappoint either. From the MC5's cover of "Kick Out The Jams" which started the show, to playing a lot of the music you'll find on the "Death Wish Blues" album, Fish and Dayton brought the goods. Some of the highlights were their performance of "Deathwish", their cover of Townes Van Zant's "I'll Be Here In The Morning", and a gutsy mid-set placement of one of my favorite songs "Bulletproof". If I were making a Samantha Fish set list, I'd have a hard time putting that song anywhere but first out of the gate, or right before the encore. But it worked perfectly.
Fish has a knack for drawing her audience in and then taking them on a ride during her shows playing with the energy level, taking it up a notch, going a little higher, then bringing it back down to earth. Then doing that throughout the show. The collaboration with Dayton only adds to the experience of him infusing his Texas country blues rock sound into the set.
As far as fans go, it seemed to be a mixture of Samantha Fish fans familiar with her music, and "Rock 'N Wheels" regulars who come out regardless of whose playing the show to hear some live music, enjoy a couple of beers, and enjoy an evening outside.
Based on the line at the merch table for autographs after the show, I'd say Fish and Dayton made some new fans that night. The artists also took time to chat with fans and not rush them through the line, which I thought was very cool.
The concert took place as part of Addison Illinois's free "Rock 'N Wheels" car show concert series. A series of free concerts in Friendship Plaza by the town hall. The town does it up right with some local restaurants offering food, drinks, and a car show. For those interested the Addison Historical Museum is open before the headliner takes the stage.
I came away impressed by the event, and it's something I'd consider putting on my to-do list when I find myself in the Chicago area over the summer regardless of who's gracing the stage. It's also something I might suggest if you're heading to Chicago and looking for a way to enjoy a night of music without breaking the bank. Their lineups range from popular local and regional bands to artists like Puddle of Mudd and Creed's Scott Stapp, who both have shows coming up this year.
You can catch Samantha Fish and Jesse Dayton on the Death Wish Blues tour in St. Louis on Sunday, September 10 as part of the Music At The Intersection festival. Additionally, Samantha Fish will bring her Love Letters tour with Eric Johanson as support to Park West in Chicago on Sunday, October 8. Fish and Dayton also are scheduled to play Witchita next week, on Thursday, July 20.
You can check out Rob's experiences at other Samantha Fish shows here and here.
Highest-Rated Museums in Illinois, According to TripAdvisor
Stacker
compiled a list of the highest-rated museums in Illinois, according to Tripadvisor.
LOOK: Counties with the Warmest Summers in Missouri
Stacker
compiled a list of the counties with the warmest summers in Missouri.