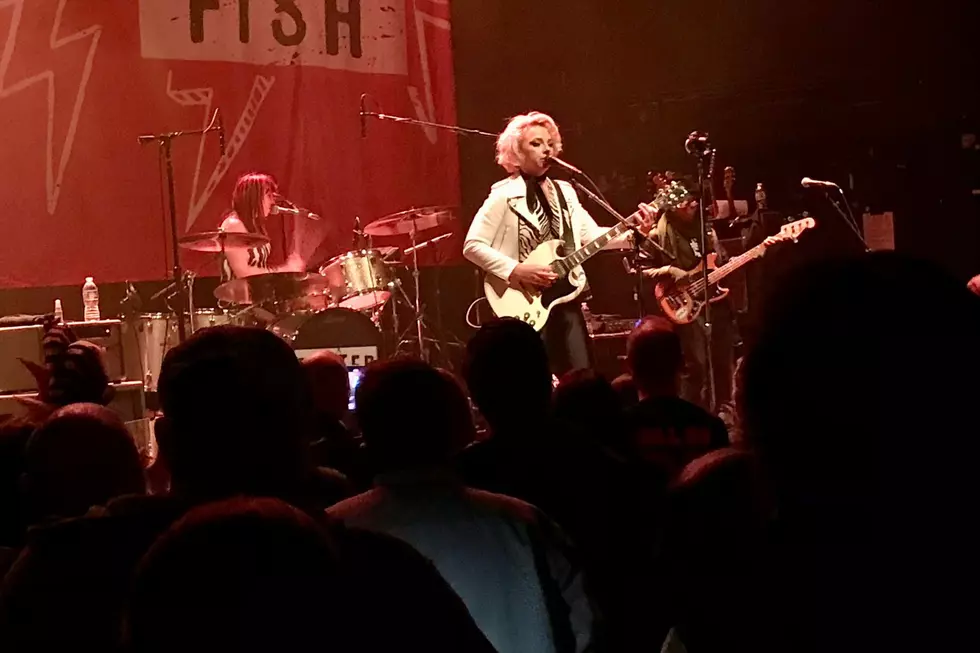 Don't Miss This Guitarist When She Comes Home To Missouri
Rob Creighton / Townsquare Media
Some of you already know what I'm about to say is true. Some of you have probably been a fan of this singer since she appeared in the Kansas City music scene roughly a decade ago.
Some of you, like our own Randy Kirby, probably even went to see her play at Dicke Doo Bar-B-Que. For those of you that haven't and like guitar-based blues and rock and roll, go see her the next time she comes home and plays some Missouri concerts.
I'm talking about Kansas City native Samantha Fish. A very gifted guitar player who makes slingin' her axe look much easier than it really is. It doesn't matter if it's her Gibson SG or her cigar box 4 string. You better watch out when she gets into the zone too. The music, the soloing, is just amazing.
Yet, Samantha Fish is much more than a guitar player. She's a writer, a collaborator, a singer, and a great performer who leads her tight-sounding band that can pull off a smoldering ballad and then take it to 11 and burn the house down with a banger of a tune.
I learned about Samantha Fish when Jammin' Nuggets Music opened a little over a year ago. They had a couple of copies of her albums "Chills & Fever" and "Kill or Be Kind", which I was both curious about, but unsure of, because well, I couldn't exactly tell what kind of music was on the albums. Was she some alternative artist? A sultry jazz singer pushing an album of torch songs?
Even though James had favorable things to say about her music, and Mike Pettis was pushing me to buy an album and check her music out, I resisted. It took Mike dragging me over to his apartment and making me borrow his copy of "Kill or Be Kind" that got me to listen. Then I was sold.
After listening to that, I streamed her latest release, "Faster" and had Jammin' Nuggets order me a copy the next day. I also twisted Mike and James' arms into going to her show at The Blue Note in Columbia last December. That was amazing. I wrote about that show here.
So when she booked a show at Chicago's Park West on Firday, December 16, I had to see if I could get a few of my Chicago friends interested in going if I'd drive in for a visit.
Her Park West show that night found her sounding as fresh as ever. You'd never guess she spent nearly the entire year out on the road, while also finding time to write and record a new album. As for myself, I'm much more familiar with her music which I thought was great because there's just something cool when you hear those first few riffs of a song you love, and she played many of them during this show.
Her set at the Park West seemed a little more uptempo than her Blue Note show a year ago. Maybe like she replaced a couple of her slower ballad-type songs that smolder with a couple of faster songs? What I do know is the show reflected a lot of the tunes I like from her albums, and as expected featured many tunes from her latest release "Faster."
What did my friends think? Both of my friends enjoyed the show. Dare I say, perhaps, it exceeded their expectations? My friend Bill was quite taken by opener Jesse Dayton and got into his music right away. He might have been a little more into Dayton than Fish. That said he thought Fish's band and performance was tight and really liked drummer Sarah Tomek's performance.
Tim had listened to Fish's music prior to going to the show. After all, he didn't want to go see someone he wasn't into. He told me he enjoyed streaming her music and came away really enjoying the performance. I think I could get both of them to see her again. Speaking of opener Jesse Dayton.
East Texan Jesse Dayton brought his mix of alt-country/blues/rockabilly influences to the stage as Fish's support act. No doubt to whet the appetites of Samantha Fish fans for her upcoming release, a duets album, with Dayton called "Death Wish Blues" in the spring of 2023.
"Death Wish Blues", according to American Blues Scene, is 12 original cuts written by Fish and Dayon and produced by Jon Spencer. American Blues Scene says the intent of the album is to mix explosive blues with alt-rock, something that Fish and Dayton along with Spencer's production might just do perfectly.
When Fish mentioned Jon Spencer producing the new album from the stage in the middle of the show, Bill turned to me and nodded in approval, and said something to the effect that the album's going to be killer.
Dayton joined Fish on stage for the encore where the pair performed a couple of tunes including Townes Van Zant's "I'll Be Here In The Morning". I really liked the combination of the pair's voices and their guitar work together is just as satisfying. The only thing I thought would have been cooler would have been a longer jam together at the end of the encore.
The only thing I didn't like about the evening was the $100 bar tab for four double Captain and Cokes, a craft beer, and a plain old Coca-Cola. The tab even caught my Chicago friends by surprise. Come on, Park West, I get ya have to make a buck, but $21 dollar cocktails and $15 dollar craft beers... next time I think I'll stick to whatever domestic beer is on tap.
When the opportunity comes up to see Samantha Fish in Columbia, Kansas City, or St. Louis, do it. I've seen her twice and I haven't been disappointed. I don't think you will be either.
Samantha Fish has only one Missouri show booked currently. She's performing on New Year's Eve in Richmond at Branded. You can get more information on this show here, however, it's sold out. There may be standing-room tickets. 
Samantha Fish and Jesse Dayton recently released a three-song digital ep from Rounder Records which you can stream on your favorite streaming site. You can also hear the songs on Youtube. 
The 40 Best Cover Songs by Rock Bands
ALSO: PEEK INSIDE JON BON JOVI'S NEW $43 MILLION PALM BEACH MANSION