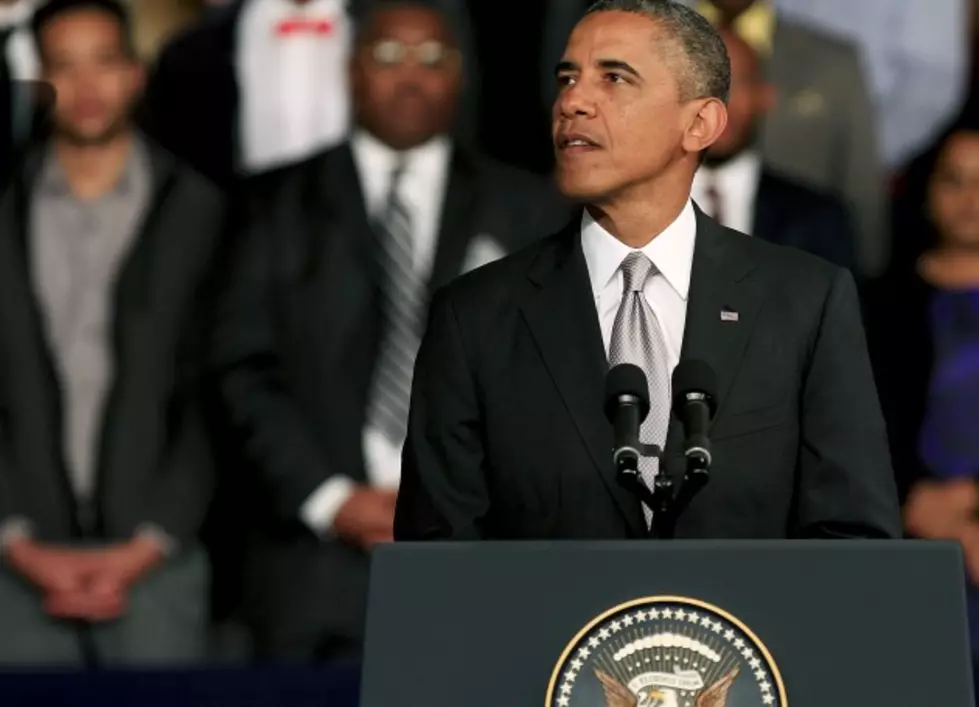 Learn How to Get Tickets to President Obama's Speech at UCM
Getty Images
In what will be a history-making event for the University of Central Missouri, the White House staff today announced that President Barack Obama will visit the university to speak about the economy on Wednesday, July 24.
President Obama's speech will take place at the large court area on the lower south part of the Student Recreation and Wellness Center, 500 S. Maguire St., Warrensburg. The university is working with the White House team to accommodate as many people as possible. Tickets are free but are required to attend the event.
Other details are as follows:
Ticket distribution is on a first-come, first-served basis, and begins at 10 a.m. Monday, July 22 in the lobby of the Student Recreation and Wellness Center.
Tickets will be limited to one per person, and they can only be obtained at the distribution site.
Doors to the Rec Center will be open at 1:45 p.m. on the day of the event, July 24.
For those who cannot obtain tickets, the university is reserving Elliott Union Rooms 236 and 238 to show streaming video of the event as it happens.
Those attending should be prepared to stand for a significant amount of time prior to and during the presentation.
Parking Information
Individuals attending President Obama's speech are encouraged to park in lots 60 and 62, directly east of the Ellis Residential Hall Complex, 310 Christopher St. These lots are within walking distance to the Student Wellness and Recreation Center. Attendees utilizing these lots should walk west on Anderson Street, which is on the south side of lot 60, then cross the pedestrian overpass and continue west to the Rec Center.
Additional parking will be located in lots 10, 29, 30 68, 32, 28, 11, and 50, which are near the James C. Kirkpatrick Library. Use Drummond Street (one block south of Clark Street) to access these lots, as Clark Street from College Street to Maguire Street will be closed Wednesday. Also, individuals walking from these lots will be required to use the Elliott Union mall, which is located between the Union and the Wood/Martin Building complex, and then use the sidewalk on north side of the Humphrey's Building to access the venue. In addition, lots 1/26 and lot 27, which are located at South Street and Holden Street, will be used for event parking. Attendees parking in these lots should use the sidewalk on the north side of the Humphrey's Building to access the venue. Parking is available in lot 24 for guests with disabilities.
Personnel and/or signage will help direct people to the Student Recreation and Wellness Center.
Free Shuttle Service
A free shuttle will be available to pick up individuals attending the speech. Passenger pickup is at the east side of the James L. Kirkpatrick Library, west side of the library, and on the east side of Ellis Hall on Christopher Street. Drop-off is at Maguire and South streets.
Building Closures
The following buildings and facilities will be closed on Wednesday, July 24: Lovinger, Art Building, Art Annex, Wood, Martin, Humphreys, Chapel, Diemer Residence Hall, Ellis Residence Hall (after 12 p.m.), and Max B. Swisher Skyhaven Airport.
UCM staff and faculty working in these buildings will be granted release time from their duties while their building is closed unless they are needed elsewhere on campus. Human Resources will issue instructions via email about how to record and report this time on your time sheets. All personnel are encouraged to attend the event and supervisors are asked to be liberal in granting release time to their personnel to attend President Obama's speech or participate in online viewing.
After-Event Food, Social Opportunities
To help celebrate this historic day, everyone attending President Obama's speech or participating in online viewing is invited to join in an opportunity to relax, visit with friends and co-workers while enjoying free food and beverages. The event will take place immediately after the president's speech in the Elliott Union.
Recognizing this is a historic event, and also the scope of hosting the president on campus, the university regrets any temporary inconveniences that may occur as we prepare for this exciting opportunity. We appreciate your continued support and strong spirit of cooperation as the university hosts a very special guest.
This statement was provided by the University of Central Missouri.