 McRib Is Back! Might Be Last Time You Can Enjoy It. Happy Or Sad?
Well, McDonalds has done it again.  They take one of their items that seems to be one of the most popular items that doesn't come around too often, and when it does, people go crazy for it.  Now it may be going away?  Say it ain't so!
Over the last few years, McDonald's has brought the fan-favorite McRib back for limited-time stints at its restaurants. The McRib is making its annual return again this fall, but it appears this will be the sandwich's last hurrah.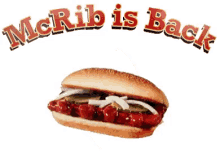 For a little background on this sandwich, it first made it's appearance in Kansas City, Kansas in 1981.  It is boneless "rib" pork meat, dipped in BBQ sauce, with pickles and onions.  That is it.  But there is something about it, that consumers just go crazy for.  It might be because when it comes out, it only last for a short time and then it goes away.  Mike Bullington, the senior archives manager for McDonald's, said in a press release last year that the sandwich was designed to be "enjoyed during the colder seasons."
Supposedly, this sandwich isn't always available at every McDonalds locations because of customer demand.  This is news to me.  I cannot imagine a location actually saying, "NO" in regards to selling this popular sandwich.
According to a product description for the McRib on the McDonald's website, the sandwich's 2022 return is unique: it's "the McRib Farewell Tour."
"Order yours in the McDonald's app for delivery or pick up before you say goodbye on 11/20/22. Enjoy our famous pork sandwich as if it's your last!"
Call ahead or check out the app for more info and the location closest to you.  It isn't a healthy sandwich, but I admit that I love the taste and will try it one more time.  If the sales are still good, I have to believe the company will rethink this "Goodbye Tour"
LOOK: 15 Discontinued McDonald's Menu Items