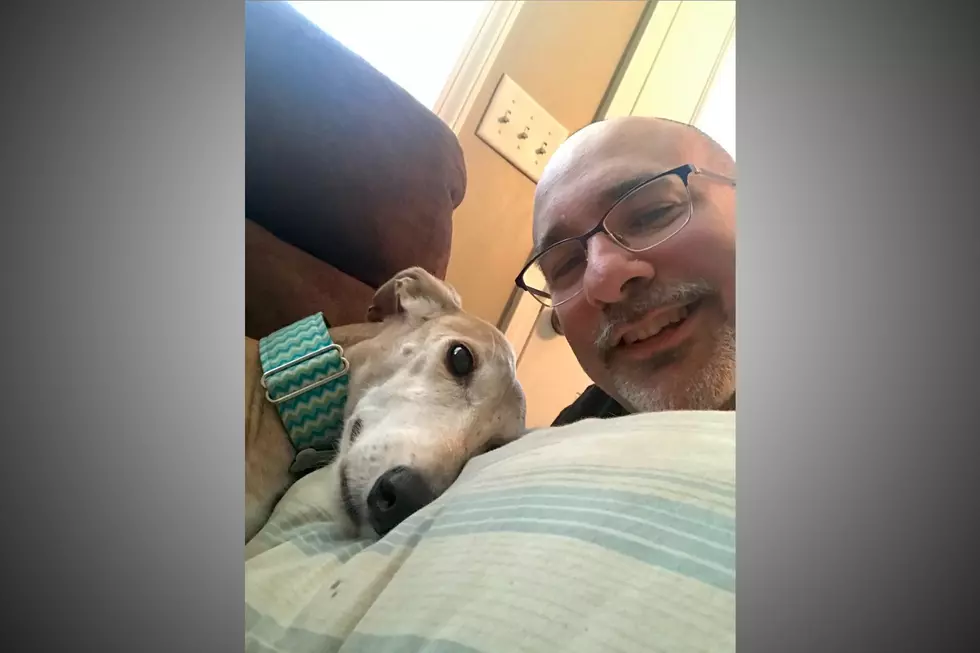 The Sorrow And Joy of Losing a Beloved Pet
Rob Creighton
If you were listening to my radio show yesterday afternoon then you know my wife and I recently made the decision to euthanize our beloved dog, JJ "The Chill Hound", after his cancer pain could no longer be reliably controlled by pain medication.
The experience has left me feeling a variety of emotions, dominated by the sorrow of losing our sweet pet and the joy he brought to not only my wife and me but a lot of those he came into contact with.
After discovering a lump on JJ's face a few months ago we took him to the vet to get it checked out. Sadly, the test results came back positive for cancer, and not the kind veterinarians could put into remission or cure. So we put JJ on pain medication, and since at the time he was otherwise very healthy, our vet thought we'd have a few months or maybe a little longer to enjoy our beloved pet.
For most of the time after his diagnosis, he remained the dog he'd always been. He loved chow time, running into his girlfriend on walks, creeping behind my chair to beg for a bit of my pizza or a bag fry, and lounging around on his couch. On walks, I could tell he had lost a step. He was a little less steady on his feet and he had a couple of lumps, but I'm not sure anyone except Kathy and I noticed that.
A week ago Saturday during his evening walk I noticed he had a pronounced limp. I hoped it was a pulled muscle or a nail issue related to an autoimmune disease he was diagnosed with a couple of years back. Sadly, our veterinarian told us it was a progression of cancer and we added a pain med to hopefully restore his comfort.
Unfortunately, he didn't respond to the medication and his walks became more painful and shorter. A couple of times after laying down after his walk, it took hours for him to stop panting and there was nothing we could do. We talked about adding another pain med but came to the realization that we'd be doing that more for us, than for his benefit. When our vet agreed with our assessment, we decided it was time to send JJ over the Rainbow Bridge.
JJ was our third dog, and the first dog where we had a warning the end was coming. Our first passed away during a visit to the emergency vet after an unexpected medical emergency that wasn't curable. The second in her sleep after what our vet through was a successful cancer surgery. While knowing we'd have to at some point to make that decision prepared us for what was coming, and gave us time to love on him and make peace with saying goodbye to him. It didn't make it any less emotional, sad, or difficult.
It was so sad to witness his decline in the final week of his life. It was hard to watch him struggle during his walks. Or not even take an interest in his dog chow. Or sleep even more than he usually sleeps, and greyhounds whether you know it or not, sleep a lot. So that says a lot.
I teared up while getting ready to take him out for his last walk when the realization hit that this was our last walk. It was difficult to see him struggle mightily out of my car when we got to the animal hospital this morning. It was sad to come back home and not see JJ lounging on his couch. While picking up dinner I even started to think about how I'd need to take him for his evening walk before we could eat, only to remember there are no more walks.
Yet I smiled when I thought of all of my friends and co-workers who commented on a Facebook post my wife posted about us having to euthanize JJ this morning. I'm not surprised by the joy and happiness he brought us, that's a given. Yet, I was amazed at the joy and happiness he brought my friends.
There are my friends I met through adopting him from A Place For Us Greyhounds in Lubbock, Texas. Linda, Robin, Andy, their spouses, families, and of course their greyhounds (especially King Tut.) There was all the fun I had showing JJ off at our group's meet and greets, greyhound outreach events, and volunteering my time at the kennel. None of this would have been possible without his adoption.
There are the people I worked with in Lubbock and Sedalia that got to meet and interact with JJ when I'd bring him to the office. There was Kellie who liked to give him treats and get him to do zoomies around our studio. My co-workers in Lubbock, Anna, Chris, and Vince who always had time to give JJ some pets.
There are countless neighbors who smiled, stopped to pet him, or asked about him. All that seemed to leave them a little happier after our interaction.  Like the gentleman who always slowed down, looked at JJ, and waved at us every time he passed. Or the little kids. JJ just seemed to know how to sit patiently as they stroked his ears, and petted him, sometimes clumsily bumping into him.
Lastly, our family and friends. Especially his Grand Dog Moms, Gail and Mary Ellen, who thoroughly enjoyed talking to him, giving him pets, and just being around him.
Yes, there's a lot of sorrow in losing JJ. But also much joy. The joy of remembering how happy he made us and others. It's that, that makes the sorrow worth it.
Check out these 50 fascinating facts about dogs:
KEEP LOOKING: See What 50 of America's Most 'Pupular' Dog Breeds Look Like as Puppies