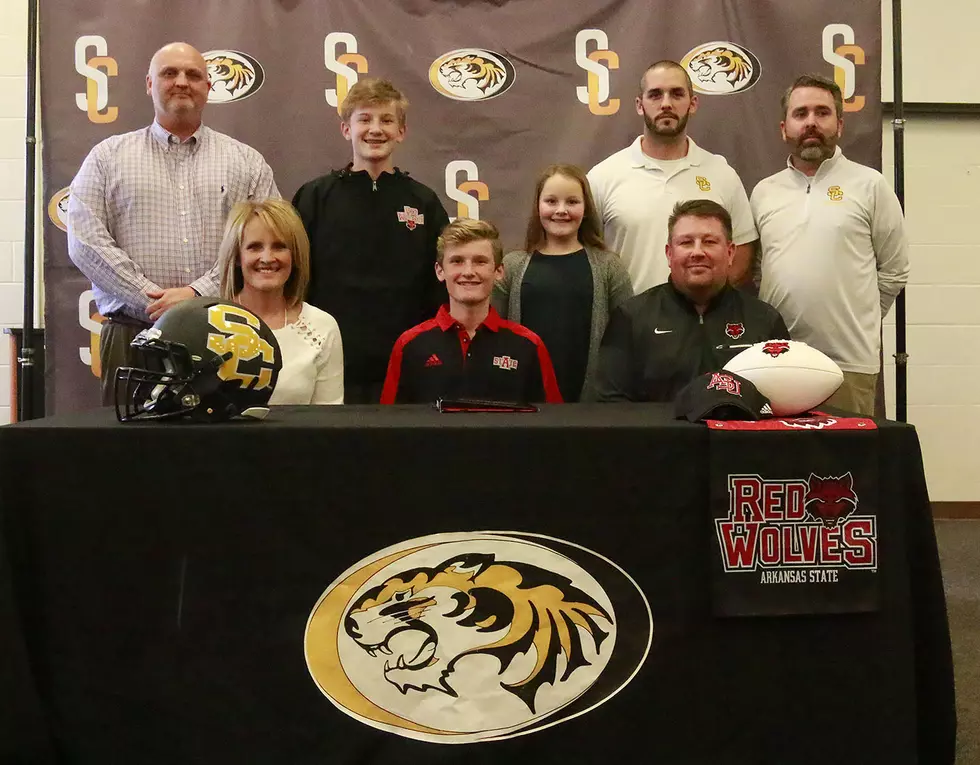 Two Smith-Cotton Seniors Sign to Play College Football
Randy Kirby
Two Smith-Cotton seniors signed national letters of intent on Wednesday to play football at the college level next season.
Blake Grupe, 18, son of Brad and Sara Grupe, Sedalia, signed to play at Arkansas State University, located in Jonesboro, Ark. He said he chose Arkansas State because he agrees "with all the traditions they have, it's a very winning program and it's a D-1 School," he said. "It's everything I could ever want in a school."
As for his high school career, the multi-talented Grupe played football and soccer in the fall season and baseball in the spring for the S-C Tigers. "I've always been a kicker," Grupe said of his football career.
In the Grupe photo: At table, Mother Sarah Grupe, Blake Grupe, father Brad Grupe
Back row: S-C Athletic Director Rob Davis, brother Brett Grupe, sister Lauren Grupe, S-C Football Head Coach Ryan Boyer, S-C Principal Wade Norton.
Signed as a kicker at Arkansas State University
3 Year Letterman
All-District: 2015, 2016
All-Conference: 2016
All-State: 2016
Academic All-State: 2014, 2015, 2016
10/11 FGs (long 47) 33/34 PATs 2 Tackles
Records: Most FGs in a Season (10), Most FGs in a Career (14)
The A-State Red Wolves are a Division 1 - FBS school in the Sun Belt Conference. Grupe will be one of two place-kickers on this fall's roster.
A-State opens their 2017 season on the road against the Nebraska Cornhuskers, then returns home to play the Miami Hurricanes in week two. Future opponents include the Alabama Crimson Tide, Georgia Bulldogs, SMU Mustangs, UNLV Rebels, Tulsa Hurricane & the Sun Belt Conference opponents.
Grupe was an All-State player in both Football and Soccer this fall and is a nine-time letterman, including Baseball.
Arkansas State Facts:
**Football program has won the Sun Belt Conference 5 out of the last 6 years.
**A-State has gone to 6 Bowl games in a row and most recently won the CURE BOWL in Orlando, FL. Beating Central Florida 31-13.
**A-State has 9 former Red Wolves playing in the NFL currently and 118 players that have gone to the NFL from the program.
**A-State Former Coaches include Gus Malzahn (Auburn), Hugh Freeze (Ole Miss), Bryan Harsin (Boise State), & Mike Tomlin (Pittsburg Steelers).
**Centennial Bank Stadium seats 38,964.
Chaz Satnan, 17, son of Robert and Melany Satnan, signed to be a long snapper for Missouri Western State University this fall.
"I love the coaching staff there and the facilities are phenomenal," Satnan said, adding that the Kansas City Chiefs have their summer camp at MWS. "I love the education program and it's a very family-oriented school."
Satnan noted that he has been long snapping since we was eight years old.
In the Satnan photo: At table: Mother Melany Satnan, Chaz Satnan, father Bob Satnan. Back row: S-C Football Assistant Coach Tom Kindle, S-C Athletic Director Rob Davis, sister Hannah Satnan, S-C Football Head Coach Ryan Boyer, S-C Principal Wade Norton
Signed as a long snapper at Missouri Western State University; four-year letterman; four-year special team starter at long snapper; attended Missouri Boys State: 2016.
Former Smith-Cotton head football coach Ryan Boyer said he couldn't be more proud of his players.
"Those two have put in the work, and time in the off-season, and they're great role models in the classroom," Boyer said. "I know that for both of them, these were their number one choices, schools they felt most comfortable at and really wanted to attend. So I'm just glad to see it all fall into place and excited to see what they can accomplish there," coach Boyer told KSIS.
Boyer served as assistant football coach when Grupe & Satnan were freshmen, and as head coach the last three years. He is moving onto to serve as athletic director and head football coach at Warsaw High School, where he is originally from.