 You Want Olive Garden In Sedalia? Maybe Not With This Manager!
Whenever we ask the question about what restaurant we wish Sedalia had, or some of the towns that are in our listening area, Olive Garden seems to be at the top of the list.  Well, this is not the way the company probably wants to be in the news, but here we are.  As someone who has worked in restaurants for many years, and in management I have opinions on this story.  But here we go.
An Olive Garden manager in Overland Park, Kansas recently was let go of her management job.  The reason? A long email sent to employees, trying to hold them accountable for not showing up to work.  Sort of.
Many jobs allow for sick days.  If you are legitimately ill, you call off from work so you can recover and not infect your co-workers.  This manager believes the policy is being taken advantage of.  The email she sent is below:
Our call offs are occurring at a staggering rate. From now on, if you call off, you might as well go out and look for another job. We are no longer tolerating ANY excuse for calling off. If you're sick, you need to come prove it to us. If your dog died, you need to bring him in and prove it to us. If its a "family emergency" and you can't say, too bad. Go work somewhere else. If you only want morning shifts, too bad go work at a bank. If anyone from here on out calls out more than ONCE in the next 30 days you will not have a job. Do you know in my 11.5 years at Darden how many days I called off? Zero. I came in sick. I got in a wreck literally on my to work one time, airbags went off and my car was totaled, but you know what, I made it to work, ON TIME! There are no more excuses. Us, collectively as a management team have had enough. If you don't want to work here, don't. It's as simple as that. If you're here and want to work, then work. No more complainging about not being cut or not being able to leave early. You're in the restaurant business. Do you think I want to be here until midnight on Friday and Saturday? No. I'd much rather be at home with my husband and dog, going to the movies or seeing family. But I don't, I'm dedicated to being here. As should you. No more excuses or complaints.
I hope you choose to continue to work here and I think we (management) make it as easy as we can on ya'll. Thank you for your time and thank you to those who come in every day on time and work hard. I wish there were more like you.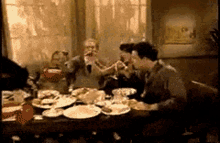 Now I have been on both sides of the situation when it comes to something like this.  On one hand, especially in a restaurant, when you are understaffed, it makes it really hard to do the job of getting the food to people hot, not have them wait for long periods of time, etc.  I bet many of you have complained about a restaurant that was understaffed.  It is a really tough situation.
As a former bartender and server, I am 100% convinced that too many people "call off" because they claim to be sick.  Trust me, they aren't.  They are probably hung over, don't want to work, or just want to do something else.  It tends to screw over your co-workers who will have to bust their tail, when they shouldn't have to.
What side of the aisle do you fall on? Should this manager have lost their job? Can any of you put yourself in the shoes of the manager or Darden (the company that owns and manages Olive Garden restaurants)? Feel free to share your thoughts.  You can read more about this story HERE.
50 Most Popular Chain Restaurants in America
YouGov investigated the most popular dining brands in the country, and Stacker compiled the list to give readers context on the findings. Read on to look through America's vast and divergent variety of restaurants—maybe you'll even find a favorite or two.