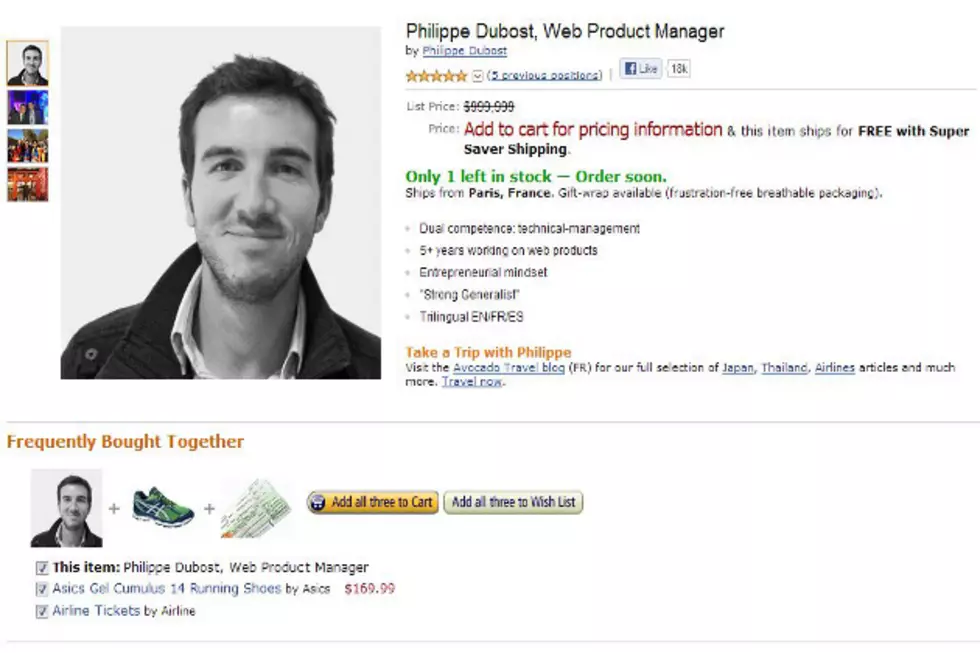 Man's Hilarious Amazon Resume Goes Viral
PhilDub.com
When making a resume, there is a fine line between standing out and being too gimmicky. Job seeker Philippe Dubost completely destroyed that line, but we have to say his Amazon-style CV is much more brilliant than it is off-putting.
And since he is looking for employment as a web product manager the fact that he was both able to skillfully design the resume and have it go viral also suggests he would be good at his job.
Dubost says he has been contacted by over 100 potential employers since the site went up.
In the resume, the tri-lingual Frenchman notes that he can be "shipped anywhere in the world." While the majority of his reviews are 5 stars, to make it more realistic he did include some 1 and 2 star reviews.
"Lots of ex-girlfriends," he joked on the Twitter feed he has set up to track the responses to the resume.
Dubost, a self-described Amazon addict, said his motivation to put himself in his favorite website was simply that it was a fun idea.
"I wanted to do something fun," he said. "Resumes are not fun. They're not fun to write, not fun to read," he explained.  "I thought it would be fun to build a small web product that would feel a little bit like a game you could interact with, like those baby toys where every button you push makes a different noise."
What do you think? Does Philippe's resume catch your attention? Or is it a silly gimmick?