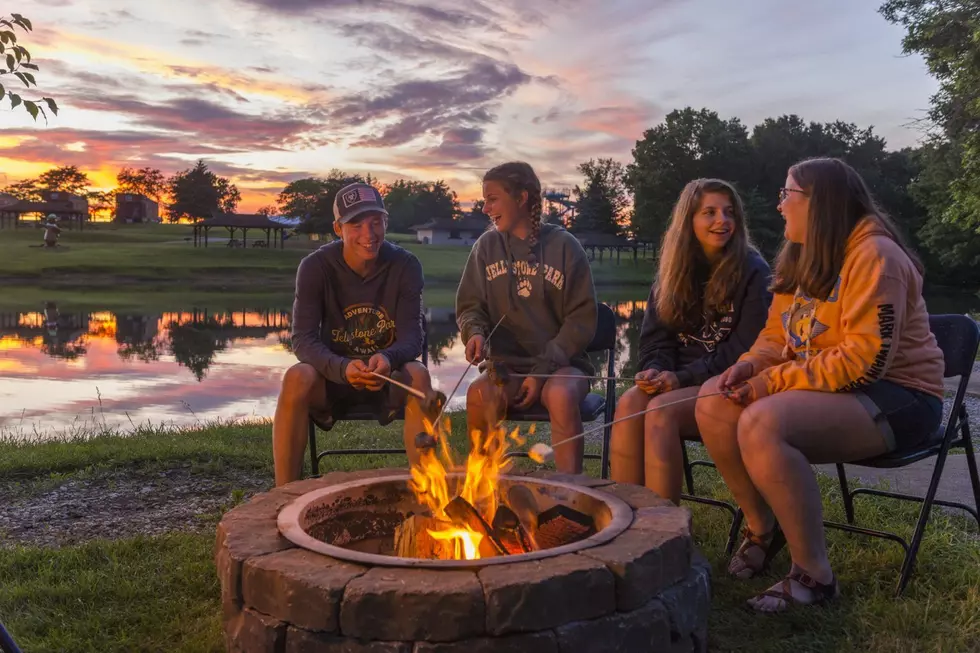 Don't Want To Rough It Camping? Try Jellystone Park near Hannibal
Jellystone Park at Mark Twain Lake
The Creighton family has never been much for camping. It just wasn't something our family did. Yet, I had friends whose families had campers or occasionally would go camping. One of the places they'd go is this campground or RV site called Jellystone Park. And yes, I thought it was pretty cool. So when I heard about Yogi Bear's Jellystone Park Camp and Resort on Mark Twain Lake near Hannibal, I had to check it out. What I found was, that it's a great way to camp, without really needing to camp at all.
Jellystone Park Camp and Resort is the perfect place for non-campers and campers alike. I have to wonder if we knew about this place if my Mom could have talked my Dad into renting an RV and setting up shop there for a week. 'Cause renting an RV, at least in my opinion, kind of seems like something that my Mom would have been into.
The park has a variety of accommodations to suit anyone's needs including a variety of campsites from primitive tent sites without water and electricity, to sites for campers and recreational vehicles that include electricity and cable TV. They offer 30 amp and 50 amp sites that are back in and pull through, as well as lakefront sites.
If you're not interested in actually camping, the park also offers a variety of accommodations, both in cabins and the park's Steamboat Inn. Cabin accommodations can accommodate anywhere from parties of 6 to 16. Their Lakeside Lodge which sleeps sixteen is perfect for family reunions and large family get-togethers. A lot of the cabins include screened-in porches and kitchen facilities. For those looking for a more hotel-like experience, The Steamboat Inn is for you.
The real fun to be found at Jellystone Park and Camp Resort is in the amenities and activities. Between hourly activities, a waterpark, a mini-golf course, human foosball, and more, there's no shortage of stuff for the whole family to do. Not to mention, you're thirty minutes from Mark Twain's hometown of Hannibal.
Yogi Bear's Jellystone Park and Camp Resort is located in Monroe City, Missouri and the best way to get there is by taking Interstate 70 to Kingdom City, then going through Auxvasse, to Mexico, and following Highway 54/Missouri 19 to the park. The park is about two and a half to three hours from the Sedalia area depending on traffic. Keep reading to learn more about the fun you can experience at Jellystone Park and Camp Resort below.
Don't Want To Rough It Camping? Try Jellystone Park near Hannibal
If you're not much of a camping family but would like a camping experience. Or if you just don't want to rough it but still want to use your camper or camping gear check out
Jellystone Park at Mark Twain Lake near Hannibal
. Heck, you can also skip the camper or tent and just rent a cabin or hotel room if you'd rather. You might also run into Yogi and Boo Boo during your adventure.
The Abandoned Schlitterbahn Waterpark in Kansas City
Schlitterbahn's fourth waterpark,
Schlitterbahn Kansas City
, opened on July 15, 2009, on land that originally was home to the Wyandotte County Fairgrounds near Interstate 434. Grand plans for the waterpark included a resort with 1,000 hotel rooms, a sporting goods store, and an area of shops and restaurants.
Between the economy, a child's death on the Verrückt waterslide, and the coronavirus pandemic the waterpark never matched the success of Schlitterbahn's other waterparks in Texas. After the 2018 season, the park was never re-opened and was demolished for redevelopment about two years later.