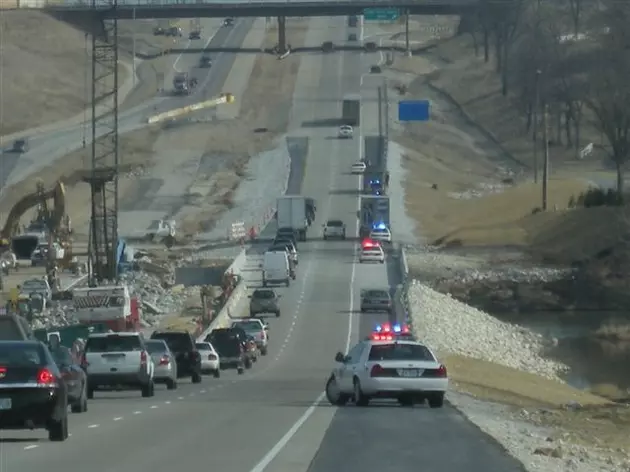 Detours For Roadwork on I-70 and US 65 Announced
Missouri State Highway Patrol
Initial roadwork on the I-70 and Route 65 bridge rehabilitation project begins on May 7. The Pettis County Sheriff's Office posted the following notice on NIXLE:
MoDOT Bridge Project on I-70 at Route 65 To Impact Traffic Flows
MARSHALL – Beginning Monday May 7, the Missouri Department of Transportation will begin initial roadwork for the I-70 and Route 65 bridge rehabilitation project. Crews will have daily lane closures for approximately two weeks, reducing I-70 to ONE lane in both directions to build cross over lanes for upcoming bridge work, as well as shoulder and median cable work. Crews will then shift traffic to the outside lanes to build crossovers for upcoming bridge work. Speeds through the work zone will be reduced to 60 miles per hours.
The I-70 exit loop ramps will remain open, however the I-70 on loop ramps will be closed and traffic will be detoured to Routes YY and J.
There will be single I-70 lane closures to reconstruct the shoulders and the build the crossovers to handle construction traffic. Two lanes of I-70 will remain open in each direction during the bridge work.
All bridge work should be done by November 1, 2018. Painting of the bridge girders will be the following spring (2019), this work may require US 65 lane closures. Learn more here: http://bit.ly/2F4Vc50
This work will repair the bridges on I-70 that span the Route 65 interchange outside of Marshall because the bridge decks are becoming substandard. This will increase the life span of these twin bridges.
The Missouri Department of Transportation urges all motorists to always wear safety belts, follow posted speed limits and be alert for slowed traffic, narrowed lanes or a reduced number of lanes during construction and maintenance work. And remember, every work zone is a NO PHONE ZONE.