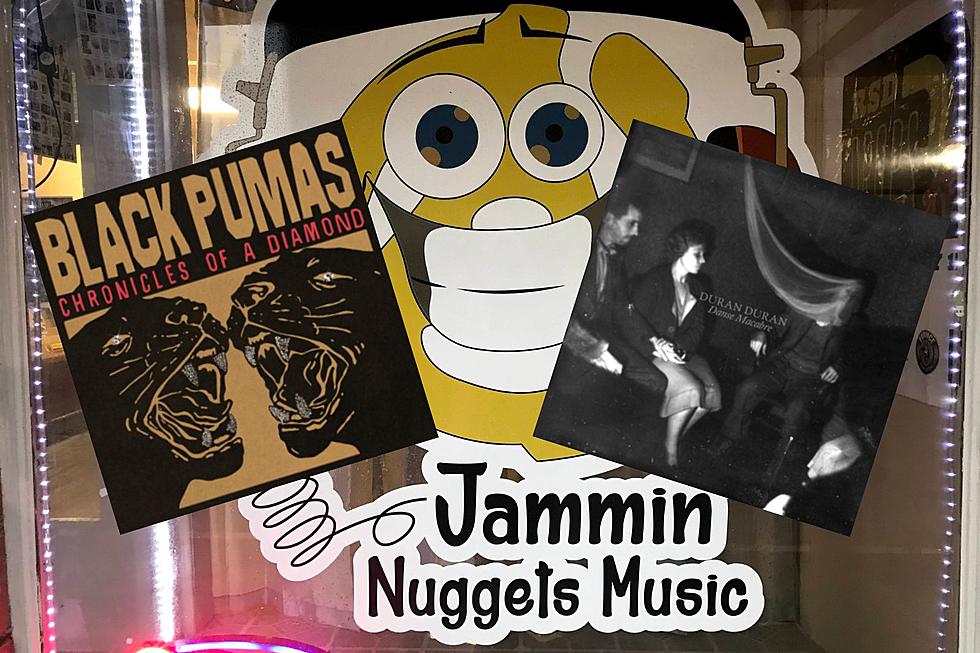 Hear The New Music First… At A Sedalia Record Store?
Rob Creighton / Townsquare Media, BMG Records, ATO Records
If you're a music fan, especially a vinyl collector who grew up or listened to music in the 80s and 90s, there's some music vying for your attention.
The Rolling Stones released their new album "Hackney Diamonds" on Friday. And next Friday the latest releases from Duran Duran, The Black Pumas, and Tayolr's version of "1989" come out. Perhaps it's the Stones that have music marketers worried, or maybe it's the unstoppable Taylor Swift. Either way, The Black Pumas and Duran Duran decided to do something creative with their releases, listening parties at record stores, and one Sedalia record store is all about it.
I'm talking about Jammin' Nuggets Music on South Ohio. Proprietors James Harmon and Deana Taylor are holding two listening parties and a midnight sale this week in relation to the new Duran Duran record "Danse Macabre" and The Black Pumas "Chronicles of a Diamond".
Duran Duran's "Danse Macabre", according to Wikipedia, was inspired by the Halloween show Duran Duran played in Las Vegas almost a year ago.
The record includes new songs, reimagined Duran Duran tunes, and covers from Billie Eilish, Rick James, Siouxsie and the Banshees, The Rolling Stones, and the former Talking Heads. Nile Rodgers, along with former Duran Duran guitarists Andy Taylor and Warren Cuccurullo are also on the record. Here's the title track from the new record, which Wikipedia says the band intends to celebrate the joy and madness of Halloween:
If you're a child of the 80s or 90s, you may not be familiar with Black Pumas, although you should be. They're a duo who formed after singer-songwriter Eric Burton moved to Austin and connected with guitarist producer Adrian Quesada. Burton's vocals matched the R&B and retro funk-styled music Quesada was working on and Black Puma's was born, according to Wikipedia.
It doesn't stop there though, their debut came out in June of 2019, and the accolades have just kept coming at the duo since. Their self-titled debut "Black Pumas" got accolades from Rolling Stone, Pitchfork, and NPR. They were nominated for the Best New Artist Grammy in 2019. The band's single "Colors" went to #1 on Adult Album Alternative radio. And they played it everywhere. In 2021, their song "Colors" was nominated for Record of the Year, American Roots Performance, and the Deluxe edition of "Black Pumas" was nominated for Album of the Year.
In many ways, Black Pumas new album, "Chronicles of a Diamond" feels like a second debut according to Burton. From Burton's standpoint, this may be because he had a lot more to do with shaping and creating the music beyond the lyrics and melody.
Mostly though, if there's a current "new" artist out there who will appeal to those who love 70s and 80s rock, pop, and R&B and maybe don't have the appetite for a lot of what's hot today, Black Pumas is that artist. So I'm encouraging you to give these dudes a listen. Here is their new single "More Than A Love Song":
The Duran Duran listening party at Jammin' Nuggets music is Tuesday night, October 24, 2023, at 7:00 PM CDT. Attendees are welcome, but not expected to attend in costume. There will be stickers, a poster, and turn-table slip mats that will be given away by random drawing. "Danse Macabre" goes on sale Friday, October 27, 2023.
The Black Puma's listening party at Jammin' Nuggets is Thursday night, October 26, 2023, at 7:00 PM. Once again, there will be similar giveaways to the Duran Duran listening party.
Additionally, Jammin' Nuggets has secured some copies of "Chronicles of a Diamond" in the Midnight Release variant and will reopen at 11:30 PM CDT on Thursday night to sell those. Nugget of the Month Club members in attendance at the listening party, followed by those who attend the listening party and return will have first crack at the limited quantities of the midnight variant of the album when the store reopens.
Jammin' Nuggets Music is at 115 S. Ohio in Sedalia, Missouri, and is one of only three Missouri record stores participating in the Duran Duran listening party, and one of only two Missouri record stores participating in the Black Pumas listening party. Jammin' Nuggets is also the place to go in Sedalia to talk music, hang out, and browse a great selection of used and curated new vinyl.
Full disclosure: Jammin' Nuggets Music is an advertiser of Rob & Mike's Friday Happy Hour show on Awesome 92-3. 
LOOK: Controversial songs from the year you were born
Stacker
celebrates history's most boundary-pushing—and thereby controversial—songs from 1930 through today.
Gallery Credit: Stacker