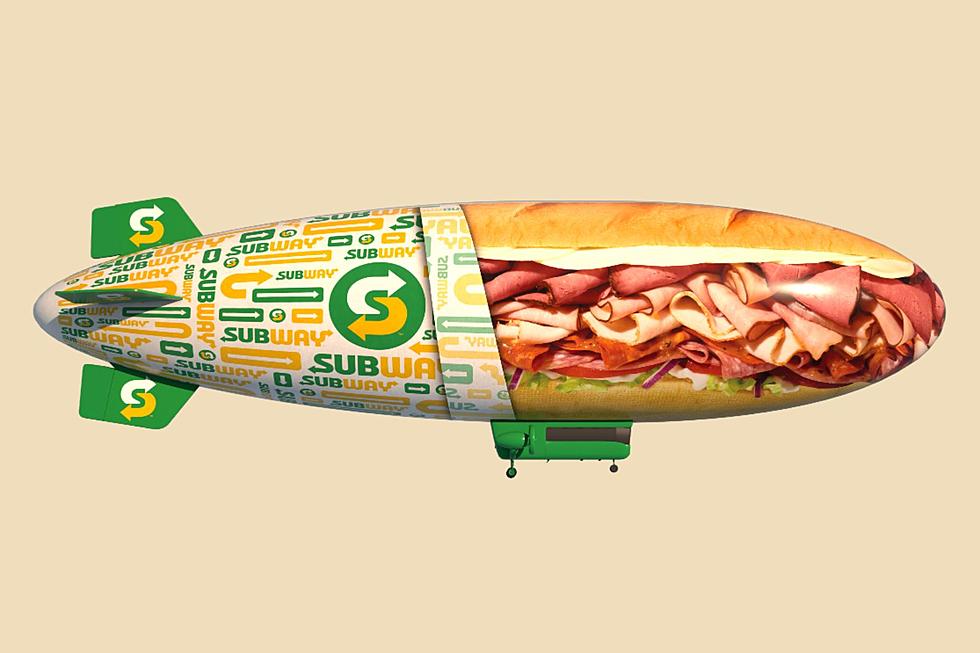 Here's Your Chance To Eat A Sub Floating Above Kansas City
Subway
The latest way Subway wants you to learn about their new sandwiches and the changes they've been making over the last couple of years is by giving you an opportunity to eat a sub 1,000 feet above Kansas City.
Subway got themselves a blimp and is offering people the opportunity to sample their four new "Deli Hero" sandwiches while floating high above Kansas City, according to a report from CNBC.com. It's a promotion called "Subway in the Sky" and the 180-foot blimp will carry diners into the air to try the chain's sandwiches.
I've got to hand it to Subway, You can't come up with a better marketing idea than this because generally the part of the blimp that makes it float, the balloon that's filled with helium, looks kind of like Subway's footlong sandwiches. And yes, according to CNBC, that's exactly what they're going for.
"The aircraft is designed to look like one of Subway's new menu items, complete with assorted meats, cheese and veggies."
So how can you get a ride on this blimp and try the new sandwiches out for yourself? Well, registration opens on Saturday, September 2, 2023, at 7:00 AM CDT. Blimp rides will be scheduled for winners between Tuesday, September 5, and Thursday, September 7 before the blimp heads off to do more rides in Florida.
Fans can register at this webpage.
So what will people be sampling while they float over Kansas City? The chain's four new Deli Heroes sandwiches, the #99 Grand Slam Ham, #15 Titan Turkey, #17 Garlic Roast Beef, and #30 the Beast.
Frankly, I'd be inclined to try three of the four sandwiches myself, however, I'd have them 86 (leave off) the tomatoes and red onions. Oh, and I'd pass on the Garlic Roast Beef if I thought I might be kissing someone later or might be running into a close talker after my ride.
I'm not sure blimp rides will be any more effective than new menu items or having NFL stars hawk their sandwiches on TV. But it is a fun quirky promotion, and I've always wanted a free blimp ride. So yeah, I'm entering. Just please leave the tomatoes and onions off my sandwich samples.
CHECK IT OUT: See the 100 most popular brands in America
LOOK: Food history from the year you were born
From product innovations to major recalls,
Stacker
researched what happened in food history every year since 1921, according to news and government sources.