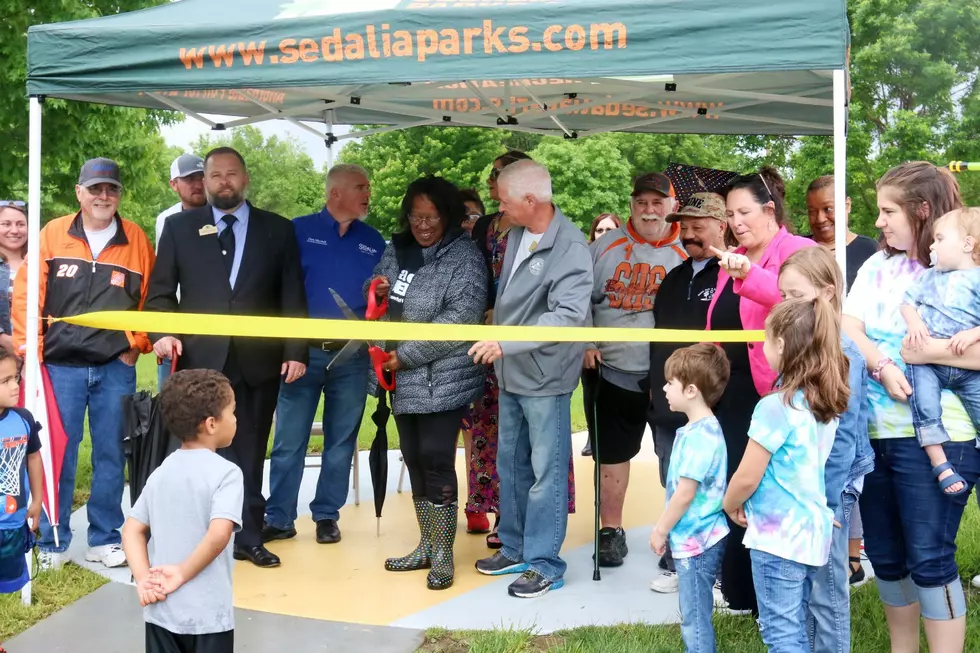 Hubbard Park Splash Pad Now Open
Randy Kirby
The newest addition to Hubbard Park is a music-themed splash pad that officially opened Thursday morning under rainy skies with a brief ceremony attended by City of Sedalia officials, as well as Sedalia Parks & Rec staff, board members, and area residents.
Rain was approaching Sedalia as the ceremony began, with remarks from Sedalia Parks & Rec Director Amy Epple and Sedalia Mayor Andrew Dawson.
"We hope everyone comes out to use it," Epple told the crowd after the yellow ribbon was cut by Park Board member Connie Washington.
Mayor Dawson, who came prepared for the occasion with an umbrella, thanked everyone for coming to the ribbon-cutting in the rain, and added that it was great to reinvest in Hubbard Park with all the improvements that have been made.
"I want to thank Amy and her staff for doing all the hard work in putting this all together to make this happen," he said.
The 50-foot wide splash pad is accompanied by a fenced-off area for the high-pressure pump, water lines and chemicals necessary to keep the 3,000 gallons of water flowing for 10 hours a day, seven days a week.
Park Board President Jerry Case told KSIS that "it is a really nice addition for Hubbard Park and for the City of Sedalia. Parks & Rec are doing an excellent job, and have made some major improvements throughout the City. I think people really appreciate it and we appreciate the support from the citizens of Sedalia," he said.
Epple noted that a splash pad was part of a master plan that was adopted when she first arrived in Sedalia (from Warrensburg Parks & Rec) and took over as director in July of 2017.
"There was a need for one, and a desire for one by the community," she said, citing surveys done in the past.
Other cities have splash pads as well, she noted, such as Excelsior Springs, Blue Springs, Lee's Summit and Columbia.
Capri Pools & Aquatics, St. Louis, was the winning bidder for the project.
Jeff Coleman, maintenance superintendent of operations, was showing off the surge tank, which circulates and filters the pool water for the splash pad located a few feet away.
"We maintain the state (required) levels on the chemicals, to make sure everything's safe for everybody. A couple of times each day, we'll come out and do readings on the water," Coleman said.
"I wouldn't drink it, because it's not fresh water, it's pool water," Coleman commented.
The motor is a 3-horsepower that is controlled by a variable frequency drive that slowly ramps the motor up and down, with solenoids and timers," he noted. No staff is required to start and stop the water flow every day at 10 a.m. and 8 p.m.
Coleman added that a skirt will added around the perimeter of the splash pad soon.
The drums were the best feature of the splash pad, according to music lover Yale Foster, who attended Thursday's ceremony and was one of the first people to try it out.
"I think it's going to be good for the community because it'll be a good hangout spot for people in case they don't have enough money to go for the Community Center, they can go to the splash pad," Yale said.
Yale plans to return to the Hubbard Splash Pad soon, but not until it warms up a bit more.
"Especially in the summer, because I just went in there, and I'm freezing cold now," he said, adding that he was one of the first people to see plans for the splash pad. He vetoed the original plans that were designed for smaller kids.
Yale is the son of former Park Board member Rhiannon Foster. Foster now serves as a Fourth Ward Council member. Other Council members attending were Mayor Pro Tem Tina Boggess, Councilman Chris Marshall and Councilman Bob Cross.
Epple noted that the music theme is a nod to Sedalia composer Scott Joplin.