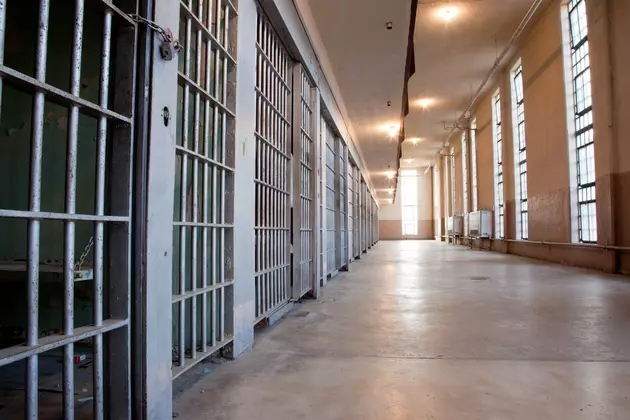 KC Man Who Stockpiled Firearms Sentenced to Prison
Getty Images/iStockphoto
A 37-year old man from Kansas City, MO who reportedly struck and dragged a police officer with his vehicle and stockpiled a large number of firearms in preparation for a shootout with officers, was recently sentenced in federal court for illegally possessing methamphetamine and firearms.
On Wednesday, the U.S. Attorney's Office said Todd R. Leroy was sentenced to 12 years in federal prison without parole.
On Nov. 29, 2018, Leroy reportedly pleaded guilty to possessing methamphetamine with the intent to distribute and to possessing firearms in furtherance of a drug-trafficking crime.
Law enforcement officers responded to the home of Leroy's parents on November 15, 2016, in an attempt to locate him following a report of his involvement in the assault of a law enforcement officer in Kansas City, KS., earlier that morning.
According to reports, a motorcycle officer with the KCK Police Department had stopped Leroy, who was driving a BMW, after Leroy's vehicle struck a road sign. As the officer was standing in the open door of Leroy's vehicle, Leroy reportedly sped away. The officer was struck and thrown to the ground, then dragged 30 - 40 feet. Leroy fled the scene, while the officer sustained minor injuries.
When authorities searched the basement of his parents' residence, where he was living, officers saw a firearm and a plastic bag of marijuana protruding from a black backpack. Officers obtained a search warrant for the residence and seized a Palmetto .223-caliber rifle, a DPMS .223-caliber rifle, an Intratec 9mm pistol, a Smith & Wesson .38-caliber revolver, a Sig Sauer .357-caliber pistol, a Springfield Arms .45-caliber pistol, multiple live rounds of ammunition, and a ballistic vest. Officers also reportedly seized methamphetamine, marijuana, pills, drug paraphernalia, and several cell phones.
Leroy was arrested on August 23, 2017, after officers saw him exit a Winnebago RV parked in a lot at 4900 Raytown Road. A 2012 Ford F-150 pickup truck was parked in the driveway. Authorities say that Leroy, returned to the Winnebago, started the truck remotely and refused to come out.
Tear gas canisters were deployed into the vehicle, after which Leroy opened the door, holding his girlfriend from behind. Leroy's right hand was behind her back and he was wearing a holster, but did not have a gun. Leroy was then arrested by the officers.
Inside the pickup truck, officers found a safe on the rear floorboard that contained a Heritage Rough Rider .22-caliber revolver, an AR Model 15 .223-caliber rifle, a Smith & Wesson .44-caliber revolver, a Ruger .22-caliber handgun, a Walther .22-caliber handgun, a Ruger .380-caliber handgun, an AP-MBP 7.65x25mm semi-automatic handgun, an FEG Model AP .765mm, a Cimmaron .22-caliber two-shot derringer, and various ammunition. Officers also found a bulletproof vest in the truck and $60,100.00 in a black nylon bag.
Officers searched the Winnebago and found a bullet-proof vest, a Mossberg pump shotgun with no serial number, a Taurus .40-caliber handgun, a Taurus .38-caliber revolver, a Mossberg 20-gauge pump shotgun, a Marlin lever action 30x30 rifle, a Winchester .22-caliber rifle, a Cobra Arms .380-caliber handgun, and $380.
According to court documents, Leroy reportedly obtained a large number of firearms in the event he became engaged in a standoff with police officers.
Court documents also indicate that Leroy was involved in multiple drug sales. Additionally, Leroy has 3 prior felony convictions for possessing methamphetamine, two prior felony convictions for burglary, and prior felony convictions for property damage and tampering.