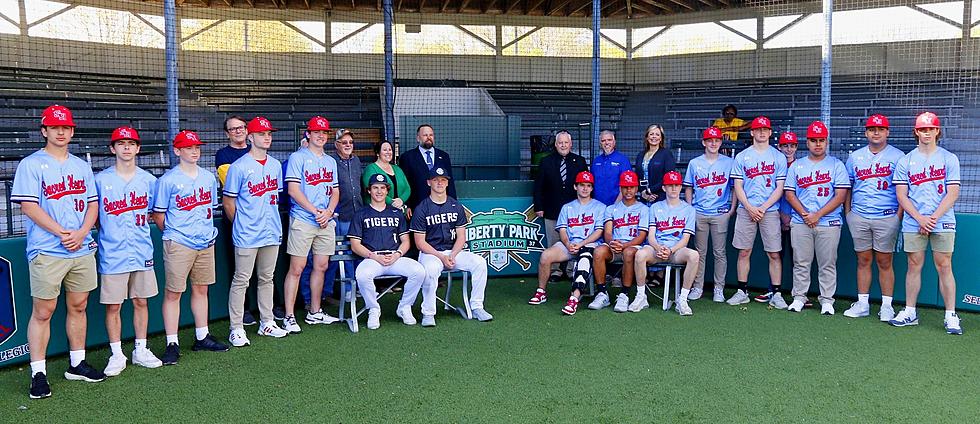 MoDED Grant To Fund Major Improvements to Liberty Park Stadium
Randy Kirby
The City of Sedalia has been approved for a $1.3 million Missouri Department of Economic Development Local Tourism Asset Development Grant.
The announcement was made at Dey Field at Liberty Park Stadium Friday morning with a few dozen special guests.
The exact amount of the grant is $1,286,985, and will be combined with a matching amount from the City of Sedalia for an approximate total amount of $2.5 million.
The money will be used to make further improvements to the historic stadium, built in 1937 as a Works Progress Administration project. The WPA provided more than $10 billion in federal funds from 1935 through the early 1940s, employing millions of people in hundreds of thousands of jobs as part of The New Deal.
Friday's announcement by Sedalia Mayor Andrew Dawson happened at home plate, with members of the Sedalia City Council, City of Sedalia officials, Sedalia Parks & Rec officials, State Rep. Brad Pollitt (R-52) and current and former baseball players in attendance.
"This is something that (former Parks & Rec Director Mark Hewitt) started, he did the infield, and there were plans about five years later to do the outfield. Well, that was when COVID hit …. and we put money in reserve for Liberty Stadium," Sedalia Parks & Rec Director Amy Epple told KSIS.
Epple worked closely with Community Development Director John Simmons to apply for the grant through the Visitors and Convention Bureau and had support from athletic directors from Smith-Cotton and Sacred Heart high schools.
The results of the matching grant will mean the remaining natural grass field will be replaced by artificial turf, ADA facilities will be improved, team dugouts will be improved, as well as bathrooms, locker room and spectator seating. Security cameras will be installed, and the stadium will get a new roof as well as a new gutter system. The gravel parking lot will be paved.
The all-artificial turf will allow baseball to be played almost year-round, as well as host more tournament.
Work will start Aug. 1, Epple noted, adding that securing the grant was a community effort.
"I love seeing the impacts that this will have in the community, not just for the players but people come out here and watch the game. I love coming out here and just watching the game. Yes, it's economic development, yes it's so the players can come out and play, but people come out here and enjoy it and that's what you want to see," Epple said. "This is a home run for Sedalia.
New netting has already replaced the old beat-up wire fencing surrounding the spectator area, and soft green padding has replaced the old wooden walls that absorb the baseballs (and the noise) when they hit behind home plate.
"There is no other facility that has a deeper, richer history in Sedalia and the state of Missouri than Liberty Park Stadium. Baseball legends like Albert Pujols, Whitey Herzog, Paul Splitorff and our local legend Jeff Mays and (the late) Ross Dey competed on this field," State Rep. Pollitt said.
"Guys like Larry Jackson, Jeff Mays and the Dey Family and many others spent hours that added up to weeks that added up to years, making sure this stadium this was the best North American Stadium to play the Great American Pastime, baseball. I would be remiss if I didn't mention Alma Dey's concession stand, it was world-renowned," Pollitt stated.
He paid special tribute to Coach Bill Dey, or "Chief" as everyone who knew him, personally called him.
The grant is yet another example of having the right people in the right positions, Pollitt continued. "I'm talking about Mayor Dawson, John Simmons, Amy Epple and her staff."
He added that the grant will ensure that Liberty Park Stadium is around and in use for another 100 years.
Pollitt is a former Smith-Cotton girl's basketball coach, first hired in 1990. He went on to become Sedalia District 200 Superintendent before retiring from education and moving into state politics.
Liberty Park Stadium grant
LOOK: 20 American foods that raise eyebrows outside of the US
Stac



ker
compiled a list of 20 unusual and uniquely American foods that might raise eyebrows outside the U.S.