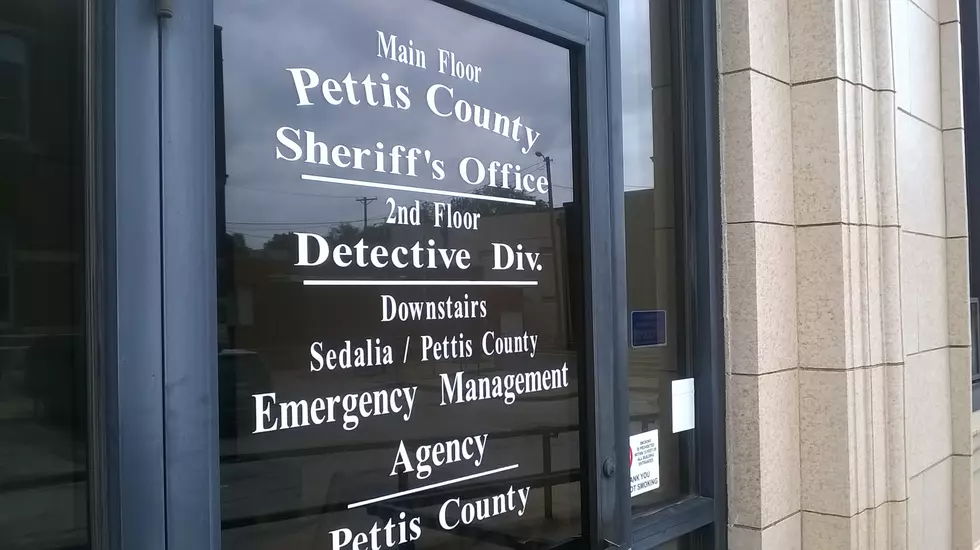 Pettis County Sheriff's Reports For August 2, 2022
Kurt Parsons
This article is compiled from reports issued by the Pettis County Sheriff's Office.
---
Sunday night, Pettis County Deputies attempted a traffic stop on a vehicle for careless and imprudent driving. The driver began to accelerate away from the Deputy at a high rate of speed west bound out of the Sedalia City Limits. The vehicle hit speeds in excess of 120 MPH, running two stop signs in the process. Deputies pursued the driver into Johnson County, where they eventually exited onto Highway 23. Deputies briefly lost sight of the suspect before spotting them on Irish Lane, parallel to US 50 Highway. The vehicle was eventually stopped in the area of Angus Lane and 6th Street Court in Knob Noster. Tristan Smith was arrested for Resisting Arrest by Fleeing (Creating Substantial Risk). Smith was transported back to the Pettis County Jail to be placed on a 24 hour hold.
---
Monday afternoon, Deputies took a report of identity theft from the 30000 block of North Lake Drive in Sedalia.
---
---
Deputies and the Pettis County K9 Unit received an anonymous tip Monday night about the whereabouts of a suspect with a warrant for their arrest. The tip stated the suspect was hiding in a room at the Budget Inn, 4710 South Limit Avenue in Sedalia. Pettis County Deputies, the Missouri State Highway Patrol, and the K9 Unit responded to the motel room. A short time later, a female occupant of the room went back inside the room an escorted Brian E. Tripp out of the room. Tripp was taken into custody without incident. Tripp was arrested for a Saline County Failure to Appear warrant on original charges of felony Driving While Revoked (2nd or 3rd Offense) with a $1500 cash or surety bond. An arrest warrant from Pettis County had been issued that same day for Tripp on charges of felony Burglary in the 2nd Degree, felony Property Damage in the 1st Degree, and Stealing. Tripp was transported to the Pettis County Jail pending charges.
---
Deputies conducted a traffic stop in the area of East 15th Street and South Ingram Avenue on a vehicle with expired registration Sunday evening. Subsequently, Terra Stuart, 48, of Green Ridge, was placed under arrest. Stuart was arrested on a Clinton County Failure to Appear warrant on original charges of Fraudulent Use of a Credit or Debit Device. Stuart was transported to the Pettis County Jail, to be held pending a $2,000 cash only bond.
---
Early Monday morning, Deputies conducted a traffic stop at 32nd Street and Clinton Road. Afterwards, Christina Dody, 37, of Sedalia, was placed under arrest. Dody was arrested on three Sedalia Failure to Appear warrants on original charges of Driving While Revoked, Operating a Motor Vehicle Without Maintaining Financial Responsibility, and Expired Plates. Dody was transported to the Pettis County Jail to be held pending a $450 cash only bond.
---
Pettis County Deputies responded to the 1300 block of East Boonville Road Saturday evening in reference to a warrant check. A resident allowed Deputies inside the home, and immediately denied the presence of the suspect Deputies were looking for. However, a Deputy outside the residence spotted the suspect in a back room through a window. Deputies located and arrested Brian Wilson, 29, of Sedalia, in the residence. Wilson was arrested on a Failure to Appear warrant out of Morgan County on original charges of Domestic Assault in the 2nd Degree, and Endangering the Welfare of a Child in the 2nd Degree. Wilson was transported to the Pettis County Jail to be held with no bond.
---
Friday morning, Deputies towed an abandoned vehicle that was parked on the roadway in the area of Aker Road and Purchase Road in Pettis County.
---
LOOK: Here are the best lake towns to live in
Many of the included towns jump out at the casual observer as popular summer-rental spots--the Ozarks' Branson, Missouri, or Arizona's Lake Havasu--it might surprise you to dive deeper into some quality-of-life offerings beyond the beach and vacation homes. You'll likely pick up some knowledge from a wide range of Americana: one of the last remaining 1950s-style drive-ins in the Midwest; a Florida town that started as a Civil War veteran retirement area; an island boasting some of the country's top public schools and wealth-earners right in the middle of a lake between Seattle and Bellevue; and even a California town containing much more than Johnny Cash's prison blues.