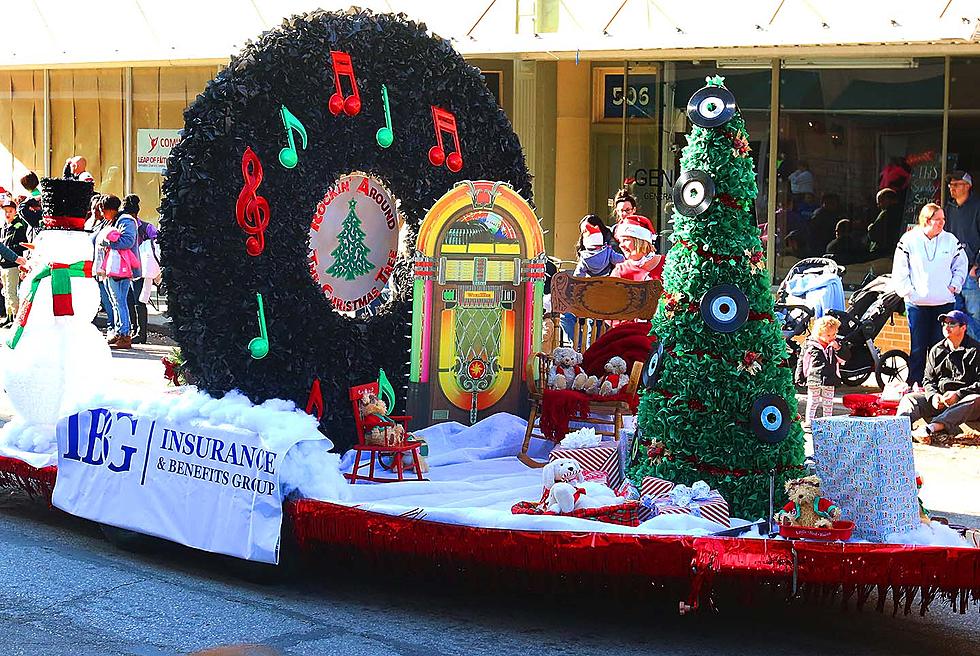 Sedalia Chamber's Christmas Parade Draws 105 Entries
Randy Kirby
There were thousands of people helping the Sedalia Area Chamber of Commerce "Rock Around the Christmas Tree" during Saturday's annual Christmas parade, sponsored by the Chamber.
Well over 100 entries made up this years's event, which took place under sunny skies and temperatures that reached into the lower '60s.
The parade's emcee, KIX-105.7's very own Beau Matthews, was set up on South Ohio between 4th and 5th. He announced each entry as it approached the reviewing stand. That was were we found parade co-organizer Debra Andresen. She is the Chamber's administrative assistant and she worked closely with Chamber Executive Director Angie Thomas to produce this year's highly popular parade.
"It's been awesome, we've had a lot of horse entries this year and we've had five school band entries this year, and that's the most we've had in a lot of years. We have a lot of floats this year, which is great," Andersen said shortly before the parade began at 10. Each of the categories had its own judges looking the various bands, floats and other categories.
One band, comprised of 37 music students, was led by local music instructor and Making The Band founder Justin Lawson, who said in a Facebook post that he had 10 drummers, 16 guitar players, four keyboard players, four bass guitar players, one tambourine player and on flute player on his float, while he accompanied them on his own guitar while walking alongside his young musicians all the way up Ohio Avenue.
The Chamber's theme for the parade, "Rockin' Around the Christmas Tree,"  brought out all kinds of decorated trees, vinyl records, rocking chairs, poodle skirts and music which helped several entries interpret the theme.  The parade also saw its share of festively-dressed dogs.
After a brief opening ceremony which included a performance of the National Anthem by Sacred Heart High School's choir under the direction of Darrin Hartman, the parade, which featured 105 entries, was under way. Several entries had more than one unit, of course, such as several car, horse and motorcycle clubs.
And right before the horses appeared, Santa Claus himself was waving to children of all ages from atop the Sedalia Fire Department's huge T-2 aerial truck.
Grand Marshal for the parade was Karl Kramer.
Judging results are listed below:
Church Floats
#1 - Entry #69 - Lutheran School Association
#2 - Entry #16 - Christ Trinity & Lutheran Church
#3 - Entry #91 - Katy Park Baptist Church
Civic Floats
#1 - Entry #50 - Pettis County Firefighter's Association
#2 - Entry # 13 - Pettis County Democrats
#3 - Entry #51 - SFCC Ag Club
Youth Floats
#1 - Entry #57 - Jeffrey Dove
#2 - Entry #42 - Pettis County 4H
#3 - Entry #30 - Making the Band
Business Floats
#1 - Entry #65 - Something for Everyone Second Hand Store
#2 - Entry #72 - National TV & Sales
#3 - Entry #39 Coldwell Banker
Horses Sponsors
#1 - Entry #104 - Broke & Busted Saddle Club
#2 - Entry # 96 - Preuitt Insurance Serivces, Inc.
#3 - Entry #103 - State Fair Trails Back Country Horseman/Trail's End
Bands
#1 - Entry 45 - Green Ridge
#2 - Entry #14 - Smithton
#3 - Entry #24 - Northwest
Special Interest
#1 - Entry # 50A Cartillac Bikes
#2 - Entry #29 - Paul Tyree
#3 - Entry #20 - David Furnell
Restored/Originals
#1 - Entry # 88J Floyd Hatfield
#2 - Entry #88B - Danny Crum
#3 - Entry #88D - Eric Hart
Modified
#1 - Entry # 90 - 301 Street Cars
Kid's Choice Award
#1 - Entry #69 - Lutheran School Association
Award winners may come by the Chamber of Commerce, 600 E. 3rd Street, to pickup their award Monday through Friday from 9 a.m. to 3 p.m.