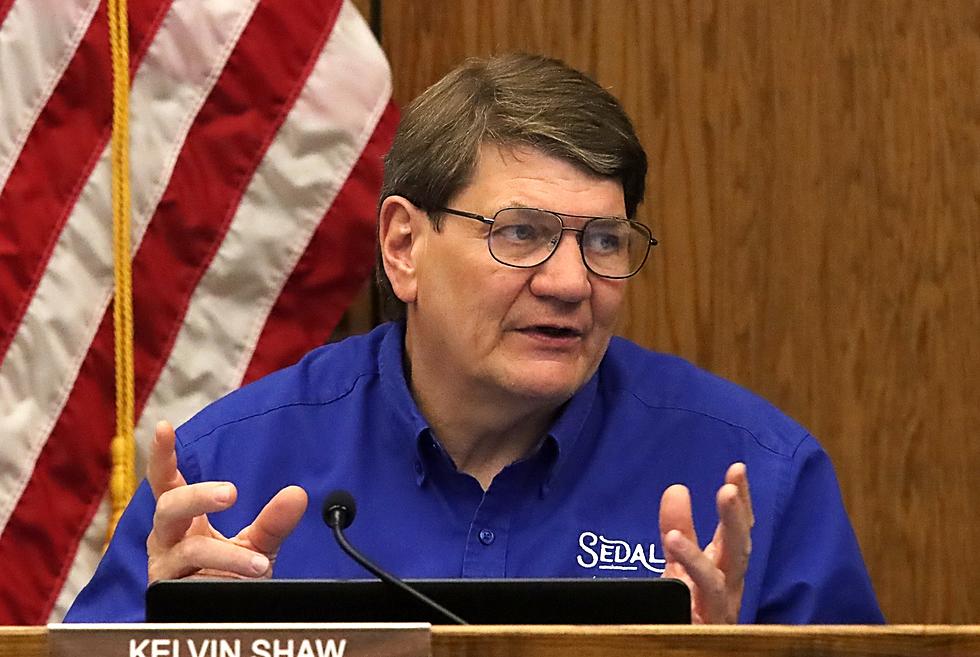 Sedalia Council Approves Two Annexations
Randy Kirby
The Sedalia City Council approved two annexations Monday night at their last regular meeting of May.
A brief public hearing was held which generated no comments. It involves property located west of Colton's Restaurant, 4101 West Broadway, and owned by E. W. Thompson. The City must now wait 14 days before considering adoption of an ordinance to make the annexation official.
An unincorporated area owned by E.W. Thompson Inc., was annexed into the City near 10th Street west of Winchester.
And the Missouri State Fairgrounds enlarged Monday night after Council approved an annexation of unincorporated land contiguous to the City and owned by the Missouri Department of Agriculture. The annexation was previously approved by the State Fair Commission.
Council then received an annual report of the CBCD from Christopher M. Paszkiewicz, Central Business and Cultural District Chairman of the Board of Directors, Sedalia Main Street. Paszkiewicz is an executive chef and owner of Cow Bird Creamery in downtown Sedalia.
The current tax levy rate of .8258 per $100 of assessed valuation within the district will remain the same, Paszkiewicz noted.
Paszkiewicz then gave a rundown of the CBCD's monetary figures:
$1500 is budgeted for grounds maintenance, $25,000 for a facade program, $50,000 for Pavilion restrooms, $20,600 for special events (Thanksgiving fireworks, Scott Joplin Fest, First Thursdays, a Bicycle Criterium and other events), which totals $98,700.
The tax brings in $40,908, while anticipated new revenue is projected to be $41,726.
The current fund balance for the CBCD is $115,323.80. Total annual revenue was $157,049.80.
The 2024 budget is $98,700, Paszkiewicz told the Council.
Council then approved a rezoning request at 117 East Jefferson for the expansion of a beauty salon. The lot in question was rezoned from R-3 to C-1 (local business). The vote was seven yes, one absent (Mayor Pro Tem Foster).
Rhonda Chalfant was the low bidder to perform an architectural survey and inventory of historically significant homes to expand the area being considered for the historic preservation district.
Chalfant, PhD., submitted a bid of $49,990, which is "quite below what we thought it would be," according to Second Ward Councilwoman Tina Boggess.
The survey will be a "more comprehensive approach that the state wanted us to take for this project" according to Community Development Director John Simmons.
An ADA compliance assessment of Sedalia's Amtrak Depot was conducted by Amtrak's ADA Stations Program resulted in recommendations to make the platform ADA compliant. The improvements will be completely funded through a federal program. And since the property is owned by the City, Amtrak needed consent to construct the suggested improvements.
Finance Director Jessica Pyle updated Council Monday night concerning recent tax collections.
Fiscal year-to-date figures for sale use tax show that March is up a little over $311,000 over last year. "That's due primarily to higher sales tax, because use tax has been lowered," Pyle said.
Franchise tax is higher year-to-date due to a Charter Cable settlement, she noted, resulting in a $375,414 jump. That represents taxes on Voice Over Internet Protocol. "They weren't sure if they owed that, but it went to court, and they do. But they've appealed it to the Supreme Court. So that money may have to be paid back to Charter, but we did receive the funds this month in the amount of $377,000. So that's why franchise tax is up so high," Pyle told the Council.
Transportation tax is higher due to higher gasoline tax. "This is a trend that we continue to see over the past several months, at 35.6 percent.
Property tax payments collected are up.
Pyle noted that on April 4, voters passed a recreational marijuana tax of three percent. "The Missouri Department of Revenue has confirmed that will go into effect Oct. 1," Pyle said, "so businesses will file their first return with October sales, and that payment will come to us in December."
Council approved adding the definition of mirco-businesses to the business licensure section of City Code when referring to dispensaries that only sell recreational marijuana.
The City extended an agreement with FTC Equipment to provide pump maintenance for the various pumps used in the City's drinking water and wastewater utilities at a cost of $162,094.70. The contract allows for the City to purchase parts and materials through FTC. The original contract had an initial term of 17 months, with the option for four one-year extensions. Staff has been satisfied with FTC's work and recommended the extension.
With the purchase of milling and overlay equipment by the City last year, the in-house street repair has created a surplus of asphalt millings. The millings are highly useful in areas such as alleyway repair, and is much better to use than gravel because the asphalt millings produce way less dust and compacts nicely.
However, the City is producing more asphalt millings that can be used by Street and Alley. Therefore, the City is offering to sell their excess millings for $12 per ton.
A conversion factor of 1.4 was used to arrive at at $16.80 per cubic yard price for buyers, since no scales to weigh the millings are available.
Fourth Ward Councilman Steve Bloess disputed that figure but said that can be fine-tuned later, and eventually voted for the ordinance, along with the rest of the Council.
Council then voted to allow camping by bicyclists taking part in the annual "Bike Across Missouri On The Katy Trail" event, scheduled for June 5 at Liberty Park.
This year's rides take place June 5-10, and again Oct. 9-14.
Overnight camping is not normally allowed in City Parks, it was noted.
A budget amendment resolution was passed by Council to pay for flyover imagery used in county GIS mapping. This "Pictometry International Payment" amounts to $90,255 over a two-year period.
Council agreed to add a 20-yard sanitation container to the options currently provided for large amounts of trash collection. One container will cost $400 to dump, with a $300 fee for each additional dump. The largest container will be useful for those residents doing big remodeling jobs or cleanup work. Other options include a 2, 4, 6, 10 and 12-yard container.
Council accepted a grant from the Missouri Department of Public Safety, using American Rescue Plan Act (ARPA) funds to pay for "rifle-rated" vests for SPD. It is a matching grant fund, and the other half of the $38,906 amount will be paid for by Nucor Steel, Rotary and State Farm.
Likewise, the SFD will benefit from a matching funds grant (up to $20,000) from the Missouri Department of Public Safety, using American Rescue Plan Act (ARPA) funds to pay for more high-tech, dual-band radios for the fire department in the amount of $48,750.91. A budget amendment was necessary to formally appropriate the funds, it was noted.
Council then approved a new liquor license for Kristy Long dba Wildlife Ridge Winery at The Pavilion in downtown Sedalia during the 2023 Scott Joplin Music Festival, May 31 through June 3. The cost of the "picnic license" is $37.50.
Under Miscellaneous from the Council, First Ward Councilman Tom Oldham noted that the annual Whiteman Wreath-laying ceremony is scheduled for 11 a.m., this Saturday, May 20 at Memorial Park Cemetery, where George Whiteman is buried. A flyover of T-38s in the "missing man" formation is expected to occur around 11:27 a.m.
LOOK: Most dangerous states to drive in