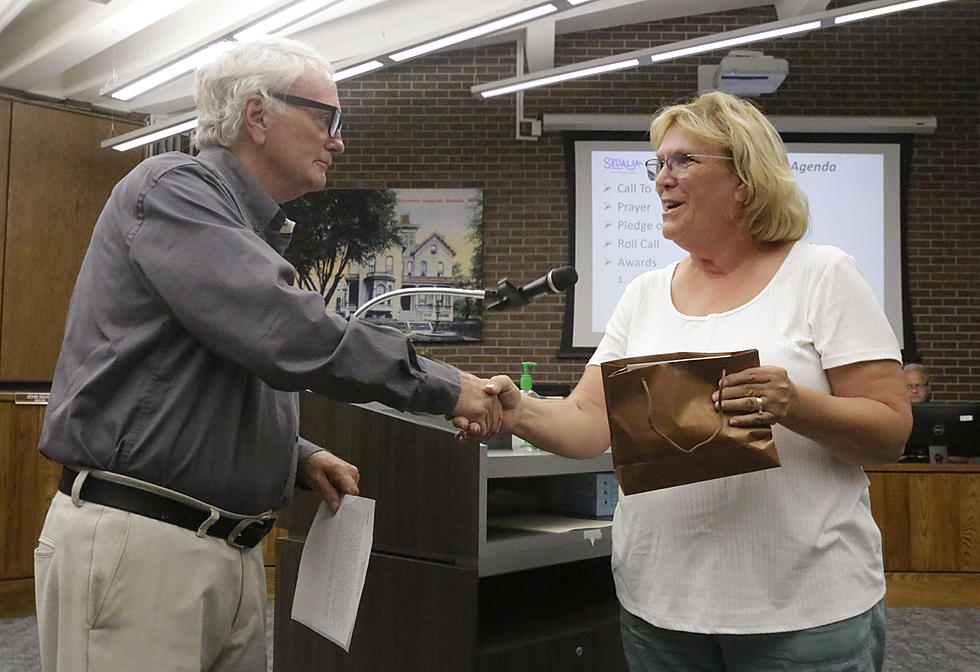 Sedalia Sells Downtown Property to Furnell Companies
Randy Kirby
The Sedalia City Council recognized Lisa Bell Monday night as she retires after 36 years, 11 months of service to the City of Sedalia.
Bell began as a cashier in the Water Department in January of 1984, processing utility payments and providing customer service. She became a payroll clerk in 1996.
"Lisa's always going above and beyond to do what needs to be done, regardless of her role, and is an excellent team player. She will be greatly missed, but yet we're all happy for her," Mayor Kehde said.
In unfinished business under community development, the Council considered an ordinance that vacates the east-west alleyway between 111 W. 5th and 108 W. 6th, and retaining permanent easements through the alley in favor of the existing utilities.
The matter was tabled after much discussion at the June 7 Council meeting.
Council accepted a May 12 report from the Citizen's Traffic Advisory Commission.
Under finance and administration, Council heard a financial presentation from Dawn Jennings, then a presentation on human resources strategies from Shannon Ramey-Trull.
Council approved the sale of property to Furnell Companies. Furnell bought 202 – 210 South Ohio, and a portion of 201 South Osage. A special warranty deed was also approved.
Council approved a public-private partnership in April. Furnell announced plans to build a pavilion, outdoor event space and a shelter with restrooms.
The project is expected to help develop the downtown Sedalia area and "spread tax dollars further, providing more benefit to the public."
Under Public Works, Council approved a budget amendment for 2021-2022 relating to the Water Treatment Plant Filter Media Replacement project.
As explained in the agenda notes, costs have increased dramatically. And a lot of that increase is due to freight. Therefore the lowest bid for the product (delivered and installed) is nearly $50,000 above the capital budget. And as a result, a budget amendment was proposed to bring the $120,000 budget up to the low bid of $169,546.84 and award the contract.
Council also approved a $140,801 bid from FTC Equipment, LLC, for replacement of high-service pumps 4 and 5 for the Water Division. The low bid came in $10,801 above the $130,000 budgeted amount, it was noted.
Council approved a $14,636 bid from Engineering Surveys and Services for a survey to extend Autumn Street to Main Street. This will also bode well for the increased traffic expected once the Heckart Community Center is open for business.
Council approved a change order for a submersible pump installation for Water Well 15 with Flynn Drilling Company. This replaces a custom-made shaft-style pump that requires a wait time of six to eight weeks once it is ordered.
Under Community Development, Council approved an amendment to Section 10 (property maintenance), Section 11 (Dangerous Buildings and Conditions) of Chapter 10 (Buildings and Regulations).
One new liquor license was approved for Marcial Limas dba State Fair Floral, 520 South, for Packaged Liquor and Liquor By The Drink, $600.
Six liquor license renewals were approved, including:
*Brent Eaton Jones II, dba Jiffy Stop Food Mart #591, 1722 W. Broadway, for Packaged Liquor and Sunday Sales, $450
*Adriana Thoennes dba Aplebee's Bar & Grill, 3320 W. Broadway, for Liquor By The Drink and Sunday Sales, $750
*Allen Whittall dba Sedalia Elks Lodge #125, 320 S. Kentucky, for Liquor By The Drink and Sunday Sales, $750
*Cathy Geotz dba Breaktime #3083, 808 E. Broadway, for Sunday Sales, $300
*Cathy Geotz dba Breaktime #3084, 318 W. Broadway, Sunday Sales, $300
*Cathy Geotz dba Breaktime #3079, 2801 W. Broadway, Sunday Sales, $300
---
Councilwoman Tina Boggess was absent Monday night. Councilman Steve Bloess participated in the meeting from home online.