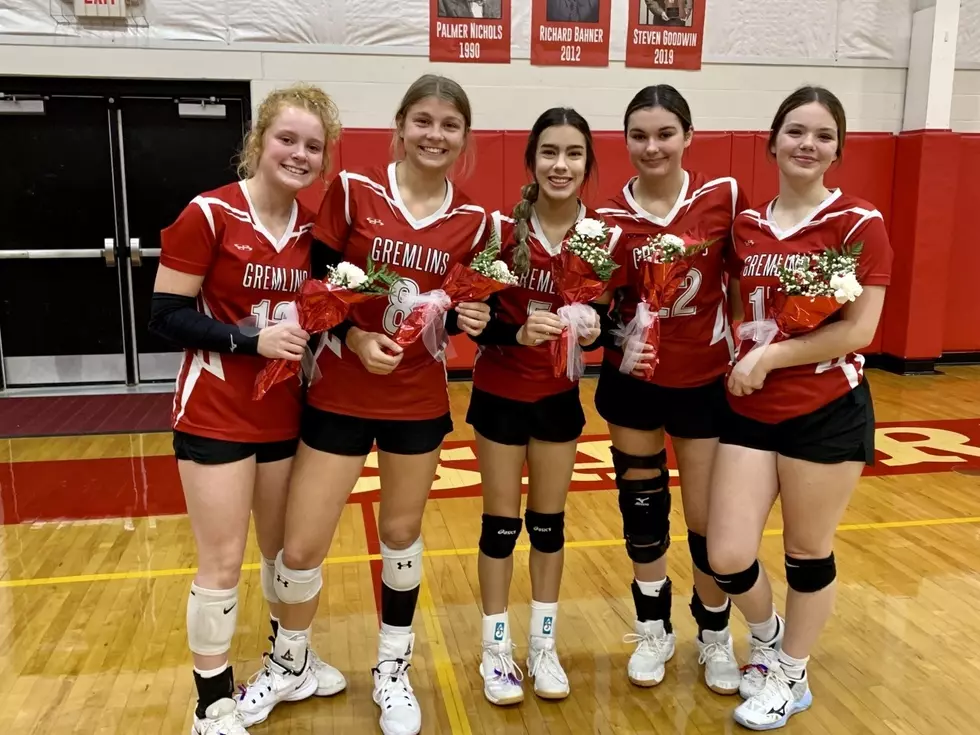 SH Volley Beats Lady Bluebirds
KLUE Photography
Sacred Heart HS Volleyball hosted the Cole Camp Bluebirds Thursday, Oct. 13 in the McGremlin Gym.  
The night began with C team action.  SH won the first set 25-23 and Cole Camp won the second set 20-25.
Sacred Heart JV played next and did a nice job in the first set with serving and ball control but just couldn't pull out the win.  JV lost 22-25 and 17-25.
Sacred Heart celebrated their Seniors between the JV and Varsity matches.  Seniors Caitlin Carrico, Kate Carney, Zoe Martin, Mariana Restrepo, and Emma Siron were recognized by their teammates.  Sticking with Gremlin tradition, teammates gave a short speech about their high school journey both on and off the court.  Many tears were shed but that just demonstrated how special the five seniors are to their team.
Sacred Heart Varsity beat Cole Camp in three sets 25-14, 27-25, 25-18.  Senior Emma Siron had 18 kills, 12 digs, and 3 aces.  Senior Kate Carney had 8 kills, 3 digs, and 1 block, Senior Mariana Restrepo had 4 kills, 9 digs, and 1 ace and Senior Zoe Martin had 1 ace, two assists, and 2 block assists.
Varsity record is now 25-6, 8-1 in Conference.
While this was the Gremlin's last regularly scheduled home match of the season they still have Concordia and LaMonte on the road early next week.  And then Sacred Heart will host their District, Class 1 District 5, with play beginning on Thursday, October 20.  The Sacred Heart Varsity seeded first in their district has a bye in the first round and will play Friday, October 21 at 7 PM vs the winner of the Chamois and Otterville game.  Bracket attached.
Action Photos courtesy of KLUE Image Services
8210 - Senior Emma Siron hitting
8220 - Senior Kate Carney digging
8272 - On court celebration
8426 - Senior Mariana Restrepo chasing ball
8490 - Senior Zoe Martin ready to attack
--Submitted by Coach Marlo Siron