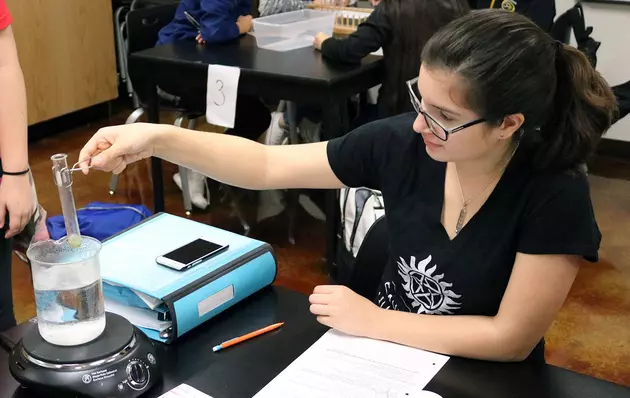 Smith-Cotton Freshmen Perform Lab Tests to Solve Mystery
Sedalia School District 200
Students in Smith-Cotton High School teacher Kevin Sparks' freshmen biology class worked Thursday to solve a "murder and a meal" mystery.
The students were grouped into teams to investigate a poisoning scenario by testing a solution that served as the contents of the victim's stomach. Learning which organic compounds -- carbohydrates, lipids, nucleic acids and proteins -- were present gave the students an indication of which local restaurant the victim ate at before his demise.
The students performed a Benedict's test for glucose, and iodine test for starch, a biuret test for proteins and a brown paper test for lipids, or fats.
Afterward, the teams completed an analysis of what they learned through the tests and came to a conclusion on which restaurant served the deadly meal.
PIC1: Alexiz Morales heats up a mixture of Benedict's solution and the liquid serving as the contents of the victim's stomach to check for the presence of glucose as part of Thursday's lab in teacher Kevin Sparks' freshmen biology class at Smith-Cotton High School. The green color indicates glucose is present.
PIC2: Jayden Lawson checks for the presence of starch in the victim's stomach by performing an iodine test on a sample.
PIC3: Teacher Kevin Sparks provides some direction on completing the lab analysis for student Dennis Izoita.