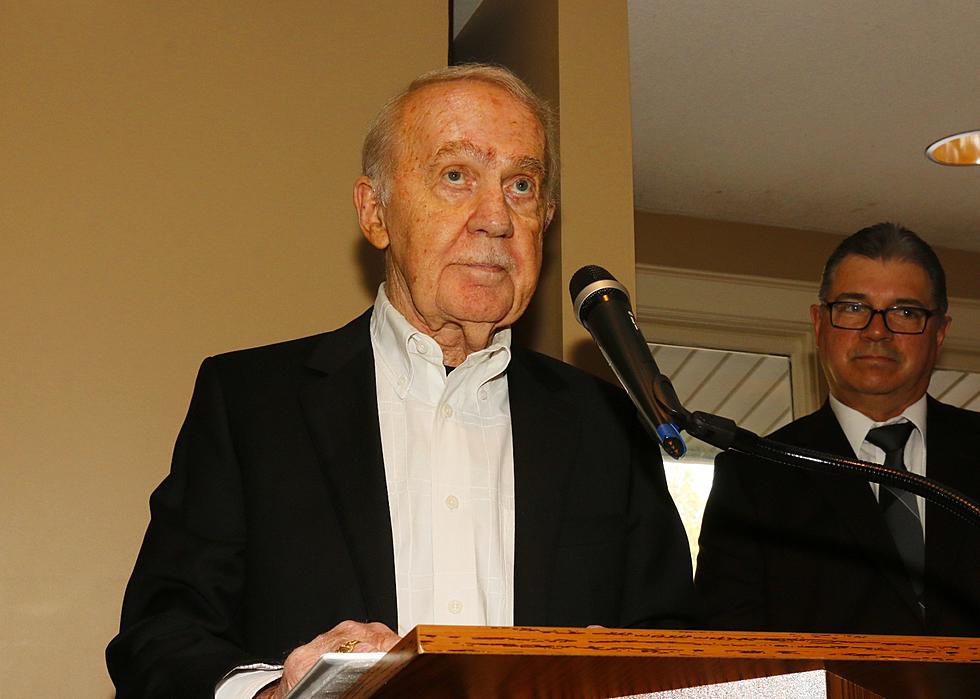 Curry Named EDSPC's Pioneer Economic Development Award Winner
Randy Kirby
Economic Development Sedalia Pettis County (EDSPC) held its 15th Works For You banquet Thursday night at the Sedalia Country Club with about 190 people in attendance.
The banquet celebrates all the successes of 2022, but also looks forward to great economic development news in 2023, according to EDSPC Executive Director Jessica Craig.
The last time the banquet was held was in 2019 due to the COVID pandemic, so Craig said she was overjoyed by the turnout by business and community leaders for Thursday night's dinner.
Companies that expanded or chose to locate their facilities here in Pettis County were recognized.
"We ended 2022 with over $100 million in capital investment projects announced, over 211 new jobs will be coming to our community. I would say the flagship tonight was to recognize David Curry as our Pioneer Economic Development Award winner. That's the first time we've awarded that to anyone in the 50 years of existence of EDSPC, and that really is a testament to his over 50 years of support and direct involvement in economic development," Craig told KSIS.
"You know, he was on the original articles of incorporation for our organization in 1965, and so you think about the growth this community has had since then, and he has been at the wheel, driving that car, so we are all very thankful for all of his support, his involvement and his direct contribution to growth, not only in economic development but the entire community," Craig stated.
"David has been a personal mentor to me, personally and professionally, and he was at the table hiring every single one of our four executive directors in the last 50 years, so I'm very proud to call him a friend and a mentor," Craig said of Curry.
She thanked the "Founding Fathers" of economic development in this area who had faith in her when she was hired and allowing her and her staff to move Sedalia and Pettis County forward.
Craig has 18 years of experience in economic development and she calls Pettis County her home, and has a true passion for her job.
"We talk about capital investment, we talk about jobs and economic impact, but if you think about the volume of people who are going to work every single day, and the families it's impacting, the food it's putting on the table, the insurance these companies are paying, this has a monumental ripple effect, not just for our community, but for those families, so I'm really passionate about what we do, I love it," Craig said.
According to Rusty Kahrs, EDSPC Board president, who emceed the event, "the focus of Economic Development Sedalia-Pettis County is the retention, expansion and recruitment of manufacturing, warehouse, distribution, logistics, technology and energy sectors. We have never wavered in our commitment to the more than 70 manufacturing and industrial-related businesses in Sedalia and Pettis County while, at the same time, showcasing the community and competing for new businesses seeking locations to build new facilities. Some people say the manufacturing industry is in decline. That couldn't be further from the truth and the numbers I am about to provide you will prove that," Kahrs said.
"We were excited to announce last July the launch of Maxion Wheel's expansion which will include the hiring of 60 new employees and the retention of more than 225 existing employees at their facility in Sedalia. This expansion will include the launch of three new product lines to include electric vehicle wheels, military wheels and wheels for the light trailer towables market, furthering the local diversity of Maxion Wheels.
"In September we announced Impact Signs' plans to construct a new state-of-the-art, expanded headquarters and manufacturing facility. This new 60,000 square foot building will be constructed in the Thompson Meadows Industrial Park on West 50 Highway. Impact Signs plans to invest $8M in this 5.5-acre site, further showcasing their commitment to growing in Sedalia and Pettis County.
"In October of 2023, we all celebrated at the beautiful Downtown Pavilion the announcement of Simcote's intent to building a new manufacturing facility in Pettis County. This new 67,000 square foot facility will employ 35 new jobs. Simcote will become the newest addition to our local manufacturing family with this $17M investment which will be launched in 2023. Established in 1978, Simcote specializes in epoxy coated rebar and fabrication as well as a full range of epoxy construction products. This new facility in Sedalia will allow Simcote to expand the geographic area it serves. According to Adam Simmet, President of Simcote "We are a family business that values our employees, customers, vendors and the communities we operate in. When we explored locations that support our core values and assist in delivering the highest quality products to our customers, Sedalia became the obvious choice. We look forward to growing our business in this great community." Simcote is headquartered in Minnesota has manufacturing plants there and in Ohio. After the project announcement here, their leadership team was blown away by the community support and excitement for their plans to build here, which they said that was the most attention they've ever received from any state or community. Simcote intends to utilize as many local contractors as possible and selected CSC Construction Group, who is represented here tonight by Brian Smith and others, as their General Contractor. Their new facility will be located on 44 acres in the new Sedalia Rail Industrial Park.
"To wrap up the year, we were excited to work in collaboration with Prysmian Group, also known over the years as General Cable and Alcan Cable, to announce their $45.5M investment and significant expansion plans at their existing facility in western Pettis County. Prysmian, the world leader in the energy and telecom cable industry, will add 115,000 square feet of production capacity and create 60 new jobs. Located on more than 36 acres, the company will retain more than 215 employees. According to the CEO of Prysmian North America, This expansion could have gone to any of Prysmian's 28 North American manufacturing facilities and we are thankful for the opportunity to work with them throughout 2022 to secure the investment here. Increasing the local economic impact, Prysmian has selected Septagon Construction, represented tonight by Stace Anderson and others, as their General Contractor," Kahrs said.
Kahrs also mentioned the successful opening of the Olen Howard Workforce Innovation Center on the SFCC campus and the opening of the Heckart Community Center in Liberty Park in 2022.
"We should pause to applaud Jessica for recently being nominated by Governor Parson to join the Board of Directors of the Missouri Development Finance Board for the State of Missouri. Just yesterday, Jessica attended her Senate Hearing and her appointment was successfully confirmed by the Missouri Senate. This marks the first Executive Director we've had to ever hold this statewide post, furthering the exposure and visibility for our organization and our community," Kahrs said.
EDSPC awards dinner