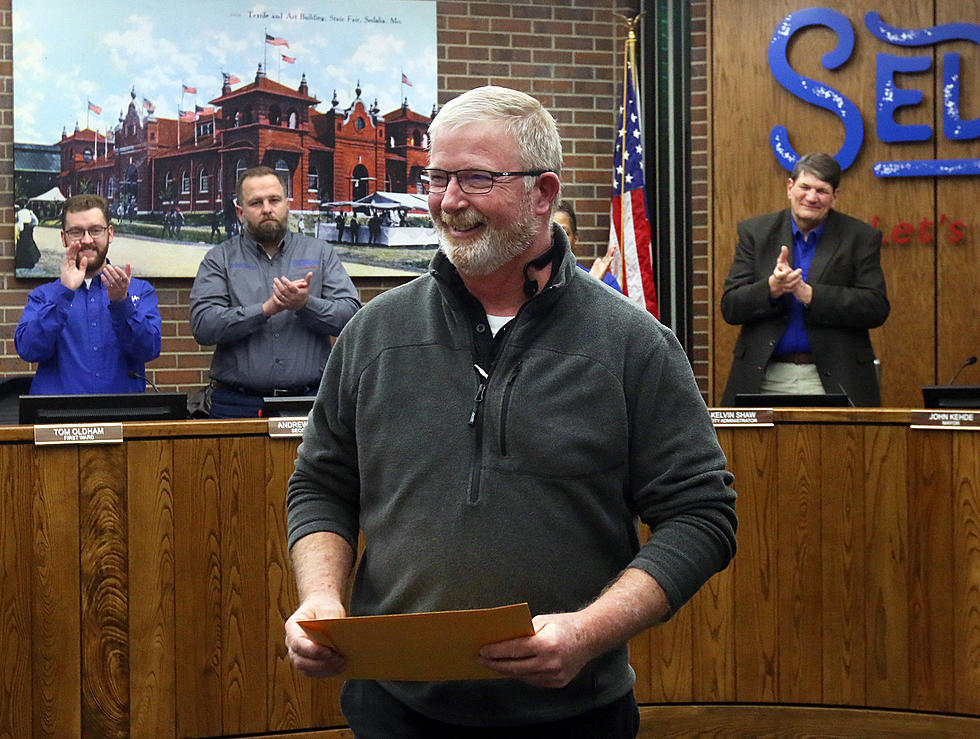 Richardson Recognized for 35 years of Service to City of Sedalia
Randy Kirby
The Sedalia City Council presented three service awards Monday night to start off its first meeting of December.
IT Manager Monte Richardson was recognized for 35 years of service with the City of Sedalia.
Richardson began his tour of duty with the City of Sedalia in 1986 as a police officer. He worked in patrol, investigations, evidence technician, evidence room custodian and as a field training officer in that department.
He then progressed to bringing modern technology to various departments and became the IT Manager for the City of Sedalia.
Police Officer Larry Parham was recognized for 20 years of service.
Ofc. Parham began his career with the SPD in November 2001, according to Chief Matt Wirt.
"He's provided an insurmountable amount of information regarding gang activity and intel for years. He's recognized as a regional instructor on that topic. He served in our drug enforcement for four years, and has dedicated six years as an active member of the warrant service team. He is of course recognized around Sedalia as an integral player in community events and outreach programs in Sedalia. We're obviously proud to all him one of our own," Chief Wirt said in his introduction of Parham.
Laborer Anthony Woolery with the Sanitation Department has served five years with the City of Sedalia, but was not present Monday night.
Under Finance and Administration, EDSPC Executive Director Jessica Craig was one of three presenters scheduled for the Council meeting. Craig gave a status report on the current state of economic development in Sedalia and Pettis County.
Council approved a contract renewal with AT&T for Network on Demand for a 48-month period.
According to Richardson, Network On Demand provides essential connectivity between the Municipal Building and various outlying areas such as the airport, park office and fire headquarters. It enables the use of Voice of IP telephony, file sharing, internet access and computer management.
The addition of the new Heckart Center required a new contract.
Sedalia Police Chief Matt Wirt then presented Council with a half-hour update for strategic planning purposes.
Sedalia Fire Chief Matt Irwin then gave a presentation to Council concerning the current state of affairs of his department for strategic planning purposes.
Council authorized the purchase of a night-vision monocular for the Sedalia Police Department at a cost of $4,990, and a dual-band portable radio at a cost of $5,743.49. Grants will provide the funding needed for these two purchases.
SPD participates in a counter-terrorism program with the Missouri Office of Homeland Security. Local officers are trained and equipped in terrorism prevention, response and mitigation, it was noted.
Under Public Works, Council approved a contract with J. Richardson Construction (Olathe, Kansas) for storm drainage improvements at a cost of $176,709.20. A total of 11 bids were received. J. Richardson was the lowest bidder.
Council approved a contract with FTC Equipment, LLC, for replacement of influent submersible pumps and accessories at the Central Plant at at cost of $112, 089. Three bids were received and FTC was the lowest bidder.
The submersible pumps currently in use are failing and well beyond their useful life. The cost of repair is about 60 percent of the cost of a new one. Plus, engineers said the repaired units would probably not last very long, either. Staff is familiar with FTC and pleased with their work, according to the agenda notes. A budget amendment was required to officially add the cost to the current year's budget.
Council approved a change order in the amount of $26,845 for the 2018 Water System Improvement Contract. The amount is a reduction in cost. Hettinger Excavating was 119 days late in completing contract #3.
Council agreed to annex Western View Estates and Chaplin RV Park and connect them to the City's Sanitary Sewer and Water system. The request was made by Gregory Z. and Kelly J. Chaplin.
Greg Chaplin owns the property between the lift station the central treatment plant. He has agreed to provide the City with the easement needed for a sewer main, in exchange for connections of residences in Western View Estates and Chaplin RV Park.Three tracts of land around Sunset Village were annexed.
The current lagoons will be decommissioned, it was noted.
Council approved an ordinance adopting billing policy and procedures for the Finance Department.
Council appointed Amy Staus, 2673 South Marshall, to the Animal Advisory Board to complete Joleigh Cornine's unexpired term ending in June.
A special event liquor license was issued to Stacey Fitterer dba Fitter's 5th Street Pub for a Sierra Bullets Christmas party, scheduled for Dec. 11 from 5 to 10 p.m., at the Lowell Mohler Assembly Hall on the Missouri State Fairgrounds, $15.
A liquor license renewal was granted for Kelly Wertz-Black dba State Fair Spirits, LLC, 1419 South Limit, for packaged liquor, tasting permit and Sunday sales, $487.50.
Council then adjourned to closed-door session.
LOOK: The top holiday toys from the year you were born
With the holiday spirit in the air, it's the perfect time to dive into the history of iconic holiday gifts. Using national toy archives and data curated by
The Strong
from 1920 to today,
Stacker
searched for products that caught hold of the public zeitgeist through novelty, innovation, kitsch, quirk, or simply great timing, and then rocketed to success.