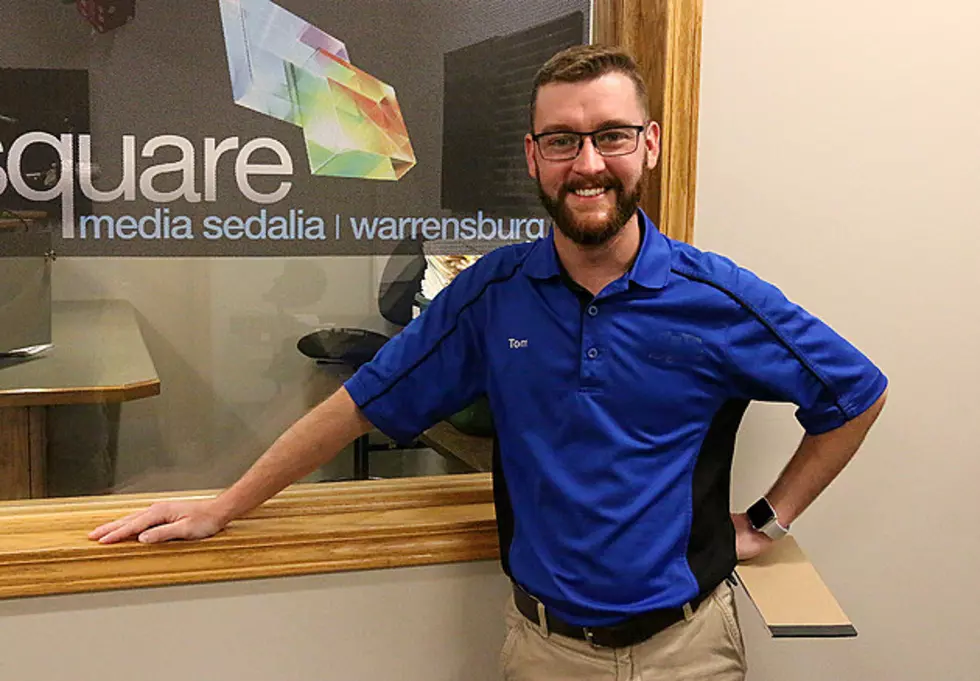 EDSPC Welcomes First Ward Councilman Oldham to Board of Directors
Randy Kirby
EDSPC welcomed a new member to its board of directors Wednesday when it met for a quarterly meeting at noon at US Bank, 3615 W. Broadway.
First Ward Councilman Tom Oldham represents the City of Sedalia on the board. He replaces former First Ward Councilman Jeff Leeman, who stepped down from Council several weeks ago. Leeman's seat was filled by Jack Robinson.
"I am excited to join the EDSPC board as a representative for the city council of Sedalia! Not only does this board have the privilege of insight in the many economic development opportunities our county has, but it also has a hand on the wheel for those developments.
"As Sedalia's city councilman, trustee for State Fair Community College, and the many other positions that the city and county have given me the opportunity to serve in, this allows me to better serve the constituents in all those capacities!" Oldham commented to KSIS following the meeting.
EDSPC Executive Director Jessica Craig noted that according to the by-laws, the board must have at least nine members.
"I'm proud that we've got a good chunk of well-respected individuals from throughout the community that confirm a lot of different areas of expertise. So we're very lucky and thankful to have a fantastic board of directors," Craig told KSIS immediately after the meeting.
In her presentation to the board, Craig noted that the corporation is "on pace as far as income."
Craig listed several projects in the works that have kept the EDSPC staff busy over the past few months, and she hopes that the projects will come to fruition for Sedalia and Pettis County. They have been working on one project behind the scene for about two years.
"2022 has been a really strong year for us. There's been some concerns about supply chain issues and the economy starting to slow down. Frankly, we are not seeing those impact economic development projects from moving forward, excitingly enough.
"So a few months ago, we announced that Maxion Wheels is proceeding with an expansion of their existing facility here in town. They will be hiring 60 new employees. They're actively hiring them right now, as they add three new product lines. So I always say if a company is not re-investing in a plant here, they're investing somewhere else. So to have an existing company that's been here in the community for generations, for corporate to choose (Sedalia) to invest in, that means a great deal to us," Craig said.
"Then about a month ago, we were able to support Impact Signs as they announced their new 60,000-square-foot headquarters and manufacturing facility that will be built at Thompson Meadows Industrial Park on West Highway 50, just across the highway from the Menard's development. We're excited for them to continue to grow here in the community," Craig said.
She added that "it will be exciting to see them break ground in the coming weeks, and see that building go up in the course of a year."
Then two weeks ago, EDSPC announced that Simcote, a new family-owned business to Pettis County, will purchase land and build an $18 million facility next to Nucor in the Sedalia Rail Industrial Park, and produce expoxy-coated rebar.
Simcote also has plants in Ohio and Minnesota.
The president of Simcote, Adam Simmet, and other Simcote officials traveled to downtown Sedalia Oct. 6 to make the announcement. They were met by Sedalia, Pettis County and State of Missouri officials, as well as business leaders, including Nucor, at the event.
"We were able to host over 100 people to announce that Simcote would be building their new facility here, and some of the takeaways we saw was that the State of Missouri (officials) were absolutely floored at the volume of people who came out to support the announcement, and to support the company growing. Simcote actually said they've never received a reception like that for any of the plants they have. So again, it's great that we have a community that embraces companies that are making products right here in our own backyard.
"So a lot of good wins from existing businesses growing, as well as new companies, and we have potentially two more project announcements yet this year. We could end the year with about $100 million in capital investment projects announced," Craig stated.
EDSPC is currently looking for a new auditor after finding out that Wilson Toellner and Associates, LLC, will no longer perform auditing services for non-profits like EDSPC. "We will need to find a new auditor for next year," Craig told the board.
"We will be issuing an RFP (request for proposal) for audit services for EDSPC. We'd really love to work with a local company here, if possible. So stay tuned for that RFP to come out," Craig said.
EDSPC's annual Holiday Gala is scheduled for the first Friday in December, Dec. 2, from 2 to 4 p.m., at the Sedalia Country Club. The event has become so popular, it has outgrown the previous location at the EDSPC offices at US Bank. Partiers may come and go throughout the two-hour period.
The next meeting of the EDSPC Board of Directors is scheduled for Jan. 18 at noon.
25 costliest hurricanes of all time