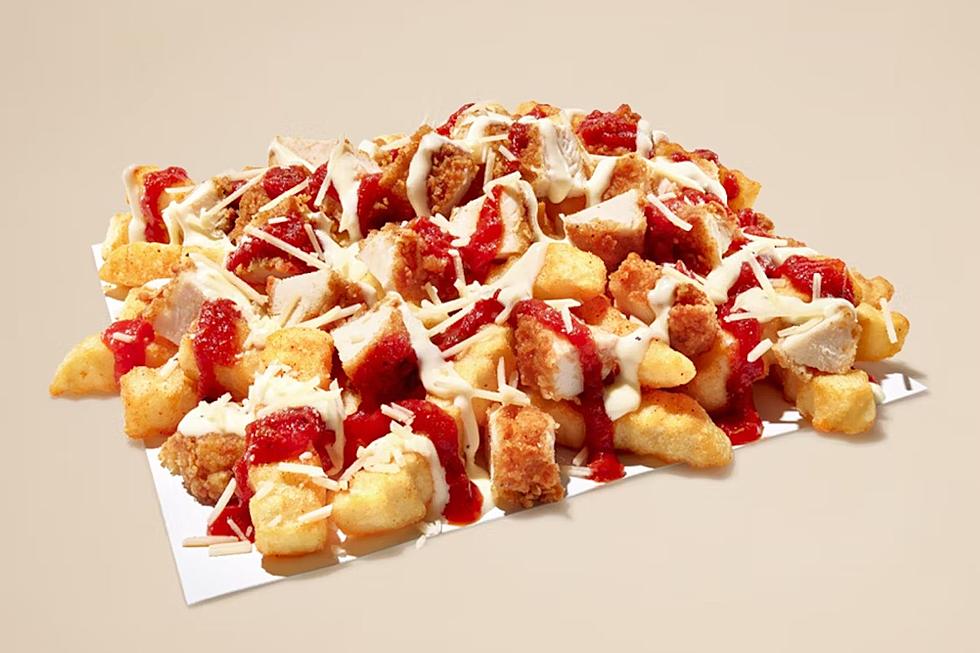 Loaded Chicken Parm Fries? Yes They Exist and I Tried Them
Zaxby's
One of the cool things about living in Warrensburg is we have a Zaxby's.
Honestly, while I enjoy their food, it's just not a place I eat at very often. Yet when I do eat there or bring a sandwich home I enjoy it. So when I saw their television ad for Chicken Parm Loaded Fries I had to try them.
Zaxby's has this to say about their concoction on their website, "A generous portion of Crinkle Fries topped with hand-breaded Fried Chicken, Parmesan cheese, Marinara Sauce, and Garlic Aioli."
First, they're not joking about the generous portion. This item works very well as a side if you have two to four folks noshing on a sandwich, chicken fingers, or wings. It also works well as a stand-alone meal. I promise you, even if you're starvin' Marvin' you won't need anything else. It's filling. You might even have leftovers.
How does it taste? Just like Chicken Parmesan. Bite after bite the taste comes through. There's plenty of parmesan sprinkled all over the fries and chicken. While the concoction isn't doused completely in marinara sauce, the flavor comes through even if you've got a fork full of fries.
I was concerned they were a little chintzy with the chicken. It was hard to see with the fries piled high. However, there was more chicken in the dish than at first glance. A couple of the chicken pieces though, were more chicken finger size, than sliced up like the rest. It's a first-world problem, but those larger chicken chunks sort of messed with an even chicken distribution throughout the dish.
I think a little more marinara sauce would have been nice. Either on the dish itself or on the side. It looks like most of the chicken was tossed in the marinara, and the flavor was nicely tasted throughout the dish. However, it's very dry. The fries were hot and crispy, as was the chicken. It doesn't need to be drowned in sauce, yet I think a little more gravy would have hit the spot.
There's a little bit of bite to the dish thanks to the marinara and the Garlic Aioli which works well. Just be forewarned, you might not want to eat this dish before you're going to be talking to someone across a table that might be able to smell your breath, or if you're planning on kissing someone who hasn't partaken in the dish.
The bottom line, I'd get Zaxby's Chicken Parm Loaded Fries again if I had a craving for Chicken Parmesan. That said, it's a heavy meal loaded with fries which I generally try to stay away from. So it's not something I'd order regularly. As a treat or an occasional meal, it works very well.
From coast to coast: The 20 best regional fast-food chains to try
From burgers to subs and even creamy milkshakes, these tasty fast-food chains, compiled by
Stacker
, are a must-try on your next road trip.
Gallery Credit: Kiersten Hickman
LOOK: 15 Discontinued McDonald's Menu Items