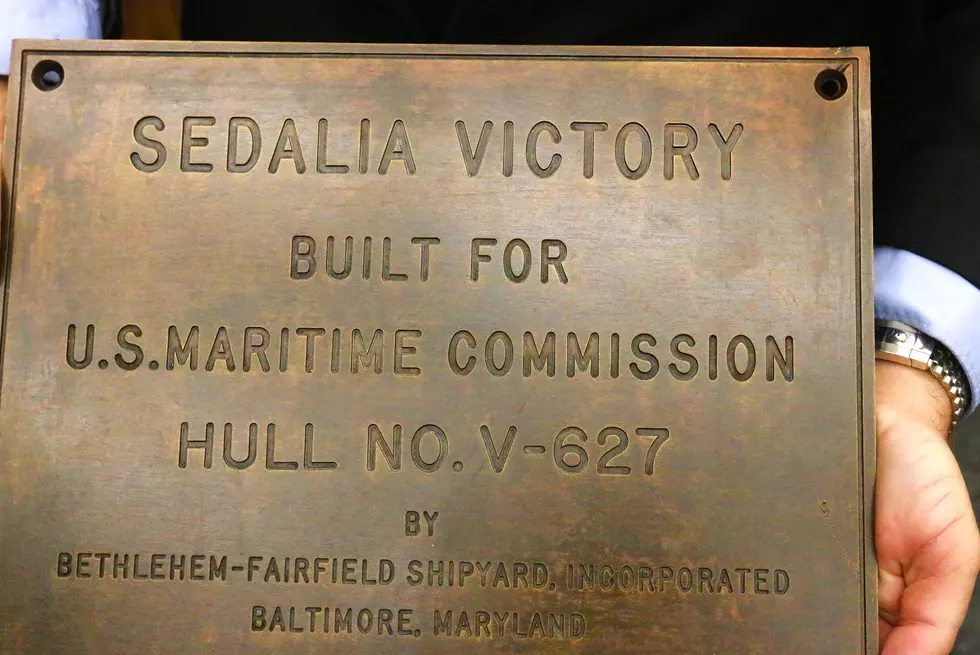 SS Sedalia Victory Ship Plaque Unveiled
Randy Kirby
Sedalia Mayor Andrew Dawson was contacted a few months ago by email by the US Department of Transportation, Maritime Division, to let the City know they had an artifact to give Sedalia.
At first, I thought it was spam," Mayor Dawson Monday night during the start of a regular City Councuil meeting. "But as it turns out, it wasn't. They had an artifact for us from the SS Sedalia Victory Ship."
The SS Sedalia Victory was christened Jan. 4, 1945 at Baltimore Maryland, and her trial voyage was completed Jan. 11 of that year.
The 10,700-ton merchant ship was the second such ship launched that year at the Bethlehem Fairfield Shipyards, according to the a Sedalia Democrat story from the time period.
The ship was sponsored by Mrs. John G. Crawford, of Arlington Va., wife of Captain John G. Crawford of Sedalia, who was stationed in Washington, DC.
Sedalia Mayor A.H. Wilks received notification of the christening on Dec. 2, 1945. The ship was ultimately christened by Hope Van Dyne Crawford, a distant relative.
Historian and author Becky Imhauser picked up the story from there.
"It's exciting to be able to stand here and know that we are receiving as a community an artifact that was made possible by the community," she said in her remarks to the Council.
"The SS Sedalia Victory Ship was a fast cargo ship. It was faster than its predecessor ship, Liberty. It was manufactured during World War II to support the war effort. Only 414 victory ships were manufactured, and ours was the first one to be named for a city in Missouri. And we were selected for that honor because of our war bond efforts. We came together as a community from school children through senior adults to raise money for the war effort by buying war bonds," Imhauser said.
"We brought Betty Davis to Sedalia, she was a big star at the time. As a community, we worked so hard, so this was one way we were honored,"Imhauser told the Council.
"Now when the war ended, you can imagine what it must have taken to have storage for 414 great big cargo ships. A lot of them were stored and mothballed for possible configuration into other projects. Some of them were brought (back) into service during the Vietnam and Korean wars," she said.
"At this point, there are fewer than five left, most of them were scrapped and the metal was recycled. And a few of the remaining ones are in museums. So today we are just delighted to have a piece of our victory ship for our community to signify all our community has done through the eras, and especially continues to do today," Imhauser concluded.
The heavy metal plate was then unveiled by Danny Van Dyne for all to see. It will be on display at City Hall, according to Mayor Dawson.
LOOK: Must-do activities at every national park
Stacker
lists the must-do activities at every national park ranked by the annual number of visitors.